Penn State York's Career Week is March 27 to 31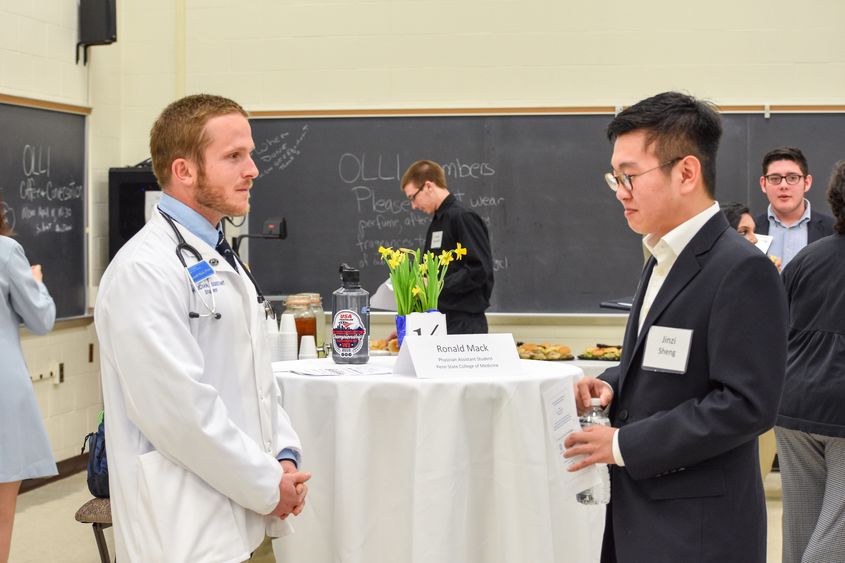 YORK, Pa. — Networking is the key when it comes to finding a job that ultimately leads to a career. Penn State York students and alumni who graduated in the past five years have the opportunity to network with business professionals, many of whom are Penn State alumni, in a variety of career fields, including engineering, business, human services, and nonprofit, during the annual career networking event on Thursday, March 30. This is part of a week-long series of programs to help students connect with alumni and learn about careers through networking.
The networking event begins at noon in the Conference Center of the Main Classroom Building. Preregistration is required. Register for the networking event online at bit.ly/cnevent17.
Career Week is much more than just a networking event for students and alumni, the week also offers a number of programs that are open to the public and valuable to anyone with their career questions. For a quick look at a list of events, visit http://york.psu.edu/event/career-week.
"Our sixth annual Career Week gives Penn State York students and alumni multiple opportunities to connect with and learn from professionals in the community," said Andrew Caldwell, career services coordinator/DUS (Division of Undergraduate Studies) adviser and coordinator of Career Week on campus. "Through the collaborative efforts of faculty and staff across our campus, Career Week continues to be successful at engaging students in the process of proactive, strategic career planning."
Career Week gets started from noon to 1 p.m. on Monday, March 27, with a presentation by Sarah Chain, account director of Gavin Advertising in York, Pennsylvania. Chain's presentation, "Connecting Communication to Career Success," focuses on the importance of communication skills in the workplace across a range of industries. The program is in the Community Room of the Joe and Rosie Ruhl Student Community Center.
Also on Monday, March 27, students can learn how to use the Nittany Lion Career Network (NLCN) in a walk-in workshop, "Internships at Your Fingertips: Using Nittany Lion Career Network (NLCN)," from 3-4:30 p.m. in the Penn State York Advising and Career Center. NLCN is Penn State's comprehensive database of jobs and internships with more than 20,000 registered employers and thousands of postings.
Career Week continues with "Human Development and Family Studies (HD FS): One Major, Many Careers" from noon to 1:30 p.m. on Tuesday, March 28, in the Community Room of the Joe and Rosie Ruhl Student Community Center. An alumni panel discussion will be followed by an opportunity to connect with the panelists. Panelists will discuss the diverse range of potential career paths with a degree in HD FS. Penn State York offers both the associate and bachelor's degree.
Networking 101 is offered from 9 to 10:30 a.m. on Wednesday, March 29, and is an opportunity for students to get a brief introduction on how to begin building a meaningful professional network. This is a walk-in workshop in the Advising and Career Development office, and will help students to prepare to get the most out of the Career Networking Event on March 30.
"Agriculture in Action" is set for Wednesday, March 29, when professionals from a range of occupations will lead a discussion about career paths connected to agricultural sciences and related industries. The program is from noon to 1 p.m. in the Community Room of the Joe and Rosie Ruhl Student Community Center.
The final event of Career Week, Friday, March 31, is the annual Penn State York Information Sciences and Technology (IST) Spring Event, set for 5:30 to 8 p.m. at Heritage Hills Golf Resort, 2700 Mt. Rose Ave., York, Pennsylvania. This event is open to students in the IST program and provides an opportunity for them to connect with IST alumni, learn about career and alumni services, and discover potential career paths within this versatile degree program. Registration is required for this event; contact Iona Conlon, at 717-718-6781 or [email protected].