Special speaker Christine McKinley to share her story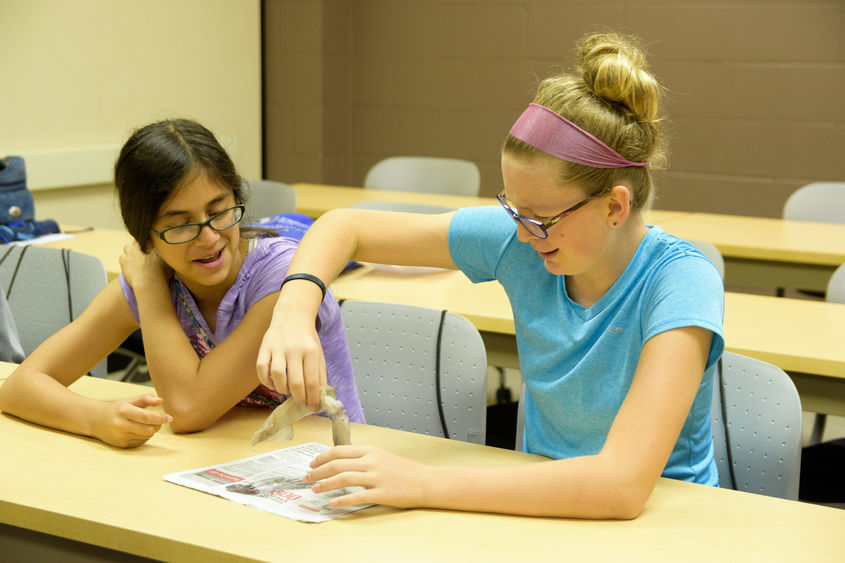 YORK, Pa. — Christine McKinley, mechanical engineer, musician, television celebrity and author, is the featured speaker at "Pathways to Your Future Exploring STEAM Careers," set for 8 a.m. to 2 p.m. on Friday, May 11, at Penn State York. Pathways to Your Future offers seventh-grade girls the opportunity to explore a variety of job-related fields in science, technology, engineering, art and mathematics (STEAM). The program brings together young women and professional women and men from academia, medicine, local business and industry for a day of workshops and discussion. The program is in its 22nd year.
Seventh-grade girls, their teachers and parents representing 29 schools (public, private, charter and cyber) will take part in this free career-awareness program. More than 300 people (students, parents, teachers, volunteers and presenters) will be participating in the program. Pathways also provides teachers with information to guide young women toward career opportunities in STEAM fields.
At 9 a.m., following the welcome in the Pullo Center Family Performing Arts Center (The Pullo Center), Christine McKinley will share her story. This portion of the day is open to public.
McKinley is a licensed mechanical engineer, a musician in a Portland band named Swan Sovereign, and a television celebrity who hosted Brad Meltzer's "Decoded" on the History Channel and "Under New York" on the Discovery Channel. Her book, "Physics for Rock Stars," published in 2014, lets readers know she is serious about physics. Her 22-year engineering career has included projects in power generation, industrial facilities and commercial construction. Her musical side not only includes playing in a band, but also composing. Her musical about physics, "Gracie and the Atom," won a Portland Drammy for original score.
McKinley grew up in Anchorage, Alaska, but her family moved to California just in time for her to attend a Catholic high school. She earned a bachelor of science in mechanical engineering at California Polytech University in San Luis Obispo, and is a licensed engineer in Oregon and California. McKinley lives in Portland, Oregon.
An advocate for science, technology, engineering and mathematics, she encourages students to pursue these career fields along with anything else they are interested in doing. Her passion for physics is obvious when she explains to students how an understanding of that science will help them execute a proper stage dive or win a fistfight on a speeding train.
In addition to her formal presentation, McKinley will host a group of students for a question-and-answer session and provide an opportunity to get to know more about her.
Following McKinley's presentation, the 232 students participating in Pathways will attend three workshops that range in topics from Braaaains! and Licks for Bricks to Maine Science Exploration, and The Science of Color in Cosmetics.  Three new workshops have been added this year: Aim for Mars, Exploring Circuitry with Makey Makey!, and It's a Bird, It's a Plane, It's ... Virtual Reality. There are 25 workshops in all that get started at 10:15 a.m.
One of the new workshops, Aim for Mars, will be led by Eleanor Sigrest, a ninth-grade student from Woodbridge, Virginia, who was the National Science Fair winner last year. She has received national attention for her work and was featured on NBC's morning show, "Today."
In addition to the workshops, art and science projects from schools participating in Pathways will be featured in the lobby of the John J. Romano Administration Building throughout the day.
Pathways to Your Future: Exploring STEAM Careers is sponsored by Penn State York, the Women's Philanthropic Network at Penn State York, a Pullo Family Grant, Exelon Generation, People's Bank, and HAAS Printing Co. Inc.
Schools participating in the program are: Agora Cyber School, Baltimore Leadership School for Young Women, Central York Middle School, Christian School of York, Dallastown Area Middle School, Dover Area Intermediate School, E.H. Markle Intermediate School, Eastern York Middle School, Hannah Penn K-8 School, Hanover Middle School, Harrisburg Academy, Helen Thackston Charter School, LAF Homeschool Group, Lancaster Mennonite Middle School, New Cumberland Middle School, Northeastern Middle School, Northern Middle School, Red Lion Bible Christian School, Saint Theresa School, Shrewsbury Christian Academy, South Eastern Middle School, Southern Middle School, Spring Grove Middle School, STEAM Academy, The Catholic Homeschoolers Group of York, West York Area Middle School, York Catholic High School, York Home School Association Inc., and York Suburban Middle School.
To learn more about Pathways, visit the website or contact Jan Martin, STEAM and Pathways coordinator, at [email protected] or 717-771-4173. For more information on the May 11 program, contact Barbara Dennis at 717-771-4128 or [email protected].