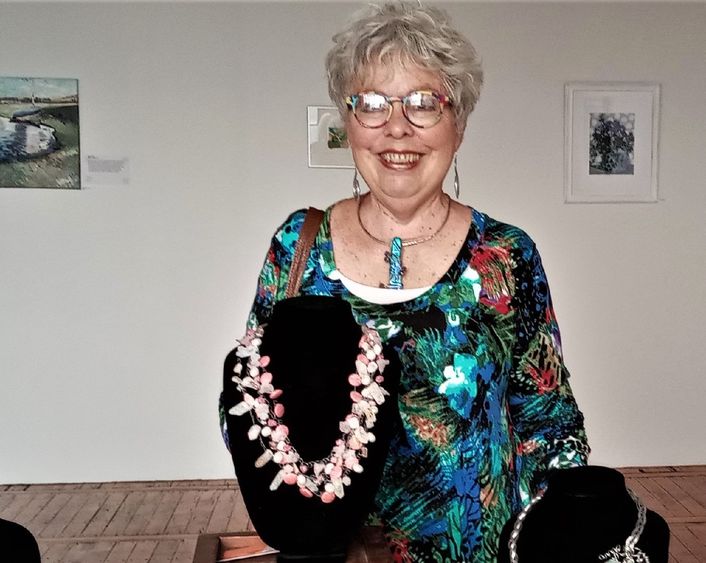 UNIVERSITY PARK, Pa. ­­­— When it comes to art, OLLI at Penn State member Renate Ferree, has just about done it all. From glass blowing to painting and from stenciling to quilting, she said, "You name it, and I have tried it."
This summer she had a new art experience through OLLI at Penn State as one of 26 members whose art was featured in an exhibit at the Pajama Factory, a former factory in Williamsport that has been converted into shops, art studios and lofts.
"I am 76 years old and this was the first time I ever had any art pieces of mine displayed in public. I guess that shows that a person is never too old for new experiences," Ferree said.
OLLI at Penn State is a unit of Penn State Outreach that offers community members aged 50 and above the opportunity to learn, explore and connect through educational experiences, travel, social and volunteer opportunities. The exhibit is an example of artistic opportunities available through OLLI at Penn State, said member Alice Clark, who helped organize and participated in the exhibit.
"This was something new that showcases something people don't think about OLLI, which is all the talent that is here. There are so many people in our community who have expertise in art and enjoy it," Clark said.
Along with art-themed courses that OLLI at Penn State offers each semester, art-related groups offer opportunities for artists to connect with others and practice their skills.
Once a month the Outdoor Art Group, which is open to every level of artist, meets outside to spend a few hours together making art. Clark leads the group and said art is something she became passionate about while taking art classes from home during the pandemic.
"It made me realize how important art is, because I got to do something that is ascetically pleasing on my own time, and at the same time there were people I got to know very well. In some of these classes and groups, there are friendships that are developed, and that is important, too," Clark said.
OLLI at Penn State member Marsha Turner Pluhar, a painter and printmaker, has held studio space at the Pajama Factory since 2010, and has had solo shows there in the past.
While participating in the OLLI at Penn State Hiking Group, she made connections with many of the artists in the group. The idea for an exhibit in the Pajama Factory soon came together with the support of other members. She said the result was a success that she hopes can be replicated in the future.
"As an OLLI member and long-time tenant of the Pajama Factory, I was very happy to have a part in organizing and participating in this exciting exhibition of OLLI artists' art," Turner Pluhar said. 
The exhibit included artwork from OLLI at Penn State members from University Park and York campuses, providing an opportunity for members to make connections with artists across campuses.
OLLI at Penn State York member Susan Craver's intricate lace garment and jewelry was on display. Craver has been knitting since she was a child, and she also uses her creativity in her custom jewelry business. She never had her artwork in a gallery before this summer.
"I was thrilled to have my work on display. I feel it's a real honor. I consider myself 'a maker' but to be considered an artist and have my works displayed for all to see is humbling," Craver said, who also has two pieces on display this summer at Creative York, a gallery in York.
When the exhibit opened in June, the OLLI at Penn State Travel Committee offered a trip to Corning, New York, to explore sites such as the Corning Museum of Glass, the Gaffer District, the Rockwell Museum and more. On the way back through, the group stopped in Williamsport for a tour of the Pajama Factory and the exhibit.
"It was just an enjoyable celebration of art and people's talents. We just knew there were so many talented artists in OLLI that people don't know about, so this was a fun step in displaying that talent and seeing what future possibilities are," Clark said.
Visit the OLLI at Penn State website to learn more or inquire by email at [email protected] or by phone at 814-867-4278.