Student startups showcased, research entrepreneurs awarded $45,000 in funding during two-day conference in Hershey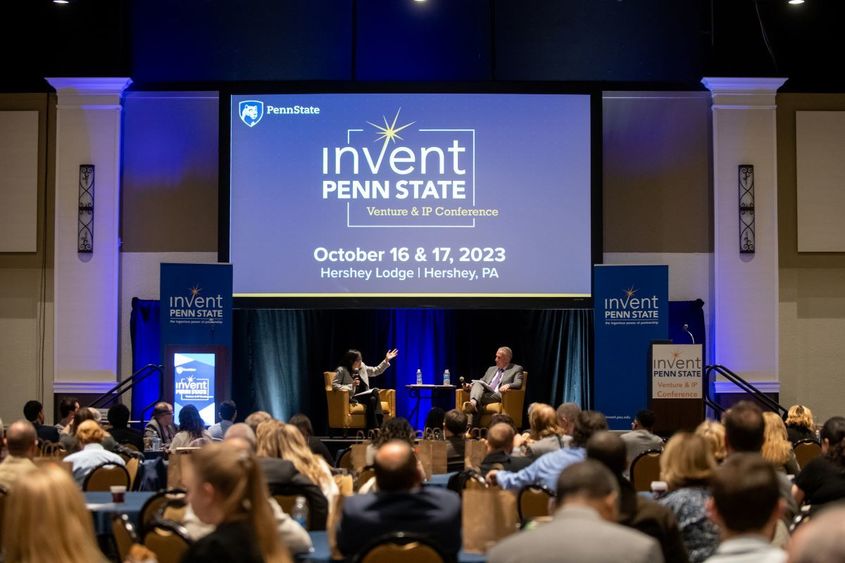 HERSHEY, Pa. — Penn State students, faculty and alumni entrepreneurs joined with venture firms and startup founders from across the United States for the 2023 Invent Penn State Venture & IP Conference, held Oct. 16-17 at the Hershey Lodge in Hershey. 
The 2023 conference gathered more than 400 attendees, including 63 startups, 40 investors and 16 sponsors, working together to drive the efforts of entrepreneurs, researchers and others into the next phase of their businesses. One of the largest tech startup conferences in the mid-Atlantic, the event highlights innovation from high-growth and emerging markets and expands Penn State's diverse technological and entrepreneurial research efforts. 
"This year's Venture & IP Conference featured diverse and informative speaker sessions which provided attendees with new perspectives and impactful, actionable advice to grow and achieve their goals," said James Delattre, associate vice president for research and director of the Office of Entrepreneurship and Commercialization. "Hosting the conference in Hershey this year enabled us to showcase the leadership, innovations and facilities of the Penn State College of Medicine. The conference also showcased some of Penn State's most promising entrepreneurial endeavors, as well as disruptive technologies born from Penn State research, which are well on their way to changing the world for the better." 
The conference kicked off with opening remarks from Interim Senior Vice President for Research Andrew Read and presentations from eight Penn State student entrepreneurs during the Student Startup Showcase. Each entrepreneur received $2,000 to help move their company forward. 
Each student startup was selected based on the startup's successful participation in the Invent Penn State Summer Founders program, Inc.U Competition or LaunchBox and Innovation Network programming.  
The Student Startup Showcase featured: 
Mary Richardson, a senior pursuing a bachelor's degree in business administration from Penn State York. Her company, Bindr, is an all-inclusive dating app that provides a safe online space for bisexual individuals.
Justin Leusner, a junior pursuing a degree in corporate innovation and entrepreneurship from the Smeal College of Business. His company, TDAY Sports, gives Generation Z sports content catered to their interests and social platform usage.
Eric Leon, a senior Schreyer Honors College student pursuing dual degrees in biomedical engineering and mechanical engineering from the College of Engineering, along with a certificate in humanitarian engineering and social entrepreneurship. His company, Chirp Alert, features an innovative application providing reliable news in challenging African environments.
Nolan Pye, a senior Schreyer Honors College student pursuing a degree in computer engineering from the College of Engineering. His company, Preventi, features a treatment reminder app designed to simplify medication adherence and increase health literacy education for patients.
Omar Rady, a senior pursuing a degree in computer science from the College of Engineering. His company, OfferPilot, provides a solution to help students find and secure entry-level positions, from building a perfect, tailored resume to cover letters.
Zoelie Rivera-Ocasio, a doctoral candidate pursuing a degree in soil sciences from the College of Agricultural Sciences. Her company, Zoils and Pigments, manufactures soil-based paints using natural, nontoxic, environmentally conscious ingredients and high-grade materials for artists and children.
Anish Nangare, a junior pursuing a degree in enterprise technology integration from the College of Information Sciences and Technology. His startup, Sage Art, is a platform created with the goal of helping young digital artists earn profits through their art.
Khalid Jordan, a junior pursuing a business degree with a marketing focus from Penn State Brandywine. His company, YozoraTs, is an anime T-shirt company. 
The two-day event also featured Venture Connection, a match-making event between entrepreneurs and venture capitalist investors who are pre-paired based on industry and capital needs, among other key criteria. 
The conference's first day rounded out with the Tech Tournament, a showcase of disruptive technologies and early-stage companies born of Penn State's robust and diverse research enterprise. Eight competitors competed for a grand total of $45,000 in innovation awards. The winners of the Tech Tournament included: 
First place ($25,000) was awarded to LionGlass, a patent-pending glass compositional family that offers, for the first time, an alternative to standard soda lime silicate glass, reducing the carbon footprint of the glass industry by more than 50%. 
Second place ($10,000) was awarded to Opthalmize, a small, biodegradable tear-duct implant that gradually releases the anti-inflammatory drug Bromfenac over 30 days. 
The $10,000 People's Choice Award went to Lightscline Data Reduction AI, which reduces up to 90% of sensor data analytics costs by teaching machines to focus on the 10% important data. 
Entrepreneurs and investors also had the opportunity to participate in multiple panel discussions throughout the two-day event, where they heard and learned about intellectual property and raising funding, among other current topics. 
After the Student Startup Showcase, Read hosted a fireside chat with recently appointed College of Medicine Dean Dr. Karen Kim. They discussed new opportunities for cross-disciplinary collaboration across Penn State and the commonwealth to empower technological and medical advancement. 
The conference also included a keynote presentation from Philip Gaskin, vice president of entrepreneurship at the Ewing Marion Kauffman Foundation. He shared the findings of the Kauffman Foundation's "Access to Capital for Entrepreneurs: Removing Barriers," a report highlighting the need for increased funding of companies led by marginalized founders. 
The event concluded with a fireside chat between Eric Ewell, director of the Mon Valley LaunchBox powered by Penn State Greater Allegheny, and Rodney Sampson, general partner of 100 Black Angels & Allies Fund. The two discussed Sampson's impressive background as one of three Black co-founders in the early 2000s whose high-growth technology startups raised more than $1 million in angel and venture capital and were subsequently acquired for eight figures.  
To learn more about Penn State-affiliated startups, visit the Startup Navigator. To view more Penn State technologies in development, visit the IP Navigator. To find more entrepreneurial resources across the commonwealth, visit the Resource Navigator. 
About Invent Penn State  
Invent Penn State is a commonwealth-wide initiative to spur economic development, job creation and student career success. Invent Penn State blends entrepreneurship-focused academic programs, business startup training and incubation, funding for commercialization, and university/community/industry collaborations to facilitate the challenging process of turning research discoveries into valuable products and services that can benefit Pennsylvanians and humankind.    
This project was financed in part by a grant from the commonwealth of Pennsylvania, Department of Community & Economic Development.