Mary Richardson and business partner Brandon Teller aim to make a difference with app designed for everyone, especially the LGBTQIA+ community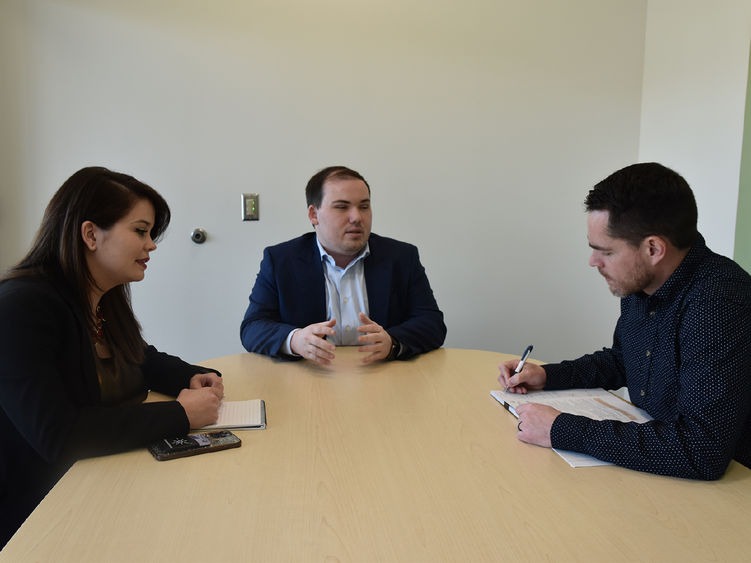 YORK, Pa. — Penn State York business major Mary Richardson did not plan on creating a dating app, she said. However, after being rejected from several popular apps and in some cases banned because of being bisexual, she said, she was determined to create something that would be "label-free" and provide a service to all audiences — and especially to those who might not feel welcome or represented on other dating apps.
Richardson and business partner Brandon Teller, who runs a software company in York, created Bindr, an all-inclusive dating app, about a year ago. The app now has grown to more than 25,000 users, she said, thanks to assistance from York Launchbox powered by Penn State and other resources that have helped guide Richardson's entrepreneurial journey.
Becoming a student entrepreneur
The decision to become an entrepreneur was deeply personal, Richardson said. She knew she was not alone in feeling discriminated against, she explained, and genuinely believed creating a dating app that accepted everyone was the right thing to do and could make a difference.
As a junior at Penn State York, she shared her idea with her friend, Teller, and the two decided to create a dating app designed for everyone but with a focus on the LGBTQIA+ community. Users do not need to define themselves as bisexual, lesbian, gay or straight — the app leaves all options on by default and the user can choose the type of person they are interested in connecting with, Richardson explained. No one is limited or banned because of their sexual-orientation choices on the app.
"We are inclusive to everyone and have really embraced that our app is label-free when it comes to sexual orientation," she said.
The two created Bindr in just a month and then began the task of getting the word out about it.
Richardson credited faculty and staff at Penn State York for guiding her and Teller on their journey and connecting them with the York Launchbox powered by Penn State.
"My business professor, Dr. Ali Kara, suggested I contact Allan Lehman, the director of the York LaunchBox, to find out about the free services Penn State has to offer to entrepreneurs," Richardson said. "I met with Allan, and he shared the variety of resources available through the LaunchBox. He was my go-to guy and the first person to say we really had something in Bindr."
Richardson also noted that the marketing classes she's taken through the business major and discussions with faculty have helped with the development of the app.
Originally from near Penn State's University Park campus, Richardson said she had always wanted to attend college there but didn't think it was achievable for her. She attended Smart Horizons, an online high school based in Florida, and graduated in 2016. When she moved to York in 2019, she discovered and enrolled at Penn State York. Attending the local campus worked for her as an adult student, she said — she could maintain her lifestyle, continue her education and earn a Penn State degree. In spring 2023, Richardson made the dean's list, earning a 3.5 or higher cumulative grade-point average, all while launching and growing her business and competing in pitch competitions.
Inc. U and other awards
Richardson and Teller continued to meet with Lehman along the way for assistance with connecting to Penn State York Launchbox resources and completing applications for pitch competitions. They have competed in and won numerous pitch competitions sponsored by the University and other entities. 
Their first big win was at the Inc. U Competition back in March where they took first place and won $15,000. Inc. U. is a signature program of Invent Penn State and an annual showcase of student innovation across the commonwealth. The competition, held each spring, provides up to $30,000 in funding to the top six student startup teams at the culminating pitch event that takes place during Penn State Startup Week powered by PNC. Prior to the competition, finalists gained access to pitch training and startup support services. Teams also received support from the Penn State Law Entrepreneur Assistance Clinic to help establish LLCs and the Penn State Law Intellectual Property Clinic for patent and intellectual property assistance.
Bindr's creators have received a total of $33,750 to use for funding the app development and going to Pride events to get word out about the app in specific areas, including:
First-place, $2,500, at the Fayette LaunchBox Shark Tank, a student pitch competition hosted by the Fayette LaunchBox
$15,000 for the Invent Penn State Summer Founders Program hosted at Happy Valley LaunchBox powered by PNC
Second-place, $1,000, from the McNees Accelerator Program at York College of Pennsylvania
Fifth-place, $250, from Sigma Nu Tu Virtual Pitch Competition. To qualify for this competition, which was nationwide for colleges, groups must have won first place in another competition
Summer Founders Program
The Summer Founders Program, hosted by Happy Valley LaunchBox in State College, is a 13-week boot-camp-style program where students can develop their companies. Teams with at least one Penn State student founder are provided a $15,000 grant to work on their startup, social good or nonprofit idea over the summer.
"The connections we have made in the program have been great," Richardson said. "The co-working space is amazing and the way we and the other students have really come together to help with each other's companies really shows the value of the program."
She noted that funding they received really helped with being able to promote the app at  events.
"We also have been meeting with a lot of local entrepreneurs who have become advisers, and all have different stories that help guide us," she said. "We have also been volunteering for the community such as at the food bank, Pride events and Arts Fest, for example."
Richardson, who serves as chief executive officer for Bindr, has placed in every pitch competition in which she has competed.  She and Teller, who serves as chief technology officer, run the day-to-day operations of the company with Teller doing all intricate application building.  Richardson has added a computer science minor to her academic degree to learn code and some of the backend development skills.  She begins her senior year at Penn State York in the fall.
2023 Women in Technology Award nominee
In September, Richardson will find out if she is a winner of one of the 2023 Women in Technology Awards presented by the Technology Council of Central Pennsylvania. She was nominated for the Diversity/Inclusion Award by advisers, community members, and people with whom she has worked. The award recognizes a woman's active commitment to inclusion and diversity in technology. Richardson was unaware of the nomination until she received an email informing her of it.
"I am extremely grateful for the nomination, and I can't wait to see if I am the winner," Richardson said. "As a queer woman in technology, an award for diversity and inclusion would mean the world to me and show that my work is being recognized for the LGBTQIA+ community."
Richardson and Teller said they hope Bindr will become a major competitor in the online dating game world. Bindr has already hit the top ten spots for online search terms, including the number one spot for "lesbian dating," and continues to rank highly for "LGBTA dating" and similar search terms.
"Bindr is a safe place for everyone to be themselves regardless of labels, especially our transgender and non-binary folks who may feel uncomfortable on some other dating app," Richardson said. "Things are moving quickly, and we are so excited for what the future holds for Bindr."
Richardson and Teller said they are especially thankful for all the support they have received from Penn State York and Penn State.
"Without the resources provided to us, Bindr would not be where it is today," Richardson said.
The York LaunchBox and the Happy Valley LaunchBox provide early-stage startups with support and resources they need to build a sustainable and scalable business and a viable plan for growth. No-cost programs and services can include coworking space, accelerator programs, free legal and intellectual property advice, and expert mentorships from Penn State's extensive network. LaunchBox is open to everyone — community members and those not affiliated with Penn State. Both LaunchBoxes are signature programs of the Invent Penn State initiative and two of 21 innovation spaces located in Penn State campus communities across Pennsylvania. Learn more about each LaunchBox at these websites:  Penn State York LaunchBox  and Happy Valley LaunchBox.