Helping local students consider new possibilities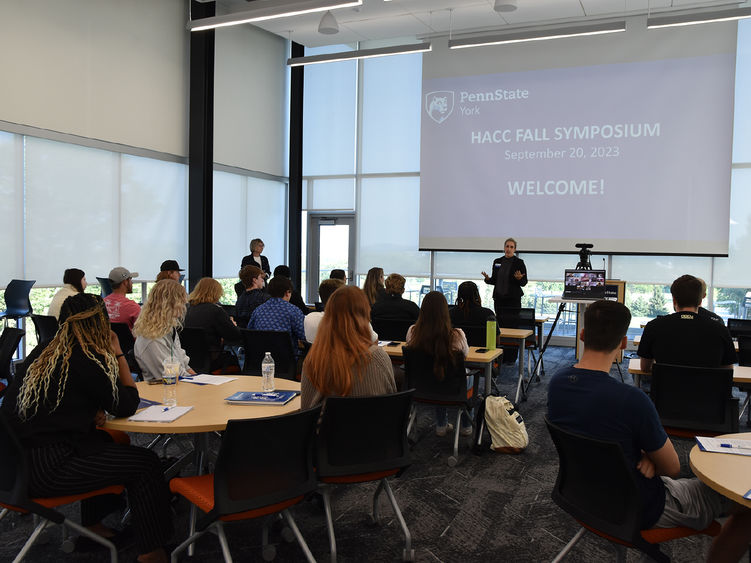 YORK, Pa. — Penn State York has partnered with the Harrisburg Area Community College (HACC) to offer a business-related workshop through a program called the HACC Symposium. This partnership helps introduce HACC students to the Penn State York campus, faculty, staff and students while offering information that will be useful to them, regardless of their major.
"My goal is to expose students to local transfer opportunities as they begin their academic journey at HACC," said Elaine Madden, professor of business, management and marketing at the HACC York campus. "Many of them haven't thought about four-year opportunities, so I try to encourage them to think about where they wish to attend after their time with me is over."
Madden worked closely with Ali Kara, professor of business administration at Penn State York, and Erin Nelsen, admissions counselor and coordinator of the master of education in teaching and curriculum at the York campus, to launch the HACC symposium program in 2019. Each semester, the group selects a professional development topic and ends the symposium with information about the college transfer process.
"Last fall, we offered a dining etiquette seminar. The topic we chose for this fall was interviewing skills, which was led by a member of our career development office, LeighAnn Fry. My hope is that students who participate in the symposium build relationships with our faculty and staff, so they can feel comfortable transferring here after they have completed their associate degree at HACC," said Nelsen.
Streamlining the transfer process
Establishing a closer relationship between the two institutions not only helps students grow more comfortable with the idea of pursuing a bachelor's degree but can smooth out the transfer process as well, according to Nelsen.
"If we can identify students who wish to transfer early, Ali meets with them and recommends which courses from HACC satisfy the requirements for Penn State, so students aren't wasting money and time taking classes that don't count towards their degree," said Madden.
Kara explained, "My discussions with Elaine revolved around fostering inter-campus collaborations, particularly in streamlining the transfer process, enhancing advising and enriching students' experiences. We saw a need to enhance interactions between HACC and Penn State York at all levels, encompassing students, faculty and administrators. As a result, our focus shifted to the concept of organizing symposiums."
Ali Kara, professor of business administration at the York State York, speaks to HACC students about the business opportunities at the campus.
Although the symposiums took a virtual format during the pandemic, the most recent event, held on Sept. 20, was hosted in the Graham Center for Innovation and Collaboration on the Penn State York campus, with a call-in option for students who preferred to attend virtually.
"Many of my students never visited a four-year campus while they were in high school," said Madden. "Having members from the Penn State team meet with them during these sessions does assure the students the process is similar to what they currently experience at HACC."
While much of the community college experience translates well to a four-year institution, students who transfer to Penn State may find academic and professional opportunities that might not be available elsewhere.
Highlighting new opportunities
The Sept. 20 HACC Symposium featured a panel of four students representing the Future Business Leaders of America (FBLA) Collegiate, which is a nation-wide business leadership organization of more than 200,000 students. FBLA helps prepare students for their careers by hosting education programs and competitive events, including leadership conferences held at the state and national levels where students can compete in subjects including macroeconomics, small business management, public speaking, marketing concepts and more.
Each of the panelists took home a national award this year, which, according to Fry, will enhance their résumé and help them stand out from the crowd when it comes time to apply for jobs.
One of the panelists, Rebecca Mauck, also spoke about a program called Dress for Success, where the Suits to Careers organization (part of YWCA of Harrisburg) purchases professional attire for students who are preparing for internships, job interviews and other formal endeavors.
Dress for Success was made possible at Penn State York through funding by the Nittany Scholars Program, the Penn State Student Activity Fund, and the Women's Philanthropic Network (WPN) at the campus. This is just one example of the resources designed to prepare students to enter their field with confidence.
Student success stories
Over the years, Kara has witnessed many achievements of HACC students who have transitioned to Penn State York.
"Colby Mong came to us from HACC with the intention of completing our bachelor of science in business (BSB) degree," Kara said. "He was uncertain about choosing management marketing as his focus area. It eventually became evident that he would benefit from our newly developed project and supply chain management (PSCM) degree, so I worked closely with him at every level to help him complete both the BSB and the PSCM dual degree without extending his intended graduation date and with minimal added credits. He graduated last year with magna cum laude honors and is currently employed by a logistics company.
"During a meeting at HACC where I was discussing our programs and the transfer process, Logan Snyder inquired about the athletic opportunities at Penn State York," Kara continued. "My colleague, Joe Downing, associate professor of corporate communication and golf coach at Penn State York, was there to help and provided information about the golf lessons he was teaching. Two years later, Logan graduated from Penn State York and according to Downing, he is the best golfer in the history of Penn State University Athletic Conference (PSUAC). He was the first PSUAC golfer to ever win the gold medal at the U.S. Collegiate Athletic Association (USCAA) championship."
Every journey is different
"Starting at a community college and completing general education courses is an economical way to earn a Penn State degree," Nelsen said. "When you begin at a community college, you can complete the general education courses at a reduced tuition rate, then transfer those credits to Penn State. Only paying two years of Penn State tuition makes a lot of sense for many students."
According to Nelsen, whether students wish to begin their journey at a Penn State campus to begin building their community sooner or choose to transfer from another institution, there are ample paths toward earning a degree and gaining experiences that can contribute to a successful career.