Penn State York commencement is a time for celebration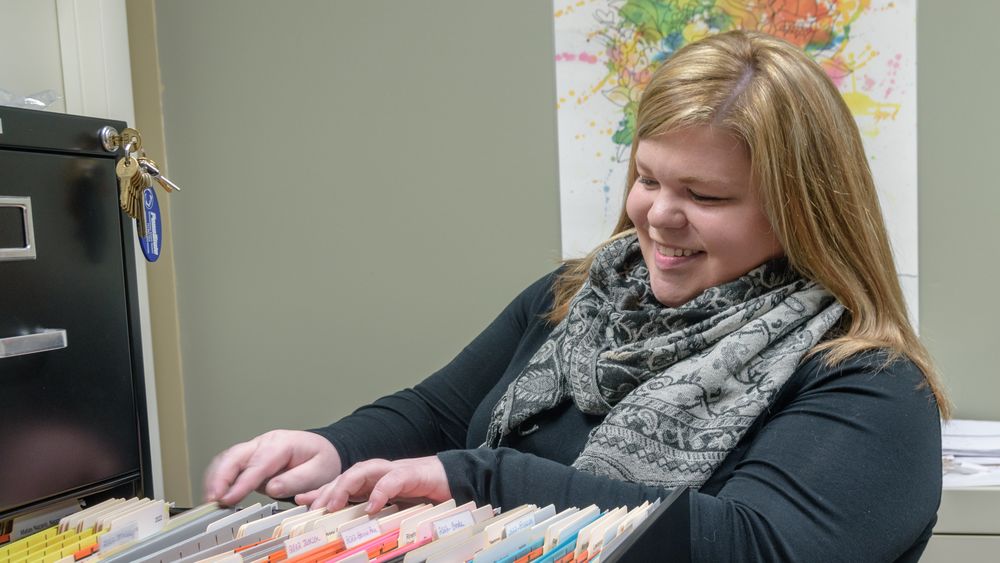 YORK, Pa. — When Rachel Patz and Jeff Parthree, both adult learners, cross the stage during Penn State York's 17th annual fall commencement ceremony, set for 6 p.m. Friday, Dec. 15, there will be many people to thank, and a great deal of pride. Both Parthree and Patz have persevered through a variety of events in life, and will be reaching their goal of a Penn State degree. The ceremony, in the Pullo Family Performing Arts Center (The Pullo Center) on campus, is free and open to the public.
At age 16, Patz was told by teachers and tutors that she was not college material and she should drop out of school and just learn a trade. She believed the opinions of these people, whom she respected, and so she followed their advice and quit high school and went to work.
As a young student in elementary school, Patz was diagnosed with ADHD and took medication and received support services. By the end of eighth grade, when she was about to make the transition to high school, she was told she had outgrown the ADHD and services and support were taken away; she had no individualized education plan and no longer took medication. High school was a struggle and she dropped out.
Now, as an adult, at age 29, Patz takes medication for ADHD and it changed her life. As a junior at Penn State York she decided to get a medical opinion on why she was having anxiety and difficulty concentrating. The doctor reviewed her medical records from childhood and suggested that her symptoms were that of ADHD, so she began taking medication and adjusted the way she did things.
At age 19, Patz decided to earn her GED and passed the test on the first try. It was then she realized that perhaps people were wrong about her and that she could be successful. Over the years she worked a variety of retail jobs and one day decided she wanted more. In 2012 she applied to Harrisburg Area Community College and began taking classes. She earned an associate degree in social science and then applied to Penn State York to pursue a bachelor's degree in human development and family studies (HDFS) in 2015.
Patz received three scholarships while a student at Penn State York: the Mary S. Fritz Trustee Scholarship, a Presidents Scholarship, and a Brunhouse Scholarship. The scholarships aided her financially and helped her fund her final semester at Penn State York. Patz is convinced that without these scholarships she would not have been able to complete her degree.
While a student, Patz has worked at WellSpan in registration, and during her last semester at the York campus, as part of an internship requirement for her major, she worked with Penn State's Educational Talent Search at William Penn High School, where she revamped the school's financial aid night to help make it a much more successful event. In addition, she was invited to speak at Penn State's University Park campus, and will share her story and project at an in-service for others involved in the Educational Talent Search Program. The Educational Talent Search Program is a federally funded program designed to help eligible youth and adults continue in and complete secondary education or its equivalent and to enroll in or re-enter a college or training program.
Patz has enjoyed her internship and the opportunity to work with students who are sometimes in the midst of struggle — something she can relate to. She has excelled in the HDFS program, and despite the discouraging remarks in high school, has proven herself. She is excited to begin a career in human service and is inspired by a quote from author Ayesha Siddiqi: "Be the person you needed when you were younger." Patz aspires to be that person.
"Rachel is incredibly insightful. She uses the challenges she has faced to help others in a way that creates meaningful connection and change," said JeanMarie St. Clair-Christman, a Penn State York faculty member in human development and family studies. "She approaches challenging tasks with creativity, flexibility and commitment. We are so proud to have Rachel as a graduate of the human development and family studies program, and I know she is going to continue to do great things!"
On Patz's last day of class at Penn State York, St. Clair-Christman asked her, "What master's are you going for?" Patz has applied to Millersville University and hopes she will be able to fulfill that dream. In the meantime, she hopes to find a job in social work and take opportunities as they come.
Jeff Parthree
It was 23 years ago — 1994 — that Jeff Parthree first enrolled at Penn State York. At age 22 he thought he was ready to attend college, but just a year later decided to quit school and go out into the workforce. In the years leading up to the fall of 2015, when he decided to return to school, Parthree held a number of jobs, lived in Oregon and Las Vegas, was married and divorced, and is proud to say he has a daughter Gianna, 14, whom he has raised since she was 2 years old.
A York native, Parthree, 44, is a graduate of York Suburban High School, where his daughter now is a freshman. He is greatly appreciative of the love and support he has received from his family in York. Parthree will speak at commencement representing the associate degree graduates, and will be awarded an associate degree in information sciences and technology (IST).
"My mom and dad have done a lot to support me in this journey, and I want to show them it wasn't for nothing," said Parthree.
As a student at Penn State York, Parthree was an intern in the campus web office and has worked on a variety of high-profile projects, including the major web redesign done across the University that rolled out a new website for Penn State York in October 2016. He has worked alongside Dave McLaughlin, Penn State York's web developer, in addition to taking a full course load.
"In his time in the web office, Jeff has been the lead developer on a number of projects that have directly benefited the campus, from a new interactive online map to our student activity fee and student facility fee websites," said McLaughlin. "Jeff came into his internship with a good set of technical skills, which he was then able to develop while here."
McLaughlin said that Parthree brought a great sense of responsibility to every project he worked on, which helped him excel in classes and in the web intern position.
Parthree's message to others looking to return to school is that it is never too late. He is quick to note that there is some adjustment to learning as an adult but if you work hard, the rewards are great.
He hopes to find a job in web development or web applications or even back-end programming or software development. Parthree has had a major impact on the campus website, and he is thankful for his experiences at Penn State York.
Parthree hopes there is a bachelor's degree in his future but for right now, he would like to secure a job in his field.
Patz and Parthree's educational journeys have been quite different, but their endings are the same: a Penn State degree.
Fall 2017 commencement ceremony
Penn State York's commencement speaker for the graduation ceremony is Alice Conner-Malyszek, director of manufacturing for BAE Systems' Combat Vehicles U.S., based in York, Pennsylvania. Conner-Malyszek is responsible for overseeing the manufacturing strategy and execution for all combat vehicle programs. She leads manufacturing engineering, industrial engineering, and production program integration operations at combat vehicle manufacturing facilities across the United States. She has led manufacturing strategies to help BAE Systems grow, and has led manufacturing technology development activities. She also has led the organization in Lean Six Sigma continuous-improvement projects.
A graduate of Penn State, she holds an associate degree in mechanical design engineering technology and a bachelor of science in engineering. She also has completed coursework toward a master of science in engineering science, and completed the Fundamentals of Engineering Certification. Conner-Malyszek holds a Green Belt from the University of Michigan, and she has been formally certified as a lean facilitator by the Kaizen Institute Consulting Group.
An advocate and friend to the York campus, Conner-Malyszek serves on the Penn State York Advisory Board, the Engineering and Technology Industrial Advisory Committee, the Women's Philanthropic Network, and is active with The Graham Center for Entrepreneurial Leadership Studies. She has been instrumental in providing career advice to York students, and a number of graduates have found employment opportunities at BAE Systems. She has a passion for encouraging young students to explore careers in science, technology, engineering and technology, and is dedicated to helping young women feel empowered in their choices.
She has been recognized throughout her career for her leadership role in driving continuous improvement. Her awards include the Department of the Army Commander's Award for Public Service (Acquisition Reform and Streamlining), and numerous company awards, including the Chairman's Award and Leadership Awards for Exemplary Teamwork. She is a graduate fellow with the International Women's Foundation.
Conner-Malyszek resides in York with her husband, Greg, and has three children and two step-children. A Penn State family, her sons John and Adam Conner are Penn State graduates who began their collegiate journey at the York campus, and her daughter, Alison Conner, currently attends Penn State Harrisburg. When she isn't enjoying family, in her free time, she likes acrylic and oil painting, gardening, reading and volunteering.
In addition to hearing from Conner-Malyszek, Penn State York will continue its open microphone tradition when graduates can speak to the audience for a moment. The top senior attending in Penn State York's associate degree programs, Jeffrey Parthree, information sciences and technology, York, Pennsylvania; the top senior in baccalaureate programs, Christopher Hadfield, magna cum laude, business, Hanover, Pennsylvania; and a top master's degree graduate, Thomas Kramer, master of education in teaching and curriculum, York, Pennsylvania, will also say a few words.
A total of 40 degrees will be awarded during the ceremony. Penn State York will award three master of education in teaching and curriculum degrees, 27 baccalaureate degrees, and six associate degrees. Three students who earned their degrees at another Penn State location will return to York to receive a degree during the ceremony.
For those who cannot attend the event, Penn State York's commencement can be viewed on Comcast cable Channel 18 or streaming live on the campus website.