Penn State York commencment set for Dec. 20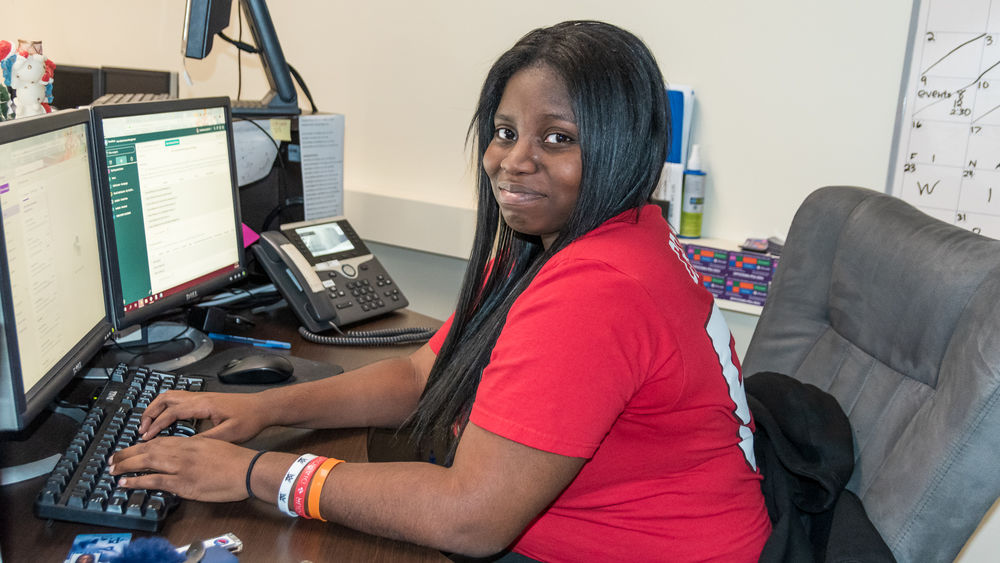 YORK, Pa. — Jamila Bowen has been dreaming about a job working at Google since she was just 8 years old. Bowen has passed the first hurdle in that interview process but right now, she is focused on crossing the stage at the Pullo Family Performing Arts Center (The Pullo Center) on Dec. 20 and receiving the associate degree in information sciences and technology she has earned at Penn State York. The fall commencement ceremony is set for 6 p.m. and is open to the public.
Bowen, a graduate of Dover High School, in Dover, Pennsylvania, is a well-known face on campus, as she has been working at the help desk in the Penn State York Office of Computer and Information Services since beginning the pursuit of her degree.
"Jamila is a great employee and a wonderful person. She is a very hard worker and extraordinarily dependable. I know I can count on the details being taken care of when she is at the help desk," said Joe Royer, assistant director of information technology at Penn State York. "She takes her job seriously and approaches it professionally. For Jamila, it's not just something to do between classes, it's an opportunity to hone her trade skills."
The work at the help desk is part of what has helped Bowen get to the second stage of the interview process with Google. Her job on campus involves taking calls and providing help to the campus community when it comes to information technology (IT) services. When someone's computer isn't working properly, Bowen is one of the help desk employees to provide support.
Bowen discovered the opportunity at Google when doing research for jobs online. She has already completed extensive paperwork and a scenario-based interview for the residence program with Google. She has more interviews coming up in January, and if she is accepted into the program, will do a 26-month paid residency in either Mountainview, California, or Austin, Texas, leading to employment. If all goes well, she will be heading to the Google residency program in August 2020. In between that time, she will continue her work at the help desk on campus.
In addition to working at the help desk, Bowen also worked as an office assistant at the front desk of the Nittany Success Center, welcoming students and helping them get connected with the resources of the center.
"Jamila's friendly and helpful personality make her an ideal person to assist Penn State York students," said Peggy Violette, director of the Nittany Success Center at Penn State York. "Jamila calls our students by name, introduces tutees to their tutors, and patiently and thoroughly explains our services to new students. We congratulate Jamila on her accomplishments and wish her a fabulous future." 
Bowen attended classes, some on campus and some online through Penn State's World Campus, and she also was active in the Black Student Union, Penn State York Benefiting THON, and worked with several faculty members planning educational trips.
As part of a 150-hour internship that's a part of the degree program, Bowen worked on flow charts for new hires to help them understand the processes in the IT department.
Bowen is thankful for the support she has received on campus from Royer and Violette. She also recalls a time when things weren't going well, and she was able to get support on campus.
"My toughest time in college was when I had to take a leave of absence due to financial issues," Bowen said.  "Luckily for me, I was able to continue working at the help desk and then return to school."
A final few words from Royer about Bowen: "I really hope this opportunity with Google works out for her and opens up a lot of doors for a great career," he said.  "She has worked hard and deserves the opportunity." 
For Bowen, landing a job with Google will be a dream come true.
Commencement speaker
Abraham "Abe" Amorós, president of Amorós Communications in Harrisburg, Pennsylvania, and a member of the Penn State Board of Trustees, is the commencement speaker.  Amorós was appointed to the Penn State Board of Trustees by Gov. Tom Wolf effective Oct. 17, 2018.
Amorós Communications specializes in public relations, government relations, and issues surrounding diversity and inclusion. Prior to his current role, Amorós served as the state legislative director for a labor union for nine years. He also was director of communications for the Pennsylvania Democratic Party and served as senior deputy press secretary to Gov. Edward G. Rendell. Prior to being selected to serve in this capacity, he was director of communications and press for the Pennsylvania Department of State.
His career also includes working as the director of community development and as a public information officer for the city of York.
A Penn State graduate with a bachelor of arts degree in journalism, and a former Penn State York student, Amorós also holds a master's degree in governmental administration from the University of Pennsylvania. Along with an internship in Harrisburg, he credits having a career in government and politics back to his days as a student at the York campus, and his courses with the late Chuck Kennedy, a senior instructor in political science.
"I was bitten by the bug in those classes," he recalls. "I loved Penn State York, Chuck Kennedy's classes, and savored every moment of my collegiate life there." He also fondly remembers his time as the Nittany Lion mascot in York. A 1985 graduate of York Catholic High School, Amorós is proud of his educational experiences
At Penn State, he has served three terms on the Donald P. Bellisario College of Communications Alumni Board and provided volunteer support to the college's Office of Multicultural Affairs. In 2018, Latino Connection named Amorós one of the 100 Most Influential Latinos in Pennsylvania.
Amorós served as a member of the York City Council and was the first Latino elected in the city of York. He served as a member of the Governor's Advisory Commission in Latino Affairs under three administrations.
Amorós also is the proud father of Alessandra, a 2018  Penn State graduate, and Sabrina, who graduates today from Penn State York.
In addition to hearing from Amorós, Penn State York will continue its open microphone tradition when graduates can speak to the audience for a moment. Robert Crum, a candidate for the bachelor of science in business who is graduating Magna Cum Laude, will represent all graduates and speak during the ceremony.
A total of 42 degrees will be awarded during the ceremony. Penn State York will award four master of education in teaching and curriculum degrees, 32 baccalaureate degrees, and eight associate degrees. Four students who earned their degrees at another Penn State location will return to York to receive a degree during the ceremony.
For those who cannot attend the event, Penn State York's commencement can be viewed on Comcast cable Channel 18 or streaming live on the campus website.