Nicole Guise created the winning design from among 14 submissions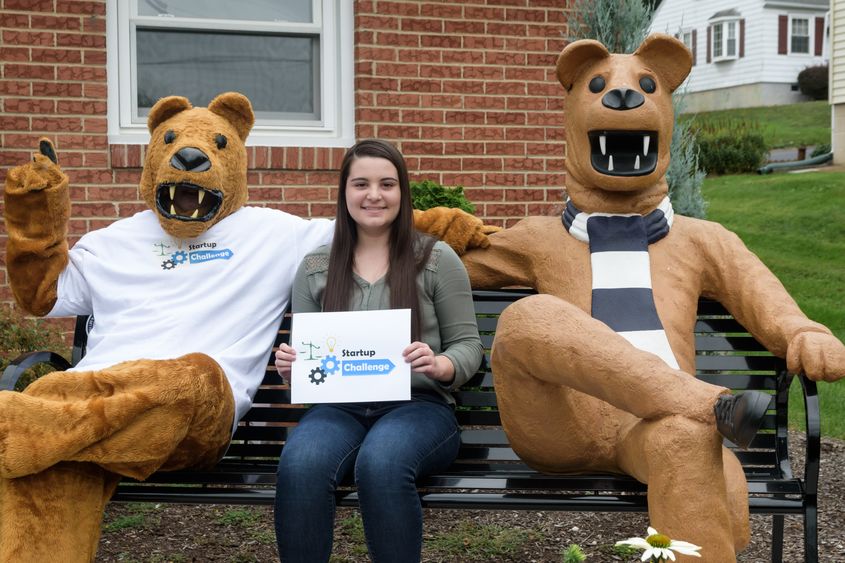 YORK, Pa. — Penn State York student Nicole Guise was named the winner of the first Startup Challenge Logo Contest. Guise's design was selected from among 14 designs, and will be used on the Startup Challenge T-shirts, and on a variety of materials to promote the second annual event in search of the next big idea. Guise also received a $75 gift card.
"When we started planning the 2017-18 Startup Challenge, we knew we wanted a logo to put on shirts and other promotional materials," said Jennifer Philippe, Startup Challenge coordinator at The Graham Center for Entrepreneurial Leadership Studies (The Graham Center). "Because the Startup Challenge encourages students to pursue their big idea in a competitive format, we thought that offering students an opportunity to submit designs via a logo contest would be the perfect match for the entrepreneurial and innovative spirit that the Startup Challenge embodies. It was great to see students, faculty and staff come together to make the contest possible," she said.
The contest invited any student at the campus to submit a logo design, and then a group of Penn State York faculty and staff voted on the designs to select a winner.
Guise, a freshman majoring in agricultural sciences and extension education, was excited to participate in the contest. A graduate of Spring Grove High School, Guise recently became a part of The Graham Center and is interested in being a part of the Startup Challenge this year.
The winning logo design features gears, scales and a light bulb. Guise explains the thought process behind her design.
"For my design, I chose the gears to represent the work, time and energy put into making an entrepreneurial idea successful. The next picture of the scales represents the pros and cons that are weighed when making an investment decision," she said. "For example, do we use wood or plastic to make our product, is it more beneficial to manufacture it in the U.S. or overseas, or even do we relinquish 51 percent — the majority control — of our idea to an investor, or an even 50 percent?"
Guise said that the lightbulb relates to the initial idea for a product or service that puts you on the path to innovative thinking and development. Lastly, the blue arrow in the background of the word challenge represents forward progress.
The Startup Challenge is designed to help students determine how viable their big idea could be in the market, and creates an opportunity for students to collaborate as an interdisciplinary team and to network with mentors in the business and campus community. It also provides students with exposure to angel investors, employers and other innovators, and allows students to apply what they are learning in the classroom.
Registration for the Startup Challenge must be submitted by Oct. 27, and the competition officially begins the first of three phases on Nov. 1: Phase 1, "What's Your Big Idea?," Nov. 1- Dec. 1; Phase 2, "Customer Discovery and Product Development," Jan. 10-March 2, 2018; and Phase 3, "Pitch It," March 3-April 12. At the end of each phase, a panel of judges will determine which teams will move forward in the competition. The finale is scheduled for mid-April. A panel of judges from the local business community will watch the videos that teams created during the Pitch It phase. The judges will also listen to presentations and ask question of each team. Last year, six teams took part in the finale.
To learn more about the Startup Challenge visit york.psu.edu/grahamcenter and go to Startup Challenge or contact Jennifer Philippe at (717) 718-6737 or [email protected].
The Startup Challenge is made possible thanks to a grant from Invent Penn State. In October 2016, University President Eric Barron awarded Penn State York $50,000 as a part of the Invent Penn State initiative. Invent Penn State is focused on leveraging Penn State's research, knowledge and entrepreneurial spirit to bring to market needed ideas, products and services. Since 2015, the University has provided funding for 17 innovation hubs in campus communities across Pennsylvania, which provides combinations of startup accelerators, co-working space, maker spaces and pitch competitions.
Penn State York's innovation hub includes the Working Class Makerspace and a Start-Up (Business) Challenge. Facilitated by The Graham Center, Graham students will soon be able to utilize Working Class, a centrally located makerspace in downtown York.
The Graham Center at Penn State York is a program designed to develop and enhance students' workplace leadership skills. The Graham Center works with students from a variety of academic disciplines to provide them with a set of practical tools that complement the quality education they are receiving at Penn State York. Students who wish to achieve the distinction of a Graham Fellow will participate in a variety of activities, including mock interviews, résumé reviews, professional presence and dining etiquette training, The Graham Speaker Series, networking events and opportunities for internships.
Invent Penn State is a Commonwealth-wide initiative to spur economic development, job creation and student career success. Invent Penn State blends entrepreneurship-focused academic programs, business startup training and incubation, funding for commercialization, and University-community collaborations to facilitate the challenging process of turning research discoveries into valuable products and services that can benefit Pennsylvanians and humankind. Learn more at invent.psu.edu.