Gary Eberle to Speak Sept. 27 as part of The Graham Center's speaker series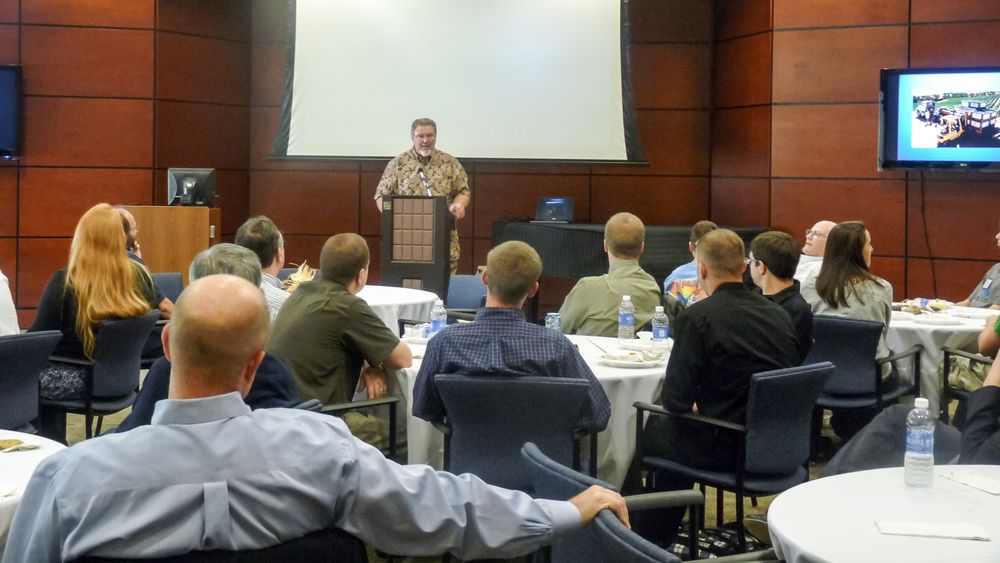 YORK, Pa. — Gary Eberle, owner of Eberle Winery in Paso Robles, California, is a Penn State alumnus, an entrepreneur, and an award-winning winemaker. He will share his story about the challenges and successes in his life, and in the winemaking industry he loves, during a noon-hour program Sept. 27 at Penn State York.
The event, part of the speaker series sponsored by the Graham Center for Entrepreneurial Leadership Studies (The Graham Center), is open to Graham students, faculty members, mentors, and other students who are being considered as candidates for the leadership program.
Eberle visited the campus for the first time back in 2012 when The Graham Center was in its infancy. The center has grown extensively since that time, and Eberle was invited back to share his experiences as a successful businessman and leader.
A wine entrepreneur and an educator, Eberle is originally from Moon Township, Pennsylvania, near Pittsburgh. The path to his successful business and the importance of a college education are topics he will discuss during his presentation.
The son of a steelworker, Eberle always thought he would graduate from high school and follow in his father's footsteps. Thanks to a successful high school athletic and academic career, however, he was recruited by several universities and enrolled at Penn State. His college career included playing defensive tackle for the late Joe Paterno at Penn State, and he graduated from the University in 1967 with a degree in secondary education.
Eberle recently celebrated 43 years of fine winemaking and is the owner of the longest continuously run family-owned winery in the Paso Robles American Viticultural Area. More than 40 years ago, Eberle experimented with a little-known grape variety called Syrah, and he is credited with being the first person to plant that variety in the United States.
Eberle's interest in wine started when he moved to Louisiana to pursue a master's degree in cellular genetics. He met a professor who introduced him to fine wine, and that is when he knew he had found his passion. He later moved to California to begin his career in winemaking. He was a visionary — one of the first winemakers to purchase major acreage in Paso Robles in order to build one of the first large commercial wineries in the area, now labeled the next Napa.
Eberle is known for developing the commonly used method for visualizing chromosomes called G-banding. In addition to his degree from Penn State, he earned a master's degree in cellular genetics from Louisiana State University. He also has done work in enology, viticulture at the University of California, Davis.
In 2015, Eberle received the Wine Lifetime Achievement Award by the California State Fair, joining the ranks of Robert Mondavi, Dick Peterson and just 14 others who have received this recognition.
He has earned the title "the grandfather of Paso Robles wine" and was named one of the top 100 influential people (No. 65) in the wine industry in America by the popular website Intowine.com. Eberle has received countless accolades for his decades of perseverance and a continuous desire to make some of the best wines Paso Robles has to offer.
Eberle Winery produces about 30,000 cases of wine each year, and consistently remains one of the highest award-winning wineries in the United States. Eberle, along with his wife, Mary, continue to produce wine that bears the boar logo, depicting the German origin of the name Eberle, which means small boar.
In addition to his afternoon presentation at Penn State York on Sept. 27, Eberle will speak to a crowd of about 240 later in the evening at an off-campus event to help raise funds to support The Graham Center. Eberle's speech is titled "The Board Endures — A Story of Betrayal, Perseverance and the Importance of Savoring Success."
The Graham Center at Penn State York was made possible by a generous gift from York business entrepreneur Donald Graham. The vision and purpose of The Graham Center is to develop students with entrepreneurial leadership skills, rather than graduates seeking to start new companies. The Graham Center works with students from a variety of academic disciplines to provide them with a set of practical tools that complement the quality education they are receiving at Penn State York.
Graham students participate in a variety of activities, including mock interviews, résumé reviews, and professional presence and dining etiquette programs, networking events, leadership skills training, and extensive opportunities for internships. They are exposed to local and national leaders from a wide array of professions through The Graham Speaker Series, and are encouraged to demonstrate their networking skills during the Corporate Partner Dinner. Students also complete Graham Center curriculum requirements designed to familiarize them with concepts ranging from ethics to entrepreneurship.
The Graham Center continues to grow. In August, the campus celebrated the success of projects funded through a seed grant from Invent Penn State. In October 2016, President Barron awarded Penn State York $50,000 as a part of the Invent Penn State initiative. Invent Penn State is focused on leveraging Penn State's research, knowledge and entrepreneurial spirit to bring to market needed ideas, products and services. Since 2015, the University has provided funding for 17 innovation hubs in campus communities across Pennsylvania, which provides combinations of startup accelerators, co-working space, maker spaces and pitch competitions.
Penn State York's innovation hub includes the Working Class Makerspace and a Start-Up (Business) Challenge. Facilitated by The Graham Center, Graham students will soon be able to utilize Working Class, a centrally located makerspace in downtown York.
To learn more about The Graham Center at Penn State York, visit york.psu.edu/grahamcenter or contact Jody Keller, executive-in-residence, at 717-771-8408 or email her at [email protected].
Invent Penn State is a Commonwealth-wide initiative to spur economic development, job creation, and student career success. Invent Penn State blends entrepreneurship-focused academic programs, business startup training and incubation, funding for commercialization, and University-community collaborations to facilitate the challenging process of turning research discoveries into valuable products and services that can benefit Pennsylvanians and humankind. Learn more at invent.psu.edu.