Johnathon Gillespie, a member of the class of 2023, shares his thoughts on playing basketball and his major, human development and family studies, at York campus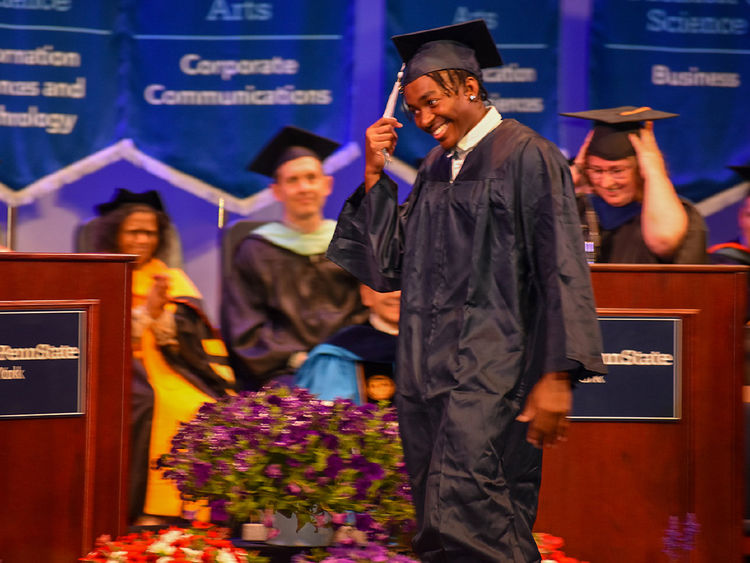 Editor's note: Throughout the summer, Penn State York is sharing a series of stories highlighting its spring 2023 graduates.
YORK, Pa. — A desire to work with children and help them become successful, and a love of basketball, are the reasons that Johnathon "John John" Gillespie decided to attend Penn State York. Gillespie crossed the stage of the Pullo Family Performing Arts Center on campus May 5 to graduate with a bachelor of science degree in human development and family studies (HDFS) and become a part of the class of 2023.
Gillespie, a graduate of Lancaster Mennonite High School in Lancaster, Pennsylvania, where he was a member of the basketball team, said he wanted to carry playing basketball to the collegiate level and continue to play the sport he loves.
"I had always wanted to play basketball in college, and Parrish Petry, the head coach of the men's basketball team at Penn State York at the time, was the only coach that made me feel like he cared for me as a young man but also as a basketball player," remembers Gillespie. "He took a chance on me when no one else did."
Petry retired and Gillespie completed his basketball career under the guidance of Matt Rotonda, the current head men's basketball coach. During the 2022-23 season, Gillespie, No. 24, scored his 1,000th career point, a milestone that few players achieve. He was also a part of winning the championship teams in 2018-19 and 2021-22 that won Penn State University Athletic Conference (PSUAC) championship and played in the final four of the United State Collegiate Athletic Association (USCAA) championships in both those years.  He was a key player on the team during his time on campus.
His academic experience at the York campus included an internship at the YWCA of York where he worked with children and youth and being a part of many important events sponsored by the HDFS program, including a child-abuse prevention candlelight vigil, Universal Children's Day, and more.
"My internship is what I liked best about the HDFS program," said Gillespie. "Dr. Molloy understood what I wanted to achieve working in the human services field and helped me acquire an internship with the YWCA of York. I wanted to help children and youth achieve goals through personal development and I am doing just that."
Gillespie is working with children and students in pre-kindergarten through high school and could not be happier, he said. He is working with the YWCA as a mentor and a camp counselor for preschoolers until he can play basketball internationally, his ultimate goal.
Gillespie's outstanding performance as a student is reflected in comments by Sonia Molly, associate professor of human development and family studies at the York campus.
"John John interned at the York YWCA working with the youth in the Quantum Opportunity Program (QOP), a dropout prevention model program. While at this program, he created and implemented a social and emotional curriculum. He believed that helping youth understand themselves and their values would encourage them to stay in school. His supervisors indicated that he was an inspiring mentor for the youth," said Molloy.
Molloy noted that Gillespie also worked with younger children in the pre-kindergarten and before and after childcare programs and his supervisors raved about his interactions with the children and youth.
"Supervisors shared with me that the children loved John John and that he was very thoughtful in his work, applying the knowledge he learned in the HDFS program and his passion for improving the lives of others in working with children and youth in the community," said Molloy.
Gillespie's work earned him the 2023 Dr. Harriet Darling Award – Human Development and Family Studies at the academic awards program in April. The award is presented to an outstanding student who shows commitment to learning and critical thinking, is compassionate, understands issues and opportunities in the lives of children and families, contributes to and advocates for the well-being of others on campus or in the community, and has shown the most improvement through personal growth. According to Molloy, Gillespie was the perfect person to receive the award.
The faculty members in HDFS are what Gillespie liked best about his experience at the campus, he said.
"The small class size allowed for closer connections between my professors. The relationships I have with them helped me to succeed and thrive in my major," said Gillespie. "They also helped me figure out who I am and what I want in life."
His favorite memory about the campus, he said, were the class discussions in Rick "Doc" Pierce's classes. Gillespie recalled that the conversations were always deep and meaningful, and he continually learned something new, not only in HDFS, but for himself as a young Black man.
Men's Basketball
Throughout his playing time at the campus, Gillespie earned a variety of awards for his outstanding play on the court. In 2022-23, he earned the following awards:
Penn State University Athletic Conference
Academic All-Conference Award in men's basketball, given to student-athletes who have a semester grade-point-average of 3.0 or higher.
PSUAC First Team All-Conference
United State Collegiate Athletic Association
USCAA National All-Academic Award in men's basketball, given to student-athletes who have a semester grade-point-average GPA 3.5 or higher
USCAA DII All-American Second Team
Gillespie's message for prospective students considering Penn State York is to take advantage of all the resources offered because the people at the campus do an excellent job of offering information that meets the needs of students on campus.
"If you need anything as a student, or a person, Penn State York has what you need somewhere," he said.
He also advised students to "go to the men's basketball games, we do enjoy seeing our peers and classmates at games and always appreciate those who come and support the team."
Gillespie said he is looking forward to playing professional basketball on the international level.