Logan Snyder earns gold medal from the U.S. Collegiate Athletic Association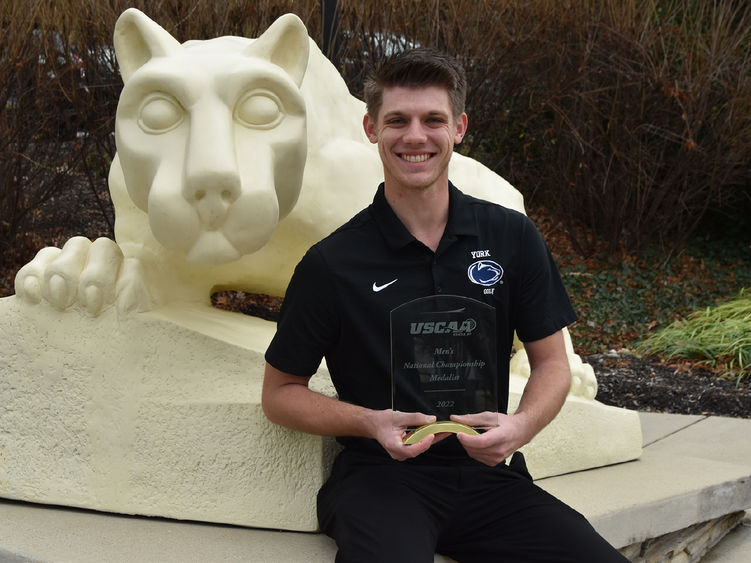 YORK, Pa. — It isn't often that a college student can say they made history but, Logan Snyder, a senior at Penn State York and a member of the golf team, has that claim to fame. This past October, Snyder became the first men's winner of the United States Collegiate Athletic Association (USCAA) Golf Championship in the history of the Penn State University Athletic Conference (PSUAC).
"Getting that gold medal was the greatest feeling I've had on a golf course," said Snyder. "My college career has been a roller coaster and there's been a lot of ups and downs.  To achieve that goal of bringing home a national title, all the hours of practice, and the sacrifice felt like it finally paid off."
Snyder began golfing when he was just seven years old when his dad, Brandon, took him to the golf course, and he hasn't stopped since. He played golf at Dover High School, in Dover, Pennsylvania, where he led his team to numerous victories, then moved on to play at Harrisburg Area Community College (HACC) for a year, and then landed at Penn State York.
"Despite having the skills to play for a NCAA Division 1 golf program, Logan ultimately chose to attend Penn State York, bringing his exceptional golf skills and character to benefit our campus community," said Joe Downing, head men's and women's golf coach, associate professor of corporate communication and the program coordinator at Penn State York. Downing notes that before joining Penn State York, Snyder trained under two highly respected coaches, Chuck Jordan from Dover High School and Tim Birney, PGA, who previously coached at HAAC.
Both coaches praised Logan not only for his golf skills but, more important, his gracious and understated nature and his ability to interact with others. Logan's teammates and faculty colleagues at Penn State York echoed similar sentiments.
In his two years golfing at Penn State York, with golf scores from 67 to 75, Snyder has won seven of the 11 tournaments entered. Outside of Penn State, he is the three-time Grandview Club Champion (2019, 2021 and 2022) and the Briarwood Club Championship in 2021. Both clubs are in York County.
Snyder said he chose Penn State York because his goal was to graduate college with no debt, and Penn State York offered that opportunity along with a "world-class Penn State education."
Snyder's fondest memory of playing golf at Penn State York is the bonding with the team and coaches, along with all the support.
"We were a very close knit group, and it was great to get to know every one of them and walk away with five new friends," he said.
Snyder is quick to credit his family for his success.
"I wouldn't be where I am today if it wasn't for my family, especially my father. He was the one who taught me the game and helped build my swing to what it is today," said Snyder. "Both of my parents have made an effort to be there and support me in my athletic dreams. There were very few matches in my golf career that my parents didn't attend."
Snyder, 22, will graduate in May with a bachelor of science degree in business with an accounting option. For his career, he said he hopes to work in accounting at a large company doing financial analysis and move into a controller or CFO role, and plans to earn his CPA (certified public accountant) license. He still plans for golf to be a big part of his life, he said, and continues to compete for state and local amateur titles. In the coming years, he would also like to start his work toward becoming a certified PGA teaching pro.
Golf has been an important part of Snyder's Penn State York journey, but he said he also wants to be sure people know about the tremendous focus on academics that is a part of golf and all the athletic programs at the York campus.
Penn State York began offering golf for men and women in 2018. The campus also offers baseball, men's and women's basketball, soccer, and women's volleyball. Visit the website to learn more.