Zoe Luedtke, a women's volleyball player sat Penn State York, organizes fundraiser and awareness event set for Oct. 20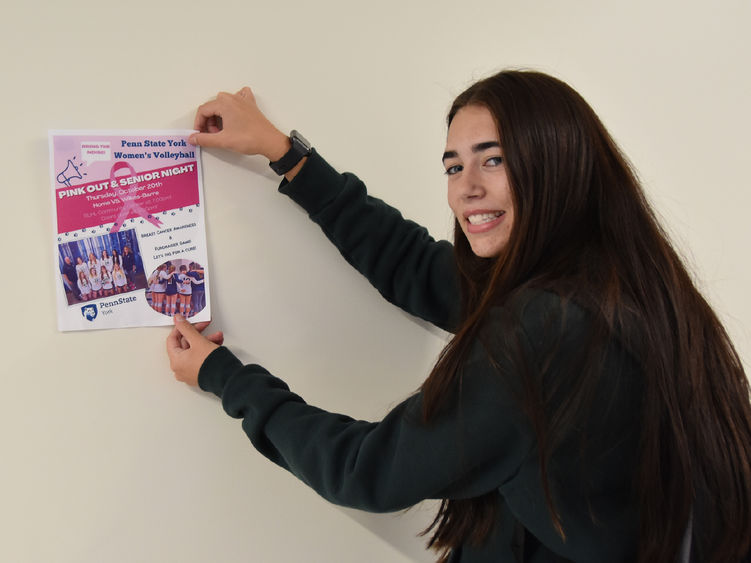 YORK, Pa. — For Zoe Luedtke, Breast Cancer Awareness Month is personal. Luedtke, 21, never knew her grandmother, who died from breast cancer before she was born. Luedtke works for the cause and has organized a "Pink Out" during the women's volleyball game on Thursday, Oct. 20, at Penn State York against Penn State Wilkes-Barre. The game, at 7 p.m. in the gym in the Joe and Rosie Ruhl Student Community Center, is free and open to the public.
"I decided to do this event again because last year everyone had so much fun. I also do it for the foundation and awareness of breast cancer because I lost my grandmother to breast cancer, so this event hits home to me," she said.
The night is also senior night, where the campus recognizes senior members of the volleyball team, and Luedtke, a psychology major, is the lone senior on the team, set to graduate in May 2023.
Raising awareness about breast cancer is not new for Luedtke. When she attended Bermudian Springs Middle School and High School in East Berlin, Pennsylvania, she took part in "Dig Pink" events that focused on the cause.
Those who attend the women's volleyball game on Oct. 20 will see a variety of pink decorations, since pink is the color for breast cancer awareness. A donation table will also be set up where donations can be made to the National Breast Cancer Foundation. There will also be Pink Out favors and a poster of people that had, currently have, or are survivors of breast cancer who have special meaning to Luedtke and her teammates.
This is the second time Luedtke has organized a Pink Out at Penn State York and she hopes plenty of people will attend the event, wear pink, and consider making a donation.