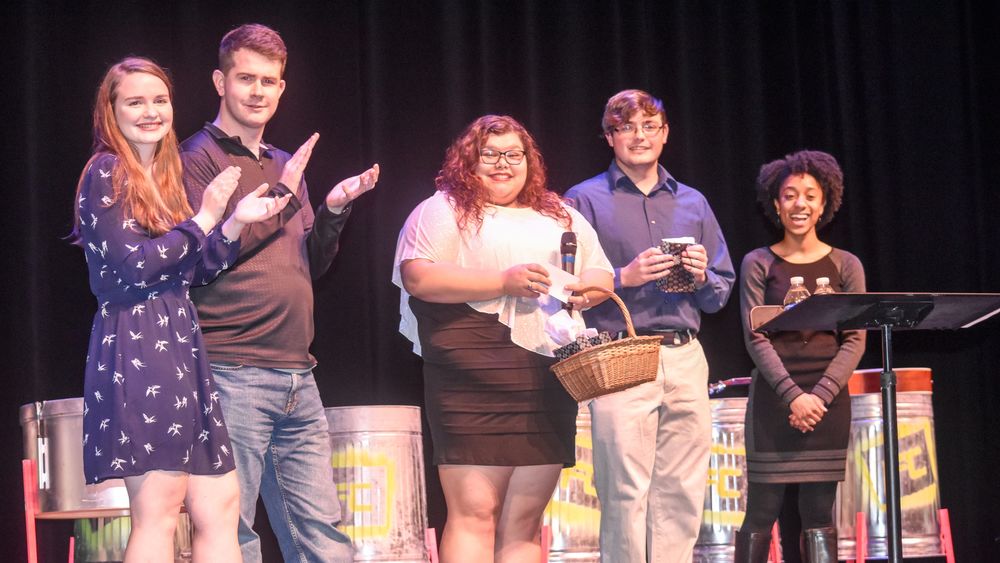 YORK, Pa. — First Capital Drumline brought the house down with a rousing performance of "Can-O-Saurus," and ultimately took first place at Paw Search, a talent and variety show sponsored by Penn State York Benefiting THON on Friday, Jan. 20, in the Pullo Family Performing Arts Center. The first-place prize was a $100 Amazon gift card. The show was a fundraising event, with all proceeds going to the campus THON committee's effort to raise money to find a cure for pediatric cancer through THON, the Penn State IFC/Panhellenic Dance Marathon. The event raised about $1,000.
Jake Rivers, a student at York College of Pennsylvania, took second place for his unique vocal and instrumental performance on cello, of "Billie Jean," a Michael Jackson classic. Rivers took home a $50 gift card. Third place, a $25 gift card, went to the Penn State York Baby Blue Band, comprised of Penn State York students singing and playing a variety of instruments. The group performed "I See Fire," by Ed Sheeran.
In addition to a variety of other acts, the audience heard from Jason LeVasseur, one of the most-awarded musical performers in the history of campus entertainment, who served as emcee and shared his vocal talents.
Judges for Paw Search were Iona Conlon, alumni relations and stewardship officer, and Dan Puccio, associate director of student affairs, both from Penn State York, and Peter Bottros, pianist, professional musician, and Penn State York alumnus.
Paw Search is just one of many events sponsored by Penn State York Benefiting THON, leading up to the Penn State IFC/Panhellenic Dance Marathon (THON), the 46-hour dance marathon, set for Feb. 17-19 at the Bryce Jordan Center on Penn State's University Park campus. The theme for THON 2017 is "Igniting Hope Within." In 2016, THON raised $9,770.332.32.
Penn State York Benefiting THON's next fundraising event is the Hearts Afire Dinner, a spaghetti dinner set for 5-8 p.m. Friday, Feb, 10, at Rosie's in the Joe and Rosie Student Community Center. Tickets are $10 in advance and $15 at the door. Contact Julia Byerly at [email protected] to purchase a ticket or for more information.
Anyone interested in supporting the dancers from Penn State York can donate online at http://giveto.psu.edu/THON-York. Please click on "Donate Now." Donations made to Penn State York Benefiting THON will be credited to the campus and then added to the final total at University Park. Checks in support of THON should be made payable to: Penn State Dance Marathon or THON, and sent to Penn State York, 1031 Edgecomb Ave., York, PA 17403. Be sure to note "York, Org. 170" in the memo line of the check.
THON is the world's largest student-run philanthropy, engaging more than 15,000 students in the fight against childhood cancer. THON's yearlong fundraising and awareness campaign culminates in a 46-hour, no-sitting, no-sleeping dance marathon every February. Since 1977, THON has donated more than $137 million to the Four Diamonds Fund at Penn State Hershey Children's Hospital, funding comprehensive care and critical research.