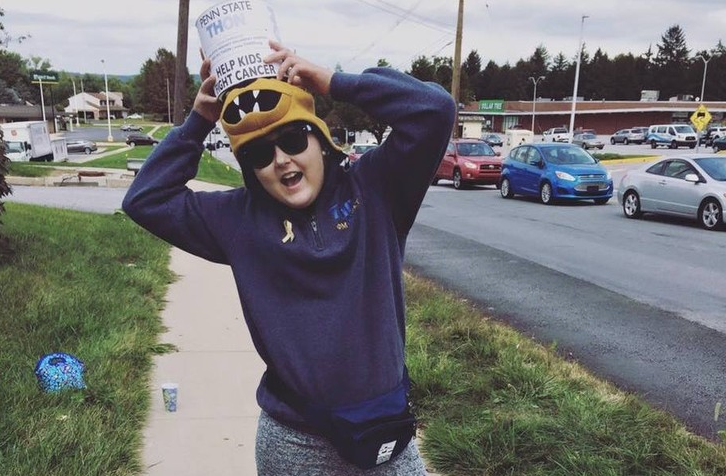 YORK, Pa. — Honoring Maddie Hill is something that members of Penn State York Benefiting THON and the campus community knew was the right thing to do. Hill, 19, who died in June after battling cancer three times, will be honored at 7:30 p.m. Friday, Dec. 2, in a ceremony held between the women's and men's basketball games in the campus gym in the Joe and Rosie Ruhl Student Community Center. The women play at 6 p.m. and the men play at 8 p.m., and take on Penn State Lehigh Valley. The event and basketball games are free and open to the public.
Hill was a Penn State York student majoring in human development and family studies, a Penn State York Benefiting THON member, a Four Diamonds Child, Blue & White Society member, and an inspiration to everyone she met, according to members of the York THON group and York campus faculty and staff.
"Maddie was so special in so many ways. She had a wonderful sense of humor and could always see the bright side of any situation," said Cora Dzubak, director of the Nittany Success Center at Penn State York. "It seems like everyone felt better after just being in her presence. She was one of the most outwardly directed young people I had ever met. She had the genuine ability to focus on the other person. It was always about the other person, never herself. "
A 2015 graduate of Dover High School, Hill was an outstanding soccer player and athlete. Penn State York does not have a soccer team, so when discussions began about what to do to honor her, Terri Van Slyke, Penn State York's women's basketball coach, and Jeff Barkdoll, the interim athletic director at the campus, suggested honoring her at a basketball game. The York THON group agreed, and plans were put into place for the Dec. 2 event. In addition, as a permanent tribute to Hill, a plaque honoring her will be placed in the Student Government Association (SGA) offices located in the Joe and Rosie Ruhl Student Community Center.
"Maddie never let her cancer define her," said Julia Byerly, primary chairperson for Penn State York Benefiting THON and a dancer at THON 2016. "She went canning with us, attended THON meetings, and worked diligently to raise money for THON and the Four Diamonds, even while undergoing chemotherapy," said Byerly. "She also served as the Family Relations co-chair at York and was known to send emails and work on THON-related efforts from her hospital bed. We definitely wanted to do something to honor her."
Basketball players, as well as many others attending the games, will wear #fighlikehill shirts at the event to show their support. The phrase "fight like Hill" became the mantra of Dover community members and others as they supported Hill in her battles with cancer. The phrase lives on as a symbol of Hill's tenacity and determination.
Penn State York Benefiting THON will sell drinks and snacks with proceeds going to support THON and children battling pediatric cancer. The hope is that the event honoring Hill will become an annual event.
Anyone interested in supporting the dancers from Penn State York can donate online at http://giveto.psu.edu/THON-York. Please click on "Donate Now." Donations made to the Penn State York Benefiting York THON will be credited to the campus and then added to the final total at University Park. Checks in support of THON should be made payable to: Penn State Dance Marathon or THON, and sent to Penn State York, 1031 Edgecomb Ave., York, PA 17403. Please be sure to note "York, Org. 170" in the memo line of the check. Donations will also be accepted at the event.
THON is the world's largest student-run philanthropy, engaging more than 15,000 students in the fight against childhood cancer. THON's yearlong fundraising and awareness campaign culminates in a 46-hour no-sitting, no-sleeping dance marathon every February. THON 2017 is set for Feb. 17-19 at the Bryce Jordan Center on Penn State's University Park campus. The theme for THON 2017 is "Igniting Hope Within." Since 1977, THON has donated more than $137 million to Four Diamonds at Penn State Hershey Children's Hospital, funding comprehensive care and critical research.