York team heads to Virginia to play for national title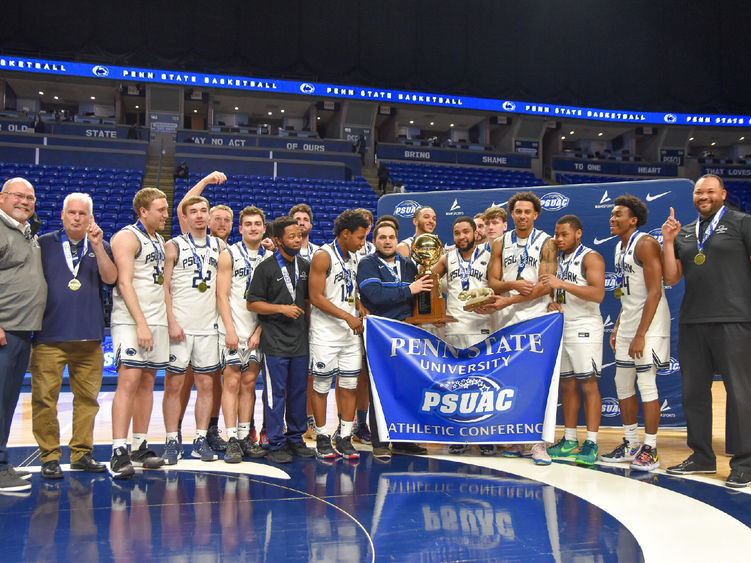 YORK, Pa. — Penn State York captured the 2021-22 Penn State University Athletic Conference (PSUAC) Men's Basketball title on Saturday, Feb. 26, by defeating Penn State Brandywine, 73-56, at the Bryce Jordan Center on Penn State's University Park campus in State College, Pennsylvania. This is York's fifth PSUAC title over the past nine years.
Penn State York will now travel to the United States Collegiate Athletic Association (USCAA) National Tournament, as the number 3 seed, seeking a national championship title. York begins play on Tuesday, March 8, at Virginia State University's Multi -Purpose Facility in Petersburg, Virginia, with a noon-time tip-off vs. New Hampshire Technical Institute (NHTI).
"Winning our conference was a total team effort. Every player and every assistant coach contributed a great deal in their own way toward the success of our team. I am proud of the way we faced challenges and competed through adverse situations together, supported one another, and accomplished our goal as a unit," said Matt Rotonda, head coach of the Penn State York men's basketball team. "I am very excited for us to compete for a National Championship." 
Rotonda is in his third year as the head coach of the York Nittany Lions. A former player at York campus, Rotonda previously served as the assistant men's basketball coach since 2011, prior to be promoting to the head coach position in 2019.
Awards
Deriq Brown, from New Oxford, Pennsylvania, a sophomore majoring in biology, was named the PSUAC East Player of the Year.
Michael Coleman, from York, Pennsylvania, a senior majoring in business, scored his 1,000th career point on Feb. 5 in a 97-77 win against Penn State Schuylkill. In addition, Coleman was recently named the PSUAC East Defensive Player of the Year and was also an honorable mention as a PSUAC East All Star.
John Fritz Sportsmanship Award
Alex Morici, from Haskell, New Jersey, a junior majoring is psychology, was named the recipient of the John Fritz Sportsmanship Award. This award is given by the Penn State University Athletic Conference in honor of John Fritz, retired PSUAC commissioner, who was considered the epitome of a team player and who had a true love for the Blue and White. The award recognizes excellent sportsmanship.
For more information on athletic programs at Penn State York, visit the website. In addition to men's basketball, the campus offers baseball, golf for men and women, soccer, women's basketball, and women's volleyball.