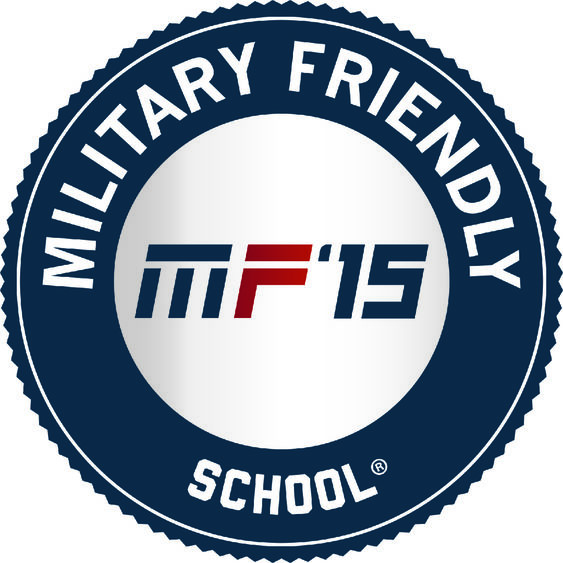 Penn State York has once again been named a Military Friendly School, by Victory Media, the leader in successfully connecting the military and civilian worlds. This is the third consecutive year York has earned this designation in recognition of their outstanding work with veterans.

The Military Friendly Schools designation is awarded to the top 15 percent of colleges, universities, and trade schools in the country that are doing the most to embrace military students, and to dedicate resources to ensure their success in the classroom and after graduation. The methodology used for making the Military Friendly Schools list has played a significant role over the past six years in capturing and advancing best practices to support military students across the country.

"As a veteran myself, I am pleased and proud that Penn State York has once again received this designation," said David. W. Chown, chancellor of Penn State York.

Penn State York has 65 student-veterans receiving benefits through the G.I. Bill. Visit the veterans' website at www.yk.psu.edu/veterans to learn more about the campus' programs and services
for veterans.

York offers eight bachelor's degrees and seven associate degrees that can be completed without leaving the area. Students also have the opportunity to begin the first two years of Penn State's more than 160 degree programs in York (2+2) and finish at University Park or another Penn State location. There is also a graduate program, master of education in Teaching and Curriculum, offered through a partnership with Penn State Harrisburg. Adult learners can take advantage of courses offered at a variety of convenient times and student services to meet their needs.

At Penn State York, students can earn a degree that is recognized around the world. The 51-acre commuter campus overlooking the historic city of York is home to more than 1,100 students -- traditional and nontraditional -- and is part of a community bursting with Penn State pride. The York campus attracts a student population rich in diversity, including students from 11 states and more than 18 countries.

In addition to having an outstanding academic experience, students can participate in varsity athletics or take part in more than twenty clubs and organizations. Penn State York's Pullo Family Performing Arts Center and the Lee R. Glatfelter Library provide students with additional recreational opportunities and educational resources

Visit Penn State York on the Web at www.yk.psu.edu or plan to visit the campus. Find Penn State York on Facebook at www.facebook.com/PennStateYork, follow us on twitter at www.twitter.com/PennStateYork, or for more information call 717-771-4040 or 1-800-PSU-6227.

Now in its sixth year, the Military Friendly Schools designation and list by Victory Media is the premier, trusted resource for post-military success. Military Friendly provides service members transparent, data-driven ratings about post-military education and career opportunities. The survey captures over 50 leading practices in supporting military students and is available free of charge to the more than 8,000 schools approved for Post-9/11 G.I. Bill funding.
The Military Friendly Schools designation process includes extensive research and a data-driven survey of schools nationwide approved for Post-9/11 GI Bill funding. The school survey, methodology, criteria and weightings are developed with the assistance of an independent academic advisory board comprised of educators from schools across the country. The survey is administered for free and is open to all post-secondary schools who wish to participate. Criteria for consideration can be found on their website at http://www.militaryfriendly.com, and a complete list of schools can be found through our Schools Matchmaker tool on http://www.gijobs.com.

Victory Media is a service-disabled, veteran-owned business serving the military community since 2001. These data-driven lists are published in G.I. Jobs, Military Spouse, and Vetrepreneur media channels, republished in periodicals such as USA Today, Wall Street Journal, Fortune, Bloomberg BW, and frequently cited on national TV by NBC, ABC, CBS, CNN, CNBC, Fox News and others.