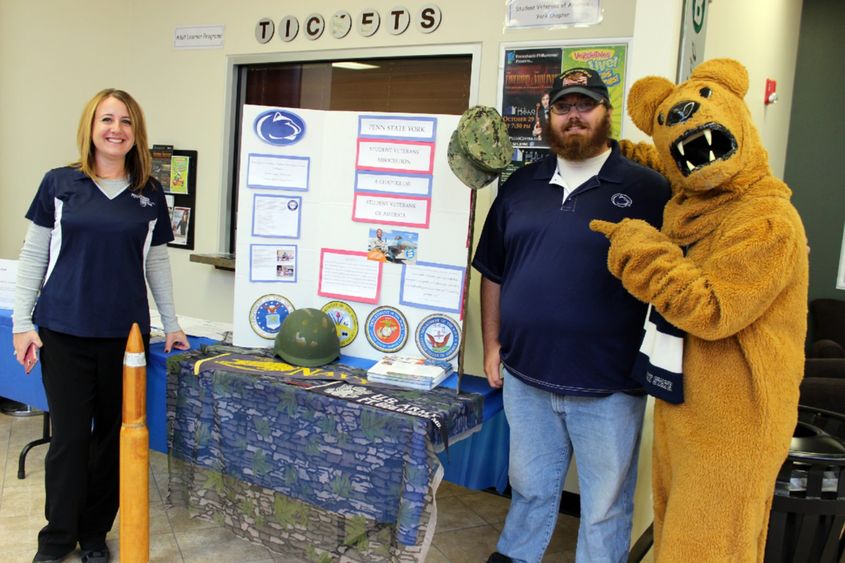 YORK, Pa. — Penn State York will honor the veterans on campus during a lunch on Wednesday, Nov. 11 — Veterans Day — at noon in the rehearsal room of the Pullo Family Performing Arts Center. Faculty, staff and students are invited to show their support for veterans, enjoy a free lunch, and hear from a panel of military veterans about their experiences. The event is sponsored by the Penn State York Chapter of the Student Veterans Association (SVA) and the Penn State York Student Government Association (SGA).
In addition, the campus will take part in the Greenlight A Vet campaign, sponsored by Wal-Mart and a variety of military organizations, to show support of veterans by using green light bulbs in a number of lamps on campus. Greenlight A Vet is a campaign to establish visible national support for military veterans by changing one regular light bulb to green.
The campaign notes that green is the color of hope, renewal and well-being. "Greenlight" is also a term commonly used to activate forward movement. The simple action of changing one light to green is intended to spark a national conversation regarding the recognition of veterans, and greenlight them forward as valued members of the community. The Penn State York Veteran Alumni Group sponsored the green light bulbs for campus.
In addition to displaying the green light, members of the campus community will take a picture of their green light and post it using the hashtag #greenlightavet. For more information on this national initiative, visit greenlightavet.com.
Penn State York has 44 student-veterans receiving benefits through the G.I. Bill. Visit york.psu.edu/veterans to learn more about the campus' programs and services for veterans.