Madison Forbes named the recipient of the Student Leadership Award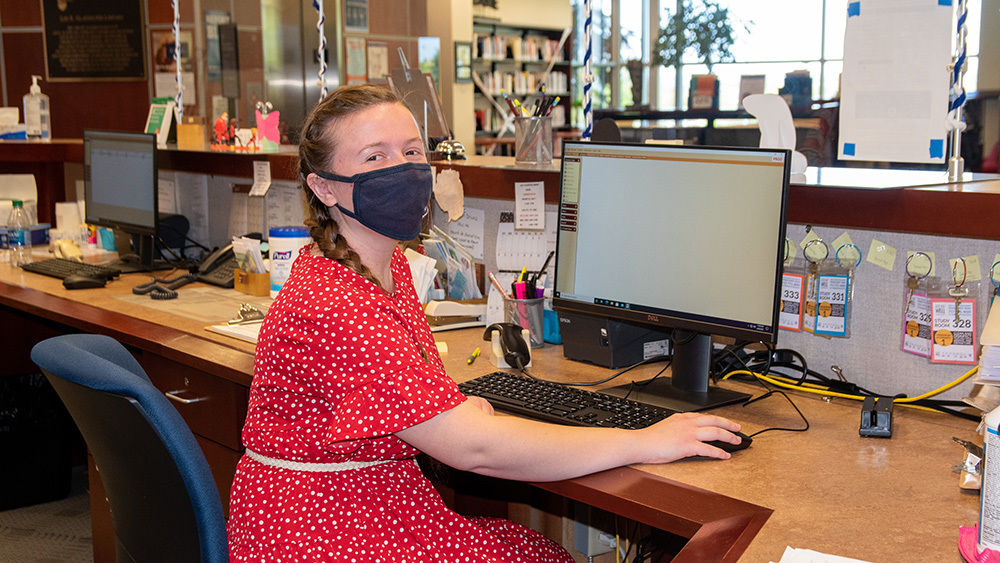 YORK, Pa. — Working at the Lee R. Glatfelter Library at Penn State York is something Madison Forbes has done since the summer before the official start of her freshman year at Penn State York as part of the Pathways to Success Summer Start (PaSSS) program. Forbes, who just completed her junior year, has been recognized with an Outstanding Student Employee Award – Student Leadership Award, a University-wide recognition given by Penn State University Libraries.
"Madison was nominated for this University-wide award because of the mentoring and leadership roles she has cultivated since her freshman year," said Dawn J. Oswald, information resources and services supervisor in the Lee R. Glatfelter Library at Penn State York. "She has always been a willing participant in engaging new student workers and encouraging her peers to utilize the Libraries' resources. We often rely on Maddie's opinions and ideas from a student perspective. She was a natural choice for this award," she said. Oswald nominated Forbes for the award and the entire library staff at York agreed.
Four outstanding student employees throughout the commonwealth receive the University Libraries award. The Student Leadership Award recognizes a student who demonstrates a commitment to leadership among their peers and various library departments. The recipient is considered to be an imaginative leader dedicated to supporting and promoting the values of University Libraries. Forbes received a certificate of excellence and a stipend of $250.
"I was really excited, shocked, and grateful to receive this award," said Forbes. "I didn't realize there was an award like this."
Forbes, 20, from Hanover, Pennsylvania, is majoring in human development and family studies with a psychology and early childhood education minor. She is a graduate of South Western High School in Hanover.
As part of her work in the library she assists students, faculty, staff and community members in locating, checking out, and returning books. She also shelves books, packs and unpacks UPS shipments of books, makes signs for events, creates library displays, and labels sections of the library for easier use by patrons. She provides a smiling face to greet visitors to the library.
"The thing I like most about the library is the incredibly supportive environment and all of the people I work with — Dawn, Deb and Francesca. They are so helpful and patient in teaching me new things," she said. "My co-workers, Gavin, Sam, Liz and Jacob also make it a really fun place to work."
Forbes is an active student on campus. She is the president of the Lion Ambassadors, the voice of the Penn State York virtual tour on the website, a tutor and an orientation leader. She was recently honored with the Eric A. and Josephine S. Walker Award, the highest award a student can receive at the campus; the Gary L. Collison Community Service Award for her volunteer work in the community; and the Student Government Association (SGA) Service Award.
While she will not be returning to the library to work in the fall, she will continue to be active on campus and share her leadership skills, campus experiences, and knowledge.