Rainbow Paws group at Penn State York offers a copy of 'Symptoms of Being Human' to interested students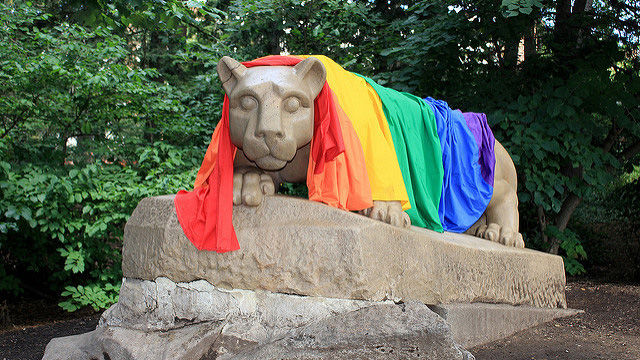 Rainbow Paws, the LBGTQ+ Club at Penn State York, is sponsoring a book club on campus and has selected "Symptoms of Being Human," as their first book to read and discuss. Students have until April 9 to sign-up to receive the book and then take part in a Zoom discussion on April 27.
"Our club was inspired by the Student Government Association (SGA) who is doing a book club and reading, "How to Be an Antiracist," in hope of increasing conversations on campus about racial issues," said Catie Noble, president of Rainbow Paws. "We thought it would be a good idea to offer a book that might help increase awareness about LGBTQ+ issues," she said. 
The book is a coming-of-age story about an LGBTQ+ teenager, Riley, who some days identifies as a boy and other days as a girl, and the struggles faced being gender fluid. The club voted to have this book be the first selection.
According to Noble, letting people know what the acronym LGBTQ+ stands for is a first step. The initials stand for Lesbian, Gay, Bisexual, Transgender, and Queer, with the plus sign meaning everyone else.
Students do not need to be a part of Rainbow Paws to receive the book or take part in the discussion group, according to Noble. At this point, most of those registered are not a part of the club.
While faculty and staff will not receive a free book, the club is encouraging them to read the book on their own and take part in the April 27 conversation. A Zoom link will be sent to those who request it by contacting Noble at [email protected].
Students interested in signing up to receive the book, should sign-up here by April 9.
The ultimate goal of Noble and the Rainbow Paws group is, "We want to start a conversation on campus about gender identity and raise awareness," Noble said.