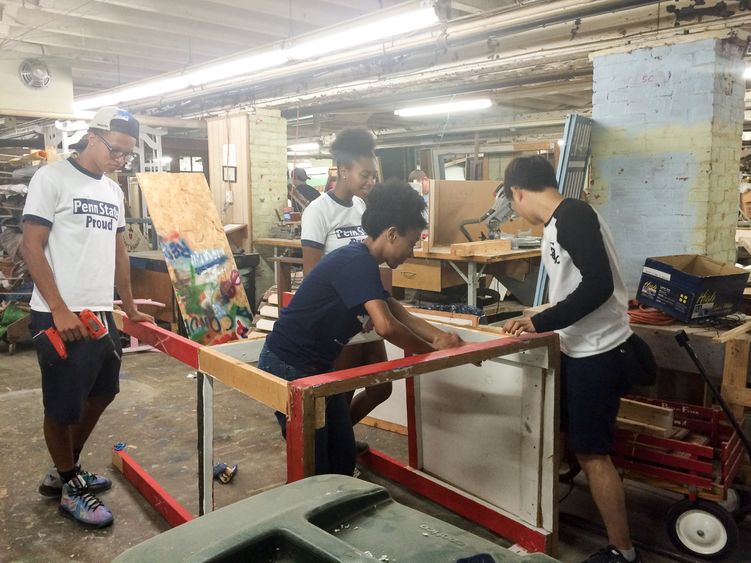 YORK, Pa. — Giving back to the local community is what more than 100 Penn State York students did on Saturday, Aug. 20, when they painted, picked up trash, organized books and materials, gardened, and performed a variety of other jobs as part of a service component of New Student Orientation (NSO) at the campus. This experience also gave new students, and those serving as orientation leaders, the opportunity to meet and get to know each other and become more familiar with organizations in the community.
"We're pleased to have included a community service initiative as part of our orientation program, not only because service is an indelible fixture of higher education, but because Penn Staters have a long and lasting tradition of serving their communities," said Patrick Tanner, director of student engagement at Penn State York. "When we encourage our students to be consistently and deeply connected to what is occurring only a few blocks away from them, we are teaching them that an abundant and dynamic life is lived through authentic relationships, making meaning of our environment and education, and understanding ourselves in the context of communities."
Students worked in York at the Central Market, DreamWrights, the Lehman Center, Martin Library, Serenity Garden of Hope, St. Patrick's Catholic Church, York Central Market, and the York Rescue Mission.
Carrie Prowell of First Family Health, the contact at the Serenity Garden of Hope, had this to say in a note to Tanner: "I cannot tell you how wonderful the volunteers were and how much their work and time is appreciated by Family First Health. It was really neat to work along with them, seeing how it was this exact time 10 years ago that I was an incoming freshman at Penn State York! So neat."
The campus plans to continue to include community service as a regular part of New Student Orientation in the future.
To view more photos from the day, visit Penn State York on Facebook.