Matt Rotonda chosen to succeed longtime coach Parrish Petry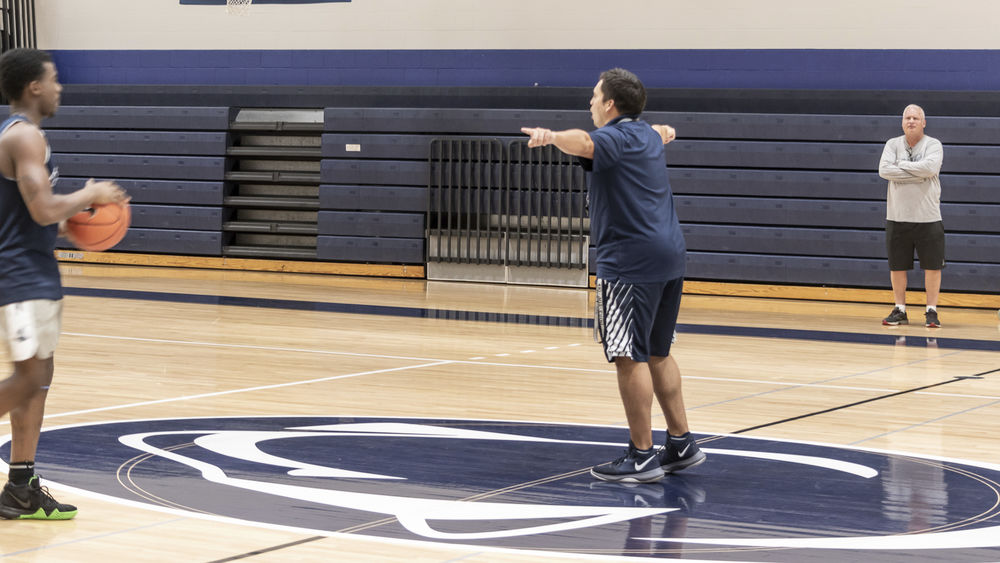 YORK, Pa. — Matt Rotonda is the new head men's basketball coach at Penn State York and is excited for the opportunity. He has served as the assistant men's basketball coach since 2011 under Parrish Petry, who retired this year. Rotonda has been an integral part of leading the team to four Penn State University Athletic Conference (PSUAC) titles and five national tournament teams in the United States Collegiate Athletic Conference (USCAA).
"We are extremely pleased to have Matt accept the opportunity and the head men's basketball coaching position. He has been active in our men's program for a long time, both as a player and a coach," said Jeff Barkdoll, athletic director at Penn State York. "He has also been active in recruiting players in his assistant coaching role, so I expect the transition to be smooth. I look forward to having Coach Rotonda lead us on into this next chapter of Penn State York men's basketball."
Barkdoll also notes that Rotonda has extensive experience, knows the players and the conference well, and is positive that players will continue to benefit from his leadership.  
Rotonda played basketball under former Head Coach Parrish Petry as a student at Penn State York. Rotonda also served as team captain during the 2009-10 and 2010-11 seasons. Prior to coming to York, Rotonda began his collegiate play at Ocean County College, where he was also named to the Academic All-Region Team. Rotonda is grateful for having had the chance to develop as a young coach under Petry.
"In working with him (Petry), it is very obvious to me that every accolade he has gotten is more than well-deserved. Those honors do not do justice to what his lessons and teachings throughout countless hours have meant to so many individuals," said Rotonda. "I am lucky to be one of them. I also certainly appreciate the confidence in my abilities to lead our team that Jeff Barkdoll and many of those throughout the community have shown since the start of the school year."
Rotonda also notes that his appointment to the head coaching position is very exciting for his family and friends who have always believed in him.
His goals are for the team goals to outweigh individual agendas and for the Penn State York men's basketball team to ultimately be competing for championships every season he is head coach. Rotonda understands there is a great deal of work to be done to get to the championships. 
"I have witnessed firsthand the importance of keeping the primary focus on ourselves," said Rotonda. "We must always remember that our energy, attitude and performance are all a product of taking care of us first."
Rotonda has worked under coach Bob Hurley, having served as a coach at the Hurley Summer Basketball Camp for 16 summers and counting. He is also the current director of coaches at the Ballyhoo Sports Academy in York.
Rotonda also is quick to note the support of his longtime girlfriend, Lindsay Halloran, and her ability as an "ultimate teammate" has helped keep him focused on the progression of his team and the importance of his relationship with each of his players. He is also thankful for the help throughout the preseason from former players Josh Czerski, Baltimore County Coach of the Year; All-American Justin Luton; and Anthony "AB" Bennett Jr., uncrowned sixth man of the year. Others who have given time and energy include Jim Collins, former YAIAA Coach of the Year, and Marc Fry, former college coach and professional player.
A native of Toms River, New Jersey, Rotonda was a member of the St. Joseph's CYO squad that won the 2005 New Jersey state championship.
Rotonda resides in York and in Point Pleasant, New Jersey.
For more information on athletic programs at Penn State York, visit the website. In addition to men's basketball, the campus offers baseball, golf for men and women, soccer, women's basketball, and women's volleyball.