Keith Hartman, women's volleyball, and Tory Harvey, women's basketball, fill head coaching slots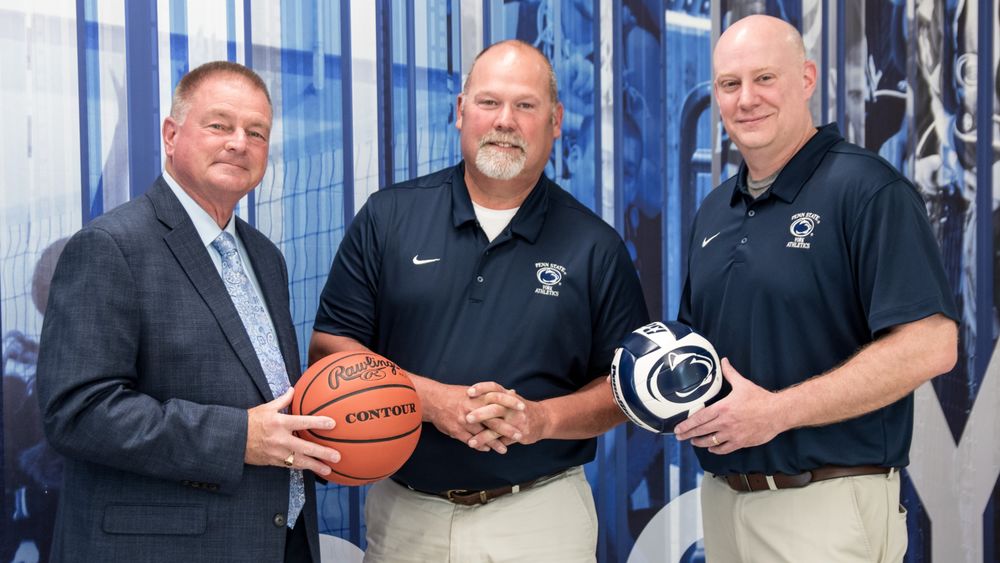 YORK, Pa. — Penn State York Athletics has announced the appointment of two new coaches to the campus coaching staff — Keith Hartman, head coach of women's volleyball, and Tory Harvey, head coach of women's basketball. Both have extensive coaching experience and said they look forward to being a part of the athletics program at the campus.
"I am very encouraged to add two quality individuals to our coaching family here at Penn State York," said campus athletic director Jeff Barkdoll.
"Both gentlemen bring an enthusiasm that I am sure will be contagious to our student-athletes but, even more importantly, bring an extensive coaching background and knowledge of their respective sports that will also benefit our athletes," Barkdoll said. "In addition, they are each well-connected to the local circles of their respective sports and are very well known by local coaches and players, which will also benefit the recruiting efforts of prospective athletes going forward."
Keith Hartman
A true Penn Stater, Hartman earned a bachelor of science degree in marketing from Penn State Harrisburg and an associate degree in business administration from Penn State Mont Alto. He was a student-athlete at Penn State Mont Alto, where he played soccer from 1992 to 1994, and at Penn State Harrisburg, where he played club volleyball from 1995 to 1997 and served as captain of the team.
"I take great pride in returning to a Penn State campus as a coach to instill the Penn State values and morals that I've taken with me throughout my working career as well as my coaching career," said Hartman. "I understand what it means to put the Penn State jersey on and have the opportunity to be an ambassador for Penn State."
Hartman's experience includes serving as the head varsity coach at Dover High School, where he began in 2016 and implemented coaching plans to develop students to be highly competitive on the varsity and junior varsity level. He also conducted summer clinics for eighth and ninth graders to increase awareness and introductory skills development prior to the students entering the high school level.
He continues to coach in the New Oxford Volleyball Association in New Oxford, Pennsylvania, for the under seventeen girls' team, and has previously coached several other Amateur Athletic Association Club women's teams. Hartman works in advertising as a regional sales manager for LOCALiQ/Gannett in York, Pennsylvania.
"Coach Hartman is a product of Penn State, having attended both the Mont Alto and Harrisburg campuses, so he understands our program firsthand. Coach also played volleyball at Harrisburg and has coached at various levels so his knowledge of the sport, and his ability to teach it sets him apart," said Barkdoll. "Coach Hartman is a quality individual who upholds the values of our program and who is truly passionate about the sport and eager to share this passion and knowledge here at Penn State York. I am extremely pleased to have Coach Hartman join our staff here at Penn State York, and excited to see where he takes the program."
Hartman notes that his coaching philosophy is one that is constantly evolving from what he has learned from coaches such as Russ Rose, Karch Kiraly, and Terry Liskevyth.
"I'm passionate about skills-development and strive to provide my athletes with the fundamentals needed to reach full potential," said Hartman. "I also enable my athletes to be a team of mentors, encouragers, and positive motivators on and off the court. I'm looking forward to surrounding myself with student-athletes who have the passion for the sport of volleyball as well as the desire to set high academic standards and goals for their future careers.
Hartman's goal is to build a positive program where athletes want to improve and are willing to work hard toward becoming successful. He also hopes is the women on the team will have a positive ripple effect on future generations of student-athletes for Penn State York. He also believes that staying humble in victory and starting at zero is necessary for continued development and improvement.
"In my mind, a true character of a person is found in those who can brush off the dust of defeat and get up to work harder the next time," he said.
Tory Harvey
Tory Harvey has nothing but positive memories of his previous women's basketball coaching experience at Penn State York back in 1996-97. He stepped away to become the director of athletics at Dallastown Area School District in Dallastown, Pennsylvania, before retiring in the fall of 2018 to return to Penn State York, where he hopes to have a positive impact on the women's basketball team.
"We are extremely fortunate to land a head coach of Tory Harvey's caliber. His extensive experience in athletics and handling student-athletes, as well as his passion and extensive knowledge of the game of basketball, both from a player and coaching perspective, will prove most beneficial as we look to take our women's basketball program to the next level," Barkdoll said. "In my personal experience and relationship with Coach Harvey over the years, he has continually displayed a professional attitude and approach, and I am sure he will have a positive influence on our student-athletes."
Harvey brings a wealth of experience to the campus. Among his duties at Dallastown, he was a certified athletic administrator and teacher, managed 64 co-curricular teams, was an athletic administration course instructor for students and taught a coaching principles course. In addition to his previous coaching experience at Penn State York, Harvey also coached at York Suburban, Solanco, Red Lion, and Dallastown.
"The academic and intercollegiate opportunities for student-athletes at Penn State York are first class," said Harvey. "I'm enthusiastically excited to develop a program that utilizes basketball to teach life lessons to the players that will ultimately help them become leaders in the community and make tremendous differences in our society."
His coaching philosophy is all about working hard and playing with effort, energy, enthusiasm and execution with a positive attitude and a true commitment to one's team and to having fun. He also wants his players to have respect for one another and for others.
"As an individual and a team, you learn the game, you learn about being prepared, you learn valuable life lessons, you outwork everyone else, you have fun and you have an undying passion to be the best you can be," said Harvey. "The program will represent the University with a level of professionalism, class, sportsmanship, and success in an environment that utilizes the core values of accountability, courage, diligence, integrity and respect as our guiding philosophy."
Harvey has been recognized with numerous awards, such as being named the winner of basketball coach of the year twice in the York-Adams Interscholastic League, basketball coach of the year in the PSAC Collegiate League, softball coach of the year in the York-Adams League, and two-time winner of the athletic director of the year in the York-Adams League. He has also led numerous teams to division and league championships, and a PIAA championship.
A 1980 Dallastown High School graduate, Harvey holds a master of education degree in counselor education from Western Maryland College and a bachelor of science degree in business administration and a business education teaching certification from York College of Pennsylvania.
In addition to coaching basketball, Harvey continues to keep busy and works as the game manager for interscholastic athletic events at York Suburban School District.
Both Hartman and Harvey are already at work recruiting athletes and planning for their upcoming seasons.
In addition to women's basketball and women's volleyball, Penn State York offers golf for women and men, baseball, soccer, and women's softball.  To learn more about athletics at Penn State York, visit the website..