Tickets on sale now for program at Penn State York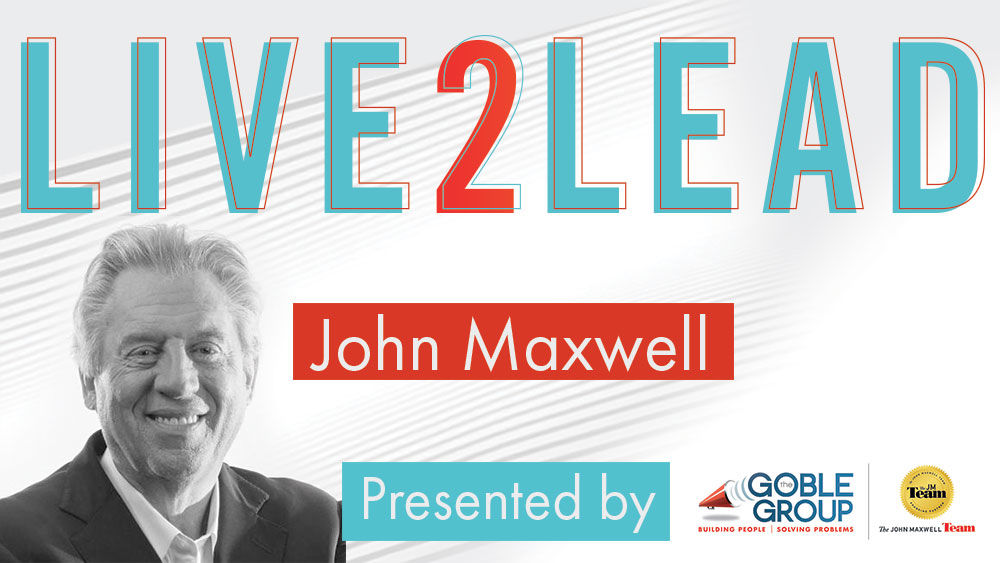 YORK, Pa. — Live2Lead, a half-day leadership development live simulcast featuring world-class leadership and business experts, is set for Friday, Oct. 11, at the Pullo Family Performing Arts Center (The Pullo Center) at Penn State York. The program, from 8 a.m. to 1 p.m., is presented by The Goble Group in collaboration with Penn State York Continuing Education.
"In today's challenging marketplace and the battle for talent, it's always a good idea to invest in yourself and your team," said Steve Goble, CHBC and Live2Lead host. "Live2Lead: York County is a cost-effective way to learn from internationally recognized leadership and business experts, while simultaneously networking with local professionals, as you make that investment in yourself and your team."
CEOs, managers and team members are encouraged to attend Live2Lead to breathe new life into their personal and professional leadership. Speakers for the event include:
John C. Maxwell is a No. 1 best-selling author, coach and speaker. Maxwell was identified as the No. 1 leader in business by the American Management Association and the world's most influential leadership expert by Inc. magazine in 2015. His organizations — The John Maxwell Company, The John Maxwell Team, and EQUIP — have trained more than 5 million leaders.
Rachel Hollis is the No. 1 New York Times best-selling author of "Girl, Wash Your Face," a television personality, top motivational speaker, top podcast host, CCO of the Hollis Company, and a mother of four. Hollis was named among the Top 30 Entrepreneurs Under 30 by Inc. magazine, and is deeply passionate about empowering women in business. Her motivational, high-energy style has earned her the reputation of being the Tony Robbins for women. Hollis also is well known for her tell-it-like-it-is attitude and her ability to authentically connect with audiences.
Angela Ahrendts was most recently the senior vice president of Apple Retail based in Cupertino, California. During her five years in that position she integrated Apple's physical and digital businesses to create a seamless customer journey for more than a billion visitors a year. Under her leadership, Apple redesigned stores, reimagined the experience, and recrafted roles for 70,000 employees globally. Prior to her role with Apple, Ahrendts was CEO of Burberry and led the company through a period of phenomenal global growth, repositioning the company as a global luxury brand. With a leadership focus on culture, values and positive energy, Burberry tripled its business and quadrupled its share price. She has been consistently recognized by Forbes, Fortune and the BBC as a top 100 global executive, and she is a member of the boards of directors of Ralph Lauren Corp. and Airbnb.
Marcus Buckingham is a global research and thought leader focused on unlocking strengths, increasing performance, and pioneering the future of how people work. Building on nearly two decades of experience as a senior researcher at Gallup Organization, he has challenged entrenched preconceptions about achievement to get to the core of what drives success for individuals, teams and organizations. His research has reinforced a simple but often overlooked approach to performance — when people spend the majority of each day on the job using their greatest talents and engaged in their favorite tasks, both the individual and their organization will win. His latest book, "Nine Lies About Work:  A Freethinking Leader's Guide to the Real World," takes an in-depth look at the lies that pervade our workplaces and the core truths that will help change them for the better.
Chris Hogan
Chris Hogan is the No. 1 national best-selling author of "Everyday Millionaire" and "Retire Inspired: It's Not an Age. It's a Financial Number." For more than a decade, Hogan has served at Ramsey Solutions, spreading a message of hope and financial peace across the country as a financial coach and Ramsey personality. Hogan helps people plan for their future and reach their retirement goals through his Retire Inspired Podcast and live speaking events. As an All-American football player and national champion in college, Hogan understands teamwork and speaks to organizations nationwide on how to effectively run and grow their businesses. Prior to joining Ramsey Solutions, Hogan was the vice president of a well-respected company helping clients manage their money and their companies.
He received his undergraduate degree from Georgetown College and a masters' degree from California University of Pennsylvania.
Tickets are on sale now at a super early bird rate of $59 for individuals or $50 for a minimum purchase of seven tickets through June 21. The early bird discount is $74 per individual and $65 for a minimum purchase of seven tickets from June 22 through Sept. 6. The regular rate of $89 per individual or $80 for a minimum purchase of seven or more tickets begins Sept. 7.
For ticket information, visit Live2LeadYork.com or contact Steve Goble, CHBC and Live2Lead host, at 717-682-3198.
Live2Lead York is sponsored by Buy Local Coalition, Susquehanna SCORE, White Rose Interiors, and AAdvantage Insurance Group.