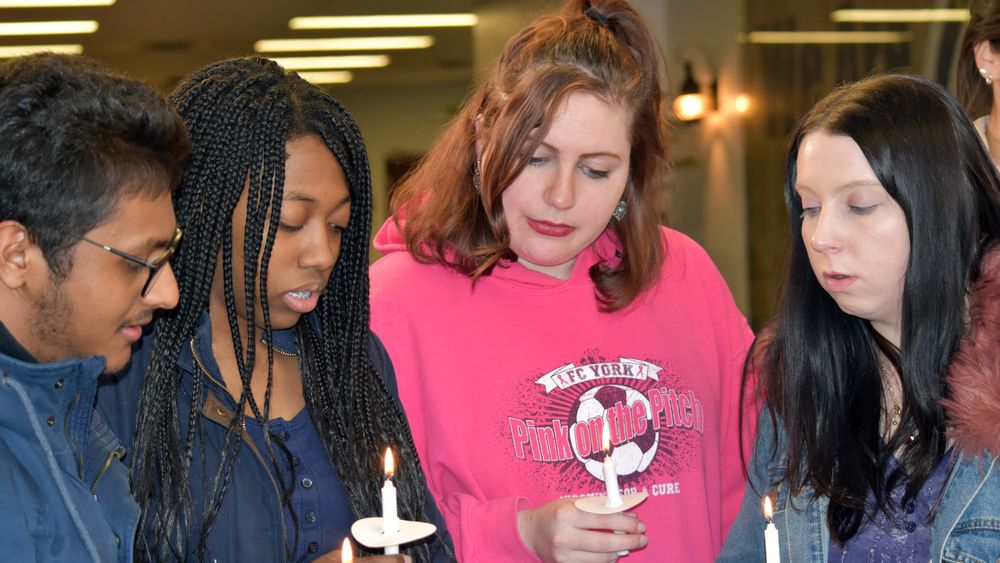 YORK, Pa. — When a child speaks, we listen, but more importantly, we believe.
Penn State York students in the Human Development and Family Studies (HDFS) Club are preparing for the eighth annual candlelight vigil for child abuse awareness and prevention set for Thursday, March 28, at the campus. Programming will begin at 4 p.m. as part of the weekly Coffee Hour in the conference center in the Main Classroom building. The vigil will take place at 5:30 p.m. outside the John J. Romano Administration Building.
"Each year at Penn State York, our campus unifies to bring awareness and education to the community on various aspects of child abuse," said Jessica Popp, president of the HDFS Club and a senior majoring in HDFS. "April is Child Abuse Awareness Month, but our efforts to raise awareness should be in place all year long. As human service professionals, we strive to protect children every day. We share knowledge on prevention and intervention to re-build lives and reduce the risks associated with abuse."
Those who attend the event will have the opportunity to make cards of encouragement and kindness rocks for victims of abuse. Kindness rocks are small rocks decorated with positive messages of hope and encouragement. All supplies will be provided.
At 5 p.m., Popp will begin the formal program and recite the poem, "It Could Be." Following the poem, guest speaker Cynthia Christiansen, a licensed professional counselor, will talk about the great strides that have been made in raising awareness of child abuse and in the treatment for children who have experienced this violence. Christiansen notes that the public is now more aware that perpetrators can be from all walks of life. David Christiansen, chancellor of Penn State York, is her spouse.
In the fall of 2011, students in the HDFS Club made plans to hold an event in November to raise awareness about child abuse and provide information about prevention. Work on this event intensified, and a decision was made to make it an annual event. The vigil was moved from fall to spring since Childhood Abuse Awareness month is in April, and features students in the HDFS program sharing an important message of hope and healing.
Participants in the vigil will light a candle and are invited to say the following pledge: "I believe that every child has a right to grow up free from the shadow of abuse. I believe that the responsibility to protect children rests solely in adult hands. I believe that, as adults, we must remain ever-vigilant and dedicate no less than the best of ourselves to that purpose. To all the victims of abuse, male and female, adult and children, known and unknown: I pledge to educate myself about the realities of child abuse; I pledge to give a voice and report any and all suspicions; I pledge to cast a light in the darkness by doing the right thing the first time, every time." A moment of silence will also be observed.
Coffee Hour is held each week at Penn State York as a way for students, faculty and staff to meet and discuss a variety of topics, learn something new, and have fun.