Several preview events set the stage for Champagne 's presentation, 'Art and Politics: The Case of Corrado Cagli'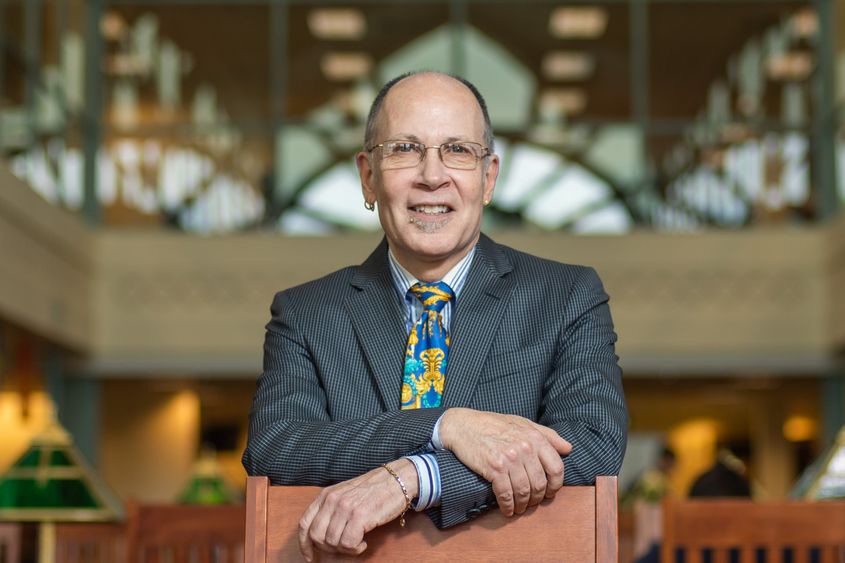 YORK, Pa. — "Art and Politics: The Case of Corrado Cagli" will be the topic when Penn State Laureate John Champagne visits Penn State York on Tuesday, Nov. 6. The presentation, set for 12:10 p.m. in the Precision Custom Components Community Room, is free and open to the public. Champagne is a professor of English and chair of the Global Languages and Cultures program at Penn State Erie, The Behrend College.
An annual honor established in 2008, the Penn State Laureate is a faculty member who travels the Commonwealth to bring greater visibility to the arts, humanities and the University, as well as to his or her own work. Champagne's laureate presentation is an expansion of his research for his sixth book, an examination of artistic culture of the Italian fascist years of 1922 to 1945 and the relationship of artistic works to the fascist regime.
"John always has compelling insights into the ways the history of the arts can inform our thinking about the present," said Jennifer P. Nesbitt, associate professor of English at Penn State York and coordinator of Champagne's visit.  "I'm excited to have such an engaging, distinguished scholar visit our campus."
The problematic and contradictory relationship between the art of Italian painter, sculptor and muralist Corrado Cagli, and the fascist government that supported him, will be explored in the upcoming presentation. Champagne uses Cagli's career as a starting point for engaging his audience in a discussion of art and the contemporary resurgence of fascism at home and abroad.
"Do artists have a responsibility to politics?" Champagne asked. "What is our obligation to art of the past, and what does history suggest to us about the role art plays in world politics today?"
Born in Milwaukee, Wisconsin, he wrote his first novel, "The Blue Lady's Hands" (Lyle Stuart, 1988), while an undergraduate at Hunter College in New York City. His second novel, "When the Parrot Boy Sings" (Meadowlands, 1990), was published two years later.
After completing a master's degree in film studies at New York University in 1988, Champagne earned his doctoral degree in English from the University of Pittsburgh in 1993. That same year, he began working at Penn State Behrend, where he teaches courses in literature, film, philosophy, composition, and Italian culture. He also has taught ethnic American literature and media theory at the University of La Manouba in Tunisia as a Fulbright Scholar.
Champagne's stop in York is part of his yearlong tour of Pennsylvania to ask probing questions about — and offer a historical perspective on — the role of the artist in times of political turmoil.
Champagne is particularly interested in engaging his audiences in a discussion of the role they think art should play in contemporary United States politics.
"I want people to have a clearer historical sense of the often vexed and contradictory relationship between art and politics," he said. "I want to scrutinize our basic assumptions of 'the political' in light of the perceived failure of party politics and an acknowledgment that what is referred to as politics sometimes amounts to the policing of the citizenry."
David F. Christiansen, now chancellor of Penn State York, served on the Penn State Laureate Selection Committee when he was the associate vice president for academic programs in the Office of the Vice President for Commonwealth Campuses at University Park. He knew Champagne well during his nine-year tenure at Penn State Erie.
"John's research examines the intersection of art and politics, particularly how artists express their creativity in politically turbulent environments," said Christiansen. "Although he focuses on fascist Italy in the two decades immediately prior to World War II, his conclusions are relevant to contemporary America."
Champagne is the author of five books, the most recent of which, "Italian Masculinity as Queer Melodrama: Caravaggio, Puccini, Contemporary Film," was published by Palgrave in 2015. He spent the 2006-07 academic year teaching in Tunisia on a Fulbright Fellowship and four summers as a visiting instructor in intercultural communication at John Cabot University in Rome.
A writer and musician from a young age, Champagne produced his first play, "A Touch of Garbage," during grammar school.
"It was based on the story of King Midas, but in this version, everything he touched turned to trash," he said. "I had an issue with the school's decision to start using disposable lunch trays."
As an undergraduate at Hunter College at the beginning of the AIDS pandemic, Champagne played piano at one of the country's first safer-sex workshops and for a cabaret performer whose act revolved around living with HIV.
"My life and career have always been marked by this kind of dual concern: What is art? What is politics? Is there or should there be a relationship between the two?" he said.
Champagne succeeds 2017-18 Penn State Laureate Andrew Belser, professor of movement, voice and acting in the College of Arts and Architecture.
Classroom visit
Prior to his public presentation on Nov. 6, Champagne will visit with students in an English 456 class taught by Nesbitt, and CAS 100B taught by Joe Downing, associate professor of communication arts and sciences. Students will have an opportunity to engage with Champagne, ask questions, and learn more about his work.
Preview events
In preparation for Champagne's visit in November, the Lee R. Glatfelter Library at Penn State York has a variety of literature, art, books and music related to Champagne's visit available to review. A film screening of "The Garden of The Finzi-Continis," for the campus community, is set for 3:15 p.m. Thursday, Oct. 25, in Room 114 of the Pullo Family Performing Arts Center. Champagne will make references to this film in his presentation Nov. 6. While the screening is only open to the campus community, members of the York community are welcome to borrow the film from the library for viewing.
A discussion of the film, open to everyone, is set for 12:10 p.m. Thursday, Nov. 1, in the Lee R. Glatfelter Library. For more information on Champagne's visit, check out the library's website.
For more information on the Penn State Laureate program, visit vpfa.psu.edu/penn-state-laureate.