York Chancellor David W. Chown to give commencement address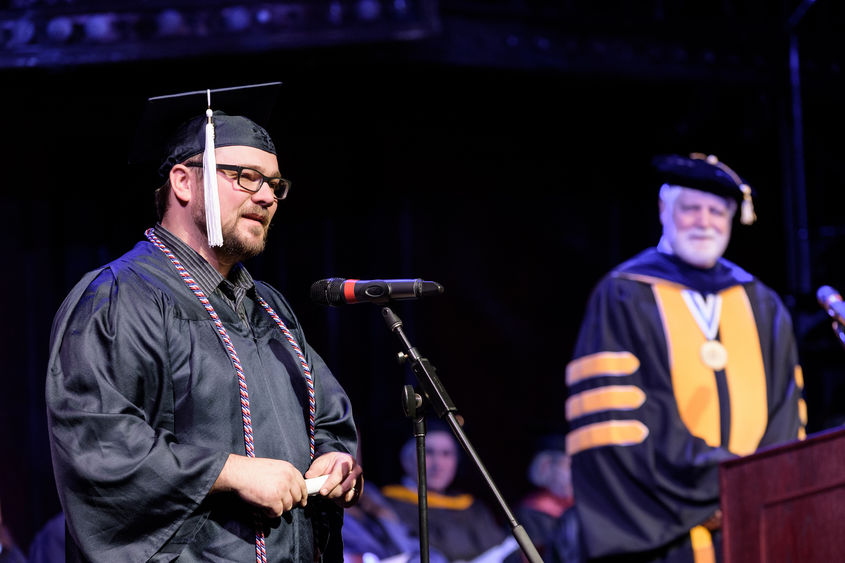 YORK, Pa. — David W. Chown, chancellor at Penn State York, is the commencement speaker at the campus' 48th annual spring commencement at 6 p.m. Friday, May 4. The ceremony, in the Pullo Family Performing Arts Center (The Pullo Center) on campus, is free and open to the public.
Chown has served the campus and the University for more than five years, and will be retiring as chancellor effective Aug. 1. A national search is under way to identify a new chancellor for Penn State York. Chown became chancellor in Feb. 2013, leaving his position as chief academic officer and senior vice president for the residential university of Upper Iowa University (UIU). Prior to his work at UIU, he served as business dean at Northern State University in Aberdeen, South Dakota; and served as dean of the McCamish School of Business at Reinhardt University in Waleska, Georgia.
Under Chown's leadership at Penn State York, the campus added new four-year majors that can be completed in York, signed an articulation agreement with Harrisburg Area Community College (HACC), and expanded the Graham Center for Entrepreneurial Leadership Studies (The Graham Center). The Graham Center expansion includes a new home for the center, and a variety of new opportunities for students interested in gaining knowledge concerning entrepreneurial leadership and economic development. The new Graham Center for Innovation and Collaboration should be completed in fall 2019.
Also during Chown's tenure, Penn State York hired its first full-time athletic director and added new athletic programs; made history with the establishment of the Women's Philanthropic Network (WPN), the first such group at the University; and the campus endowment has increased.
His work in the community includes serving as a member of the York Rotary Club, the York County Economic Alliance Breakfast Club, Better York, and the Healthy York County Coalition Leadership Council. Visit here for more about Chown.
In addition to hearing from Chown, Penn State York will continue its open microphone tradition when graduates can speak to the audience for a moment. The top associate, baccalaureate and master's degree students also will say a few words. A number of former Penn State York students who completed their degree work at another campus of Penn State will return to their home campus to receive their degrees during the ceremony.
The campus will award associate, baccalaureate and master's degrees during the program.
For those who cannot attend the event, Penn State York's commencement can be viewed on Comcast cable channel 18 and streaming on the website.