Commencement set for May 4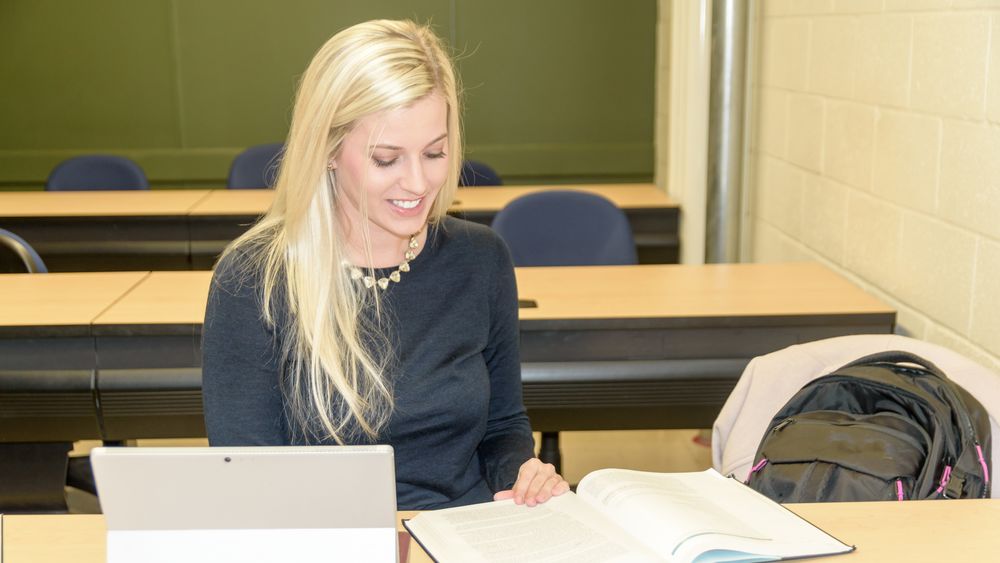 Lauren Clemens and Heather Kreiser will cross the stage of Penn State York's Pullo Family Performing Arts Center on May 4, and receive their degrees during the campus' 48th spring commencement ceremony. Both women have benefited from the many options Penn State provides for students to earn a degree. The ceremony, at 6 p.m. in The Pullo Center, is free and open to the public.
Clemens will receive a bachelor of science in business, and Kreiser, who graduated in 2014 from the York campus with a degree in human development and family studies (HD FS), has returned to the campus she loves to receive a master of professional studies in homeland security she earned through Penn State's World Campus. Clemens and Kreiser, both adult learners, are thankful for the opportunities provided locally by Penn State.
Lauren Clemens
Clemens, 28, earned an associate degree in business studies from Harrisburg Area Community College right after high school and was fortunate to land a job as a human resource coordinator at Select Medical in Mechanicsburg, Pennsylvania. When she heard about the accelerated bachelor of science in business (BSB) degree at York, which offers seven-week courses on Tuesday evenings and Saturdays, she decided to go after the bachelor's degree she always wanted. Clemens met with a counselor at Penn State York to work out the details of transferring her HACC credits and began the program in spring 2015.
Working full-time while earning a degree at York campus was Clemens' regular routine. Attending classes during the week and homework on the weekend kept her busy.
"I did it all," said Clemens. "The program allowed me to take a mixture of courses including the accelerated format, regular evening classes, online courses, and even an independent study. These options allowed me to complete the degree more quickly while I continued to work," she said.
Clemens appreciated the small classes and the personal attention available at the campus. Her favorite thing about Penn State York is its small size and the diversity of its students. She also enjoyed the opportunity to get to know other adult students and the professors.
She was recently inducted into the campus chapter of Alpha Sigma Lambda, a national honor society that recognizes the unique achievements demonstrated by adult students.
Clemens also took advantage of an opportunity to travel to Houston, Texas, over spring break, to do disaster relief work in the areas devastated by Hurricane Harvey. She was part of a group of nine other students and two chaperones from the York campus who joined with students and staff from five other Penn State campuses, for an alternative spring break (ASB), March 3-9. The Penn State group was about 100 strong. Not only did she travel and do the volunteer work, Clemens used vacation time to be able to take part in this project.
"The trip was very moving and inspiring," said Clemens. "We met and worked alongside homeowners and did a variety of projects from yard clean-up and taking away debris to tearing down walls and removing black mold, which covered everything," she said.
For Clemens, the ASB experience also provided her with the opportunity to get to know traditional Penn State York students in a special way.
Heather Kreiser
"There's no other place that I would rather go to receive my master's degree than Penn State York," said Kreisler. "The campus felt like family when I earned my undergraduate degree, so it made sense to return there. I also wanted my family to be able to attend commencement, especially my mother, who has been my greatest supporter."
Earning an undergraduate degree in human development and family studies (HD FS) from Penn State York in 2014 was a 12-year process for Kreiser, who worked full-time and took courses part-time over that time period. Since she had served in the military, the United States Marine Corps, Kreiser was able to pay for a portion of her education using benefits from the GI Bill.
Her connection to the campus, and particularly one faculty member, Sukhdeep Gill, professor of human development and family studies, was also a huge reason Kreiser wanted to return to campus. She recalls Gill as a wonderful mentor and is looking forward to talking with her and having a photo taken with her at graduation.
Gill remembers Kreiser well.
"What I remember vividly about Heather is that she was always open-eyed and wanting to learn and grow," said Gill. "There was a sense of respect; when I told her information, she listened. She was a sponge for new ideas and new ways of thinking. She has a sense of purpose and responsibility," said Gill.
Gill was unable to attend commencement when Kreiser earned her undergraduate degree, but she will be there this time and they are both looking forward to reconnecting.
Kreiser, 42, wanted to further her education and did so through Penn State's World Campus while working full-time as a quality manager at Taylor Communications, York, Pennsylvania. She began her pursuit of a master's degree in 2015, and is excited to be finished.
She has always wanted to help people and it is fitting that her master's degree is in homeland security. She hopes her two children will follow in her footsteps someday and pursue and conquer their educational goals.
Both Clemens and Kreisler have family and friends planning to attend the ceremony and cheer them on as they celebrate completion of their educational goals.
Commencement speaker
David W. Chown, chancellor at Penn State York, is the commencement speaker. Chown has served the campus and the University for more than five years, and will be retiring as chancellor effective Aug. 1. A national search is underway to identify a new chancellor for Penn State York.
Chown became the chancellor of Penn State York in February 2013, leaving his position as chief academic officer and senior vice president for the residential university of Upper Iowa University (UIU). Prior to his work at UIU, Chown served as business dean at Northern State University in Aberdeen, South Dakota, and served as dean of the McCamish School of Business at Reinhardt University in Waleska, Georgia.
Under Chown's leadership, the campus added new four-year majors that can be completed in York, signed an articulation agreement with Harrisburg Area Community College (HACC), and expanded The Graham Center for Entrepreneurial Leadership Studies (The Graham Center). The Graham Center expansion includes a new home for the center, and a variety of new opportunities for students interested in gaining knowledge concerning entrepreneurial leadership and economic development. The new Graham Center for Innovation and Collaboration should be completed in fall 2019.
Also during Chown's tenure, Penn State York hired its first full-time athletic director and added new athletic programs and made history with the establishment of the Women's Philanthropic Network (WPN), the first such group at the University. The campus endowment has also increased.
His work in the community includes serving as a member of the York Rotary Club, the York County Economic Alliance Breakfast Club, Better York, and the Healthy York County Coalition Leadership Council.
He holds a doctorate in business administration from The University of Iowa, a master's in management from Central Michigan University, and a bachelor's degree in sociology from Central College, Pella, Iowa.
Following his retirement as chancellor from Penn State York, Chown, 71, will take on other duties for the University through Sept. 30. He and his wife, Peggy, director of the Osher Lifelong Learning Institute (OLLI) at Penn State York, currently live in York but plan to return to Iowa to live after his retirement.
In addition to hearing from Chown, Penn State York will continue its open microphone tradition when graduates can speak to the audience for a moment. The top senior attending in Penn State York's associate degree programs, Paula M. Presswood, human development and family studies, Dover, Pennsylvania; the top senior in baccalaureate programs, Nathan K. Oberdick, information sciences and technology, Manchester, Pennsylvania; and a top master's degree graduate, Phalon Faye Mallory, master of education in teaching and curriculum, York, Pennsylvania, will also say a few words.
A total of 66 degrees will be awarded during the ceremony. Penn State York will award 3 master of education in teaching and curriculum degrees, 47 baccalaureate degrees, and 7 associate degrees. Nine students who earned their degrees at another Penn State location will return to York to receive a degree during the ceremony.
For those who cannot attend the event, Penn State York's commencement can be viewed on Comcast cable channel 18 or streaming live on the campus website.