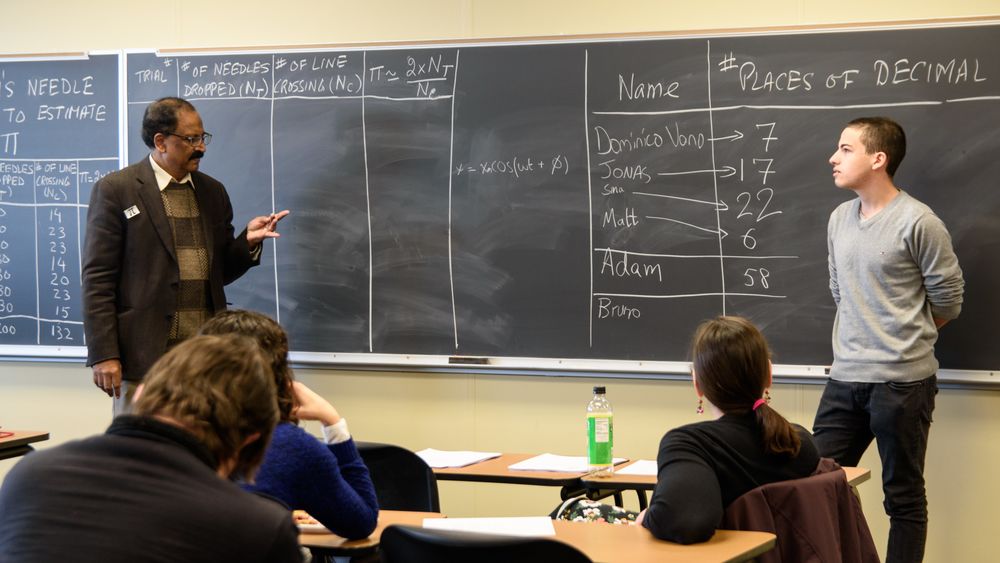 YORK, Pa. — It's all about 3.14.
Celebrate all things Pi, and pie, on March 14 when Penn State York hosts its second annual campus-wide Pi Day from noon to 1:15 p.m. in the conference center of the Main Classroom Building.
In addition to enjoying pizza and pie, students will be able to enter contests to determine who can recite the most digits of Pi, and for those more adept at physical representations of Pi, a contest is being held to see who can keep a hula hoop going the longest. Organizers want to be sure participants have an opportunity to work off those pie calories.
The Greek letter Pi, π, represents the ratio of a circle's circumference to its diameter, an easy enough relationship to picture and understand, according to Joan Smeltzer, lecturer in mathematics and one of the Pi Day organizers.
"What is much more mysterious and interesting is that the number that represents that ratio has a decimal representation that will never terminate, such as when one-half is represented by .5; and never repeat, as in when one-third is represented by.3333," said Smeltzer. "So we can never truly know exactly the value of Pi. We live in a time in which we believe that with our technology, exact answers are easy to find, and usually quickly. Pi reminds us that there will always be some things out of reach."
Last year, Pi Day was organized by Smelter and recently retired physicist Abul Hasan as an opportunity for students to see that there is fun to be had with math and science. This year, Smeltzer and Amy Harmon Krtanjek, lecturer in engineering, have teamed-up and planned an event with plenty of activities.
A new addition to the Pi Day celebration is a "Pi on Campus" photo contest. Students are encouraged to take photos around campus that relate to the use of Pi in everyday life. Photos can be technical, creative, or both. Post photos on Twitter with the hashtag #PennStateYorkPiDay, and the student who takes the photo with the most likes as of March 14 will receive a prize. Penn State York's engineering design students are contributing to Pi Day by using their computer aided design skills, and the campus' newly installed 3-D printers, to create small prizes for the contest winners.
"The main reason for the event is to bring students, faculty and staff together to share some fun and food, and celebrate being part of a great community at Penn State York," said Krtanjek.