Penn State York group joins University volunteer effort in Texas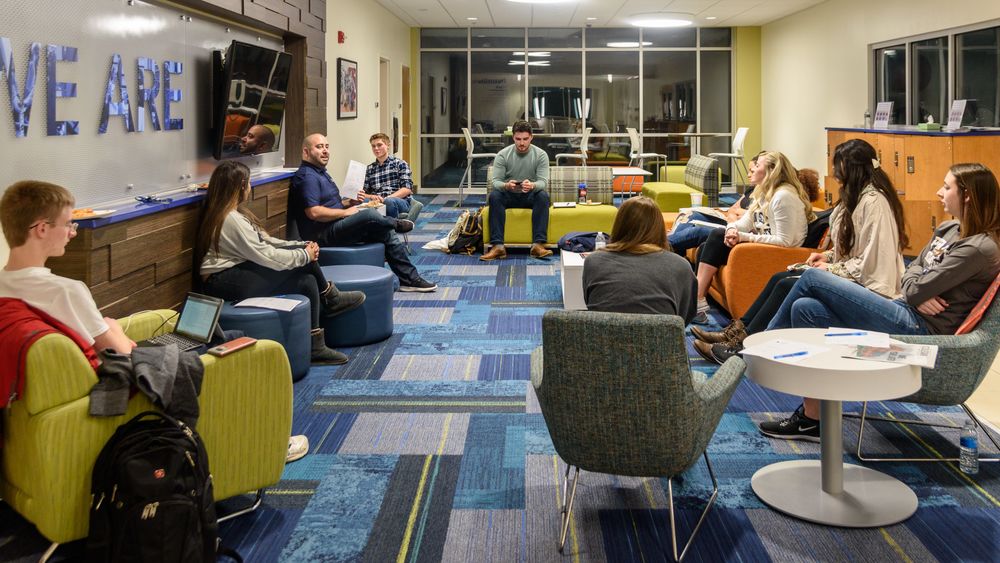 YORK, Pa. — Helping other people, making a difference, the experience of meeting new people, stepping out of their comfort zone, sharing a meaningful goal, and putting spring break to good use are just some of the reasons given by Penn State York students about to travel to Texas, the Beaumont and Port Arthur areas, devastated by Hurricane Harvey. The group of 10 students and two chaperones will join students and staff from five other Penn State campuses — University Park; Penn State Erie, The Behrend College; Greater Allegheny; Harrisburg; and Worthington Scranton, for an alternative spring break, March 3-9. The Penn State group is about 100 strong.
"Penn State York decided to be a part of the Hurricane Harvey Relief Effort because it would provide students with real-world experiences and an opportunity to make a difference on their break," said Dan Puccio, associate director of student affairs at the York campus and one of the chaperones for the trip. "This effort also tied in well with what is currently going on in the country, builds upon our campus clothing and nonperishable food drive that was done for Hurricane Harvey survivors, last fall, and since money had already been allocated to our office for an Alternative Spring Break trip through the Student Activity Fee, we jumped at the opportunity to be a part of something bigger."
Alternative spring break experiences are not new to Penn State York. Students have traveled to Louisiana to help with relief efforts following Hurricane Katrina, Washington D.C. to help with after school programs with the United Way, to the Bahamas with a focus on children's literacy, and in 2017, a group traveled to Puerto Rico to work in a rain forest with an emphasis on ecology.
In addition to Puccio, Sheri Yoder, global education coordinator, will also be a chaperone on the trip. Last year, Yoder traveled to Puerto Rico with the York group.
"When I was in high school, my dad traveled to Louisiana to help out after Hurricane Katrina. I was inspired by him, and so when this opportunity became available, there was no question I wanted to go."

-- Lauren Clemens, Penn State York student
The Hurricane Harvey Relief effort will provide students with projects to prepare flooded homes for restoration. Tasks will include mold control and remediation, the removal of mud, muck, silt, and other material from homes, tearing down and removal of construction-related materials, including protruding nails in exposed studs and flooring. In addition to manual labor, volunteers may also have the opportunity to meet and work with home owners.
For Lauren Clemens, 28, an adult learner majoring in business, this trip is something she has wanted to do for a very long time.
"I really want to go for the experience, and step outside my comfort zone," said Clemens. "When I was in high school, my dad traveled to Louisiana to help out after Hurricane Katrina," she said. "I was inspired by him, and so when this opportunity became available there was no question I wanted to go."
Clemens, who works full time, and takes most of her courses in the evening as part of the accelerated bachelor of science in business at the York campus, is also looking forward to meeting and getting to know other students at the campus that she doesn't normally interact with. She is set to graduate in May.
Carson McCaffrey, 19, a sophomore majoring in computer sciences, heard about the trip during a Student Government Association (SGA) meeting.
"I looked across the table at my friend Devon Ream, and we both said, 'let's do it,'" said McCaffrey. "It really seemed like a good way to spend spring break, and I was glad to be selected for the trip."
McCaffrey, an Eagle Scout, has done a variety of volunteer activities and isn't really worried about the work involved.
Penn State worked through a group called Community Collaborations International to arrange the trip, and they have partnered with Operation Blessing to coordinate volunteer housing and projects. Groups will stay in the Community Collaborations International Volunteer Facility, and sleep in a gym or classrooms with men and women sleeping in separate quarters. Volunteers will work, rain or shine, and time will be spent each evening reflecting on the work of the day.
To prepare for the trip, York students have been reading and discussing articles about the disaster in Texas and relief efforts. They have also been taking part in ice breakers and other activities to get to know each other better.
Penn State York students taking part in the Alternative Spring Break are Lauren Clemens, York, Pennsylvania; Shireen Elayan, York, Pennsylvania; Carson McCaffrey, York, Pennsylvania; Adam Prusakowski, Spring Grove, Pennsylvania, Devon Ream, York, Pennsylvania; Ninive Robles-Flores, Mexico City, Mexico; Krista Searfoss, Fawn Grove, Pennsylvania; Thalia Splawn, York, Pennsylvania; Karra Thomason, New Oxford, Pennsylvania; and Jelena Young, York, Pennsylvania.