Penn State York organizes relief effort for those impacted on the Gulf Coast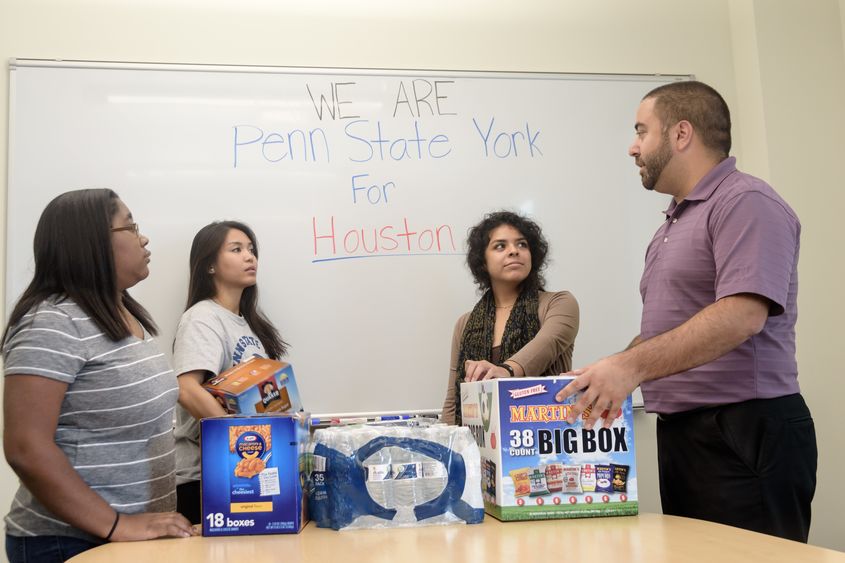 Hurricane Harvey brought devastation to Houston, Texas, and many other towns along the Gulf Coast. For Dan Puccio, associate director of student affairs at Penn State York, the photos on the news and social media reminded him of the catastrophic loss in New Orleans, a place he used to live and work.
Although he wasn't in New Orleans during Hurricane Katrina, Puccio remembers seeing the impact on that city and its residents years later. Those memories, shared with him by friends and colleagues who lived through Katrina, inspired him to do something. Puccio has organized a relief effort for the victims of Hurricane Harvey, and the campus is collecting a variety of items to assist those in need.
"For my experience living in and loving the city of New Orleans, what is going on now in Houston definitely hits close to my heart and I feel for all those affected," he said. "If our Penn State York community can assist, even in a small way, I thought it was worth it for us to try. The kindness and compassion that we can have for our fellow man knows no bounds and I know we'll be successful."
Penn State York is collecting nonperishable food items, water, personal hygiene products, and new and gently used clothing items. Donations of socks or undergarments should be in their original unopened packages.
The campus' first wave of donations will be sent on Sept. 7 as part of a shipment of items being taken to the area by Bailey Coach, located in York, Pennsylvania. All items must be delivered to the campus by noon on Thursday, Sept. 7, and they will be taken to Bailey Coach to be included with other donations. Items can be dropped off in the student affairs office on the second floor of the Joe and Rose Ruhl Student Community Center, between 9 a.m. to 5 p.m., Monday through Friday, or from 9 a.m. to 6 p.m., in Rosie's, the campus dining area on the first floor of the same building,
Water will be delivered to the Red Cross and Salvation Army in the Houston area, and personal hygiene items and clothing will go to the United Way locations in Houston and San Antonio.
The campus will continue collecting items through Friday, Sept. 15, and those items will be delivered at a later.
Those planning to attend the free drive-in movie on Friday, Sept. 8 at York campus are encouraged to bring items to donate to the relief effort. "Despicable Me 3," a family-friendly film featuring those lovable Minions, and "Baby Driver," a movie for mature audiences, are the featured films beginning at 7:30 p.m. Movie-lovers can park in the lower parking lot area behind the Pullo Family Performing Arts Center (The Pullo Center) beginning at 6:30 p.m. In case of rain, the movies will be rescheduled for a date in October,
Puccio hopes that in addition to understanding the force of Mother Nature, those who participate will also understand the importance of compassion and helping others.