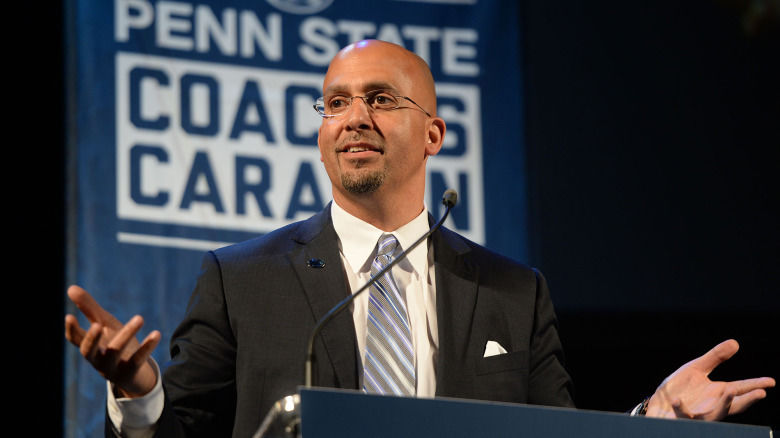 UNIVERSITY PARK, Pa. -- The Penn State Coaches Caravan will return to the roads of Pennsylvania in May with seven stops across the Commonwealth. James Franklin, the 2016 Big Ten Football Coach of the Year, Director of Athletics Sandy Barbour and several head coaches will embark on the four-day, seven-stop tour from May 8-11.
Franklin is scheduled to participate in all seven Coaches Caravan stops and will be joined by other Penn State head coaches on the tour. At each event, alumni, friends and fans will hear updates on the Nittany Lions' nationally recognized 31-sport athletic program, learn about the 2017 football season, and get to know more about the academic and athletic achievements of 800 student-athletes -- all while connecting with fellow Penn Staters.
Each of the Coaches Caravan events will feature a meet and greet with Franklin and the other Nittany Lion head coaches during the lunch or evening receptions prior to the programs. Franklin will meet with alumni and fans and talk about Penn State's 2016 Big Ten Championship run and Rose Bowl berth, as well as preparations for the 2017 campaign and how all Penn State alumni and fans can help build on Penn State football's tradition of excellence. Members of the Penn State football coaching staff may also attend selected events.
The Coaches Caravan customized coach will roll out of Happy Valley on May 8, with stops in York (lunch) and Philadelphia/King of Prussia (evening reception), followed by stops in Hazleton (lunch) and Harrisburg (evening reception) on May 9, Pittsburgh for an evening reception on May 10 and Altoona (lunch) and Williamsport (evening reception) on May 11.
Complete details on the other coaches participating, locations and registration information for each Coaches Caravan stop on the tour will be available in mid-March.
Jointly sponsored by the Penn State Alumni Association and the Nittany Lion Club, this will be the fifth edition of the Penn State Coaches Caravan. As a benefit of membership, registration opened for Penn State Alumni Association and Nittany Lion Club members March 15, and registration for the general public will open on March 22.
The 2017 Coaches Caravan schedule of events (exact locations to be announced in March):
May 8 — York (Lunch) & Philadelphia/King of Prussia (Evening reception)
May 9 — Hazleton (Lunch) & Harrisburg (Evening reception)
May 10 — Pittsburgh (Evening reception)
May 11 — Altoona (Lunch) & Williamsport (Evening reception)