Tickets are just $10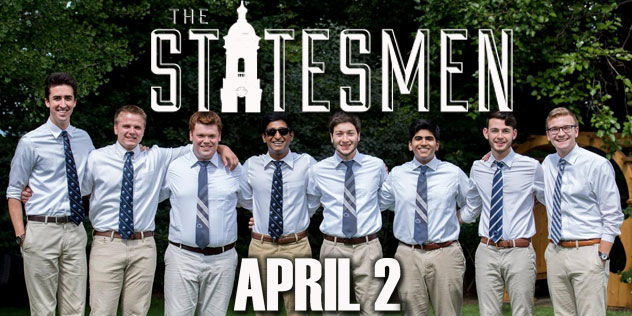 YORK, Pa. – Penn State's premier, all-male a cappella group, The Statesmen, will take to the stage at Penn State York's Pullo Family Performing Arts Center at 3 p.m. on Sunday, April 2.
Tickets are available at The Pullo Center Box Office, charge by phone at 717-505-8900, or online at http://pullocenter.york.psu.edu.
Ranging from pop to rhythm and blues, to classic Penn State songs, the Statesmen are Penn State proud. They are an a cappella group that strives to provide a wide array of genres to their fans. What started out as an idea at a party in August of 2011 quickly became a staple of both the State College music scene as well as the entire Penn State culture.
The Statesmen would don their rolled-up khakis and ties and perform at Penn State football tailgates and other local events. Since then, the group has gone on to receive numerous accolades, including second place at the 2012 International Championship of Collegiate A Cappella (ICCA) Semifinals and Outstanding Soloist for 2012 and 2013 ICCA competitions, among others.
Under the direction of the first musical director, Jim Hogan, the group was fortunate enough to release their self-titled album in the summer of 2012.
The group has also had the opportunity to perform a song off of their debut album on national television, during NBC's "Today Show."
Following the performance, there will be an ice cream social sponsored by the York County Chapter of the Penn State Alumni Association.