For Karra and Amanda Thomason, basketball is in their blood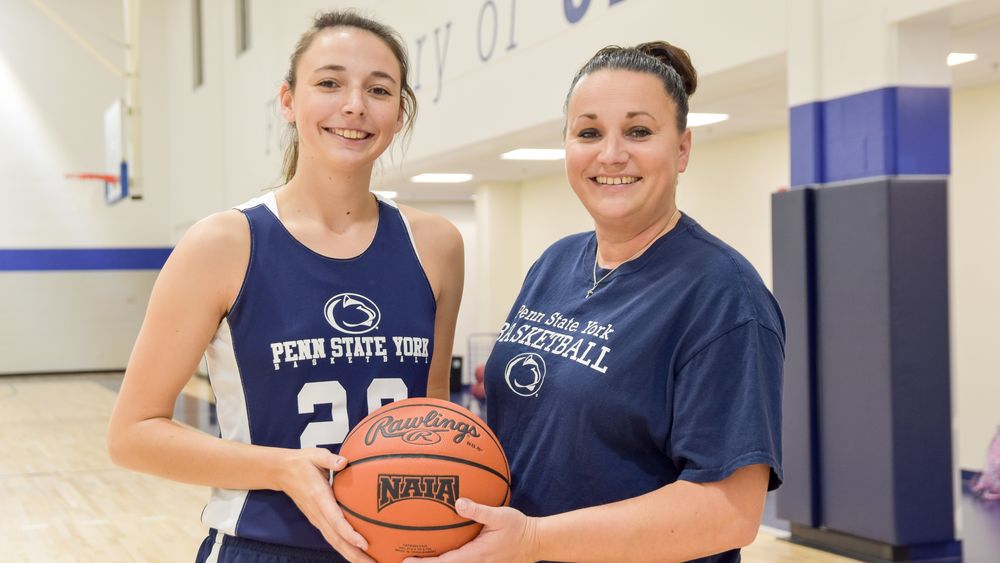 YORK, Pa. — Karra Thomason, a junior at Penn State York, was just 1 year old the first time she watched her mom, Amanda, play basketball at Penn State York. Little did she know that later in life, she too would play basketball for the York campus and honor her mother by wearing the same jersey number, 20.
"My mom told me great things about Penn State York, and not just about basketball," Karra said. "She told me about the opportunities she had athletically and academically at the campus. I wanted to stay close to home, so it just made sense to attend the York campus."
Now a bachelor of science in business major pursuing the marketing and management option, Karra, a 2014 graduate of Bermudian Springs High School, had no doubts about where she would attend college, and that she would play basketball. She has played basketball since she was very young, so continuing to play the sport she loves was important to her.
In addition to listening to her mom's advice, Karra remembers being recruited by Terri Van Slyke, an admissions counselor and head women's basketball coach at Penn State York. Talking with Van Slyke and learning more about the campus basketball team just sealed the deal for Karra. Similarly, back when her mom was looking at schools, it was also a Penn State York admissions counselor, Connie Clancy, who encouraged her to apply and worked with her to get accepted and connect with Tory Harvey, the campus' women's coach at the time.
"It's a great feeling to be a part of a team," said Karra. "Knowing that you have that group of people on your side is wonderful."
For the Thomasons, basketball is truly in their blood. Karra and Amanda discuss games, and Karra is proud to share facts about her mom's basketball career at Penn State York. Amanda was a member of the York campus women's basketball team from 1996 to 1998. Two years in a row, that team went to the championships in State College, but unfortunately lost to Penn State Altoona. In one game during her two seasons of play at York, Amanda scored 43 points, sinking 10 consecutive 3-point shots.
A guard, Karra's height and speed make her a matchup nightmare for most teams. In addition to her length and athleticism, Karra's ability to score has led to her tallying multiple double-doubles in points and rebounds this season. She has also consistently ranked in the top five in rebounds per game in the Penn State University Athletic Conference (PSUAC) throughout the 2016-17 season.
Amanda is quick to praise Karra for her good sportsmanship, her diligence in playing defense, and for being humble. Amanda also notes that Karra is well-rounded and more than just a basketball player.
"Karra is such a good kid, both on and off the court," said Amanda. "She works hard in her classes and is a great team player. Even in the heat of a competitive game, Karra is quick to help other players up off the floor and make sure they are OK. She is always worried about everyone else. She has great values and morals, and I'm very proud of that."
Active in her church, Faith Christian Fellowship in East Berlin, Karra has a strong faith and has been on two mission trips.
Coach Van Slyke also has plenty of positive things to say about Karra.
"Karra has been an absolute godsend to our basketball program, and I think it is so cool that she has this opportunity to follow in her mom's footsteps," said Van Slyke. "Karra is an incredible talent, and the game just comes so naturally to her. She has the ability, with her skill set and athleticism, to do things on the court that other players only dream of doing. As a former player myself, that's how I feel watching her. She moves with such grace and ease that I don't know how you could not love to watch her play."
Van Slyke's comments about Karra are not just limited to her basketball skills.
"The absolute best thing about Karra is who she is as person. Her character and humility are what makes her an amazing teammate and a phenomenal player to coach. When I asked her why she picked No. 20 as her number, she told me that was her mom's number when she played at Penn State York, so she wanted to honor her by wearing it," said Van Slyke. "Karra and Amanda definitely have a very special bond. Not only is it evident that basketball is in Karra's blood, but you can tell she was raised by a tremendous family. The Thomasons are some of our biggest fans and supporters, and they are just incredible people to know."
Attending games is a family event for the Thomasons, with Karra's dad, Gabe, and her sister, Shanna, and other family members cheering from the stands. Being supportive has been a family tradition for many years. Amanda is quick to note that Gabe attended every single basketball game she ever played in high school right on through college. She also praises him for his willingness to be so supportive, which allowed her to pursue a degree and play basketball. In fact, Amanda is now working on completing her master's degree.
With all this support, Karra's future looks bright. When she completes the bachelor's degree at York, Karra hopes to pursue a job in marketing, but ultimately she'd like to own her own business someday, preferably a flower shop. Chances are, she'll also being doing some things with basketball.