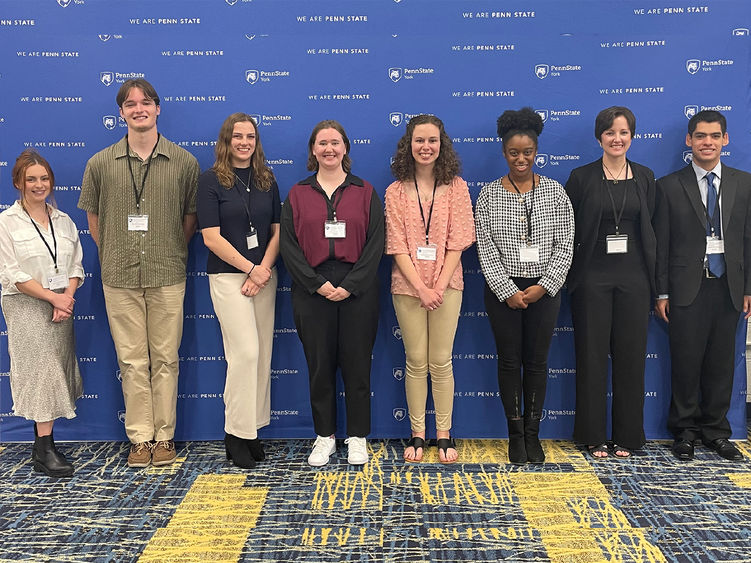 YORK, Pa. — Two students from Penn State York took first place at the 12th annual Penn State Eastern Regional Undergraduate Research Symposium on Saturday, April 22, at the York campus. The event featured 38 projects from across eight campuses.
View photos from the event here.
The winners were chosen by a panel of faculty judges, who weighed each project by:
Creativity
Thorough background and understanding
Professionalism and critical thought
The winners are:
Arts and Humanities
1st Place – Xiomara Larkin
Campus: York
Mentor: Joy Giguere
Project Title: "Lebanon Cemetery"
2nd Place – Katherine Joyce
Campus: Schuylkill
Mentor: Harold Aurand
Project Title: "Life, Liberty, and the 'Pirates of the Caribbean'"
Biological Sciences and Health
1st Place – Hannah Wicker
Mentor: Jessica Petko
Project Title: "Alternative Splicing of the Circadian Regulatory Gene Period in the Common House Spider, Parasteatoda tepidariorum"
2nd Place – Jonathan Perez
Campus: Lehigh Valley
Mentor: Jacqueline Mclaughlin
Project Title: "Aquatic Health of the Dunabe Basin: Assessment of Select Areas Within the Brăila Islands, Romania"
Physical Sciences, Mathematics, Information Sciences, and Engineering
1st Place – Gracie Clare Guerin
Campus: Brandywine
Mentor: Anna Sigmon
Project Title: "Metal Complexes of Flavonoids: Their Synthesis, Characterization, and Potential Medicinal Properties"
2nd Place – Dennis Bromley
Campus: Brandywine
Mentors: Marina Skyers and Samantha Pezzimenti
Project Title: "Golden Hexagons and Honeybees"
Social Sciences and Business
1st Place – Gianna Gomes
Campus: Lehigh Valley
Mentors: Jennifer Parker, Andjela Kaur, and Teresa Kistler
Project Title: "Uncovering the Link Between Autism, Adverse Childhood Experiences, and Socioeconomic Status: The Protective Influence of Family Resilience"
2nd Place – Lexie Berry
Campus: Brandywine
Mentors: Joshua Marquit
Project Title: Meta-Analysis: "The Impact of Deployment on the Mental Health and Well-being of Children in Military Families"
This event was made possible by the Eastern Regional Steering Committee, Andy Landis, Robert Farrell, Susan Conway, Jamaira Unangs, Makenzie Nolt, Anne Vardo-Zalik, Emerson Petko, campus maintenance, campus security, student volunteers and faculty judges.
Questions about this year's Eastern Regional Symposium? Contact Jess Petko at [email protected].