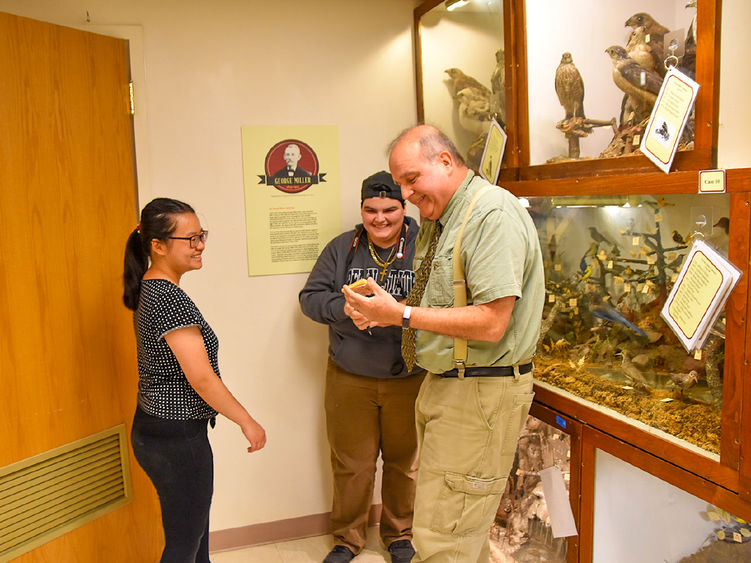 YORK, Pa. — Undergraduate students Cheyenne Baughman and Nhi Nguyen are gaining skills and experience through a work-study research opportunity at Penn State York. Jorge Santiago-Blay, a biology faculty member, who holds a doctorate in entomological sciences from University of California, Berkeley, has been studying elements of the wildlife at Nixon Park in York, Pennsylvania, since 2018. Most recently, he has brought students under his wing for a new project about birds.
While Santiago-Blay's research at Nixon Park has primarily centered around bee biodiversity, redbud tree biology, and lichen conservation, his newest focus has fallen to the collection of bird specimens housed at Nixon Park's Nature Center, which was garnered by naturalist and York County native, George Miller (1834-1915).
According to a 1922 publication by Atreus Wanner, "The [George Miller bird] collection, with very few exceptions, came from York County. It could not be duplicated now, so rapid has been the destruction of bird life. Some specimens are no longer seen in this locality. A few are rare anywhere. One, the wild pigeon, once so abundant, is now extinct. It is represented in the collection by a beautiful pair of birds." As Wanner states, the Miller bird collection at Nixon Park also includes two rare specimens of the passenger pigeon, which are on display for the public to appreciate. Once plentiful in North America, this species was declared extinct in 1914, the year before Miller's death.
The disappearance of many native plants and animals can be attributed to environmental factors, including industrial development and pollution, according to Santiago-Blay. For example, many species of lichens are sensitive to air pollutants and are believed to have disappeared from the woodlands of York County and many other places. Conversely, Santiago-Blay has collected about a dozen species of bees that had not been previously reported within York County.
Although biodiversity is not an easy web to untangle, Santiago-Blay hopes to uncover connections that could improve our understanding of native species and potentially contribute to conservation efforts.
Santiago-Blay's newest undertaking is to photograph every specimen in the Miller collection of birds and update Wanner's catalogue. That's where undergraduate assistance comes in.
The benefits of work-study opportunities
Baughman and Nguyen are working diligently to photograph each bird in the Miller collection to illustrate the updated version of the Wanner (1922) catalog. Although neither student has declared biology as their major, they are still finding value in this field research experience.
Baughman, majoring in forensic science, stated, "Forensic science is a broad spectrum that deals with the law, genetics, or even archaeology in some cold cases. My goal is to work in a forensic lab — I love learning hands-on and doing things myself — so this research beats listening to lectures in a classroom."
Although Baughman said she doesn't plan to become a field agent, photography is a passion that she first discovered in high school.
"I took photography because a forensic scientist has to sometimes go take photos, so having some knowledge of basic composition and using a camera is useful in the field," she said.
Baughman commented that photographing the specimens at Nixon Park seemed similar to the process of collecting and logging exhibits for a crime case, so she also hopes to learn filing systems that could be useful in her career.
Nguyen, similarly, said she values her time in the work study.
"Even though I'm earning a B.S. (bachelor of science) in psychology, knowing Dr. Blay and helping with a research project will boost my résumé," she said. "It's easier to make these kinds of connections at Penn State York because the campus is so small. Plus, I'm learning how to prioritize my time. Since schoolwork comes first, I need to communicate and show accountability. I can take that skill anywhere."
Both students were connected with this work-study opportunity through Kristen Fowler, the financial aid coordinator at Penn State York, who uses the University's database to identify students who are eligible to work for the school to help offset tuition costs. Fowler works directly with the students and faculty to find a good fit.
Many hands make lighter work
In a research project of this scale, Santiago-Blay knows he can't do it alone. He has a passion for sharing his discoveries with students and park visitors alike. So, not dissimilar to biodiversity, the arrangement is mutually beneficial.
"All I require to work with me is having strong motivation to work hard, having a beautiful mind, and having time to help," said Santiago-Blay. "I would never be able to accomplish the work I've done without the help of undergraduate students, volunteers, and colleagues — of which there have been many over the years. I appreciate their help very much."
More research opportunities for undergraduates
While work study is one way for students to get into the field, many students embark on research projects through their academic program. Once they develop a rapport with a faculty member in their major, students can propose ideas for a scientific study or other field research project.
Faculty members at Penn State York often encourage their students to bring ideas to life through research, experiments and hands-on learning. With an 11:1 student-to-faculty ratio, students at Penn State York can establish a true working relationship with their instructors and some even pursue publication of their research findings, which may help to position them for future opportunities, such as graduate school.
For more information about research opportunities with Santiago-Blay, please email [email protected]. Those who have an idea for a research project in their major should work with a faculty adviser to get started.