Students from eight campuses will share their work in a poster exibition on April 22 at the York campus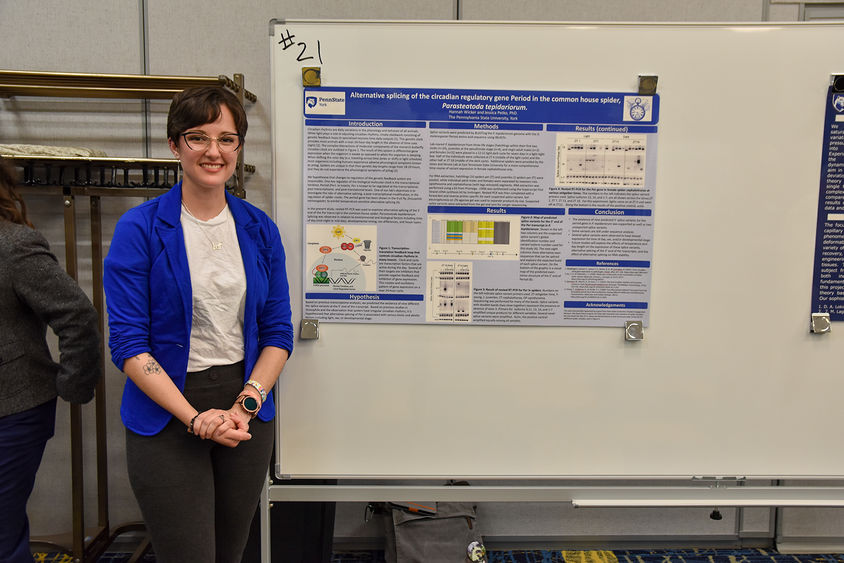 YORK, Pa. — The 12th annual Penn State Eastern Regional Undergraduate Research Symposium will be hosted at the Penn State York campus on Saturday, April 22, from noon to 4:30 p.m. in the Conference Center on the lower level of the Main Classroom Building.
"This event benefits the students of eight Penn State campuses, as it provides them the opportunity to present to a broader Penn State audience beyond their individual campus," said Jess Petko, an associate professor of biology at Penn State York, who holds a doctorate in genetics from Penn State College of Medicine. Petko is a member of the multicampus steering committee for the event and said he is thrilled to be hosting this year's symposium here in York.
"I was invited as the keynote speaker at last year's event in Schuylkill and was very impressed by all of the student presentations. I felt inspired to volunteer our campus to host the symposium this year," Petko said.
The eight Penn State campuses participating in this year's symposium are:
Abington
Brandywine
Hazleton
Lehigh Valley
Schuylkill
Scranton
Wilkes-Barre
York
This year, the symposium will showcase 38 projects and host a total of 74 attendees across all eight campuses.
York Campus participants
Each of the eastern Penn State campuses may select up to eight students to participate in the research symposium. Projects may fall within any of the following categories:
Arts and Humanities
Biological Sciences and Health
Physical Sciences, Information Sciences, and Engineering
Social Sciences and Business
The students selected from the York campus, their research category, and faculty advisers are:
Devin Taylor and Lydia Jones – Social Science – Sonia Molloy
Gabriel Raglan, Xiomara Larkin, and Nicholas Ziegler – Humanities – Jon Price
Gavin Franz – Humanities – Jennifer Nesbitt,
Hannah Wicker – Biology – Jessica Petko
Jasmine Cross – Social Science – Stephen Foster
Logan Coomes – Biology – F. Andrew Landis
Sarah Rehmeyer – Physical Science – Javed Siddique
Xiomara Larkin – Humanities – Joy Giguere
Each student has submitted an abstract of their research project and will present a poster to summarize their hypothesis, methods and findings.
Symposium agenda
Lunch – noon
Poster Session – 1 p.m.
Keynote Speaker: Makenzie Nolt – 3 p.m.
Awards – 4 p.m.
Each project category will have a first- and second-place prize winner, for a total of eight awards. The projects will be judged by faculty members from each disciplinary, who are looking for creativity, thorough background and understanding, professionalism and critical thought. Winners will receive a certificate and an Amazon gift card in the mail. 
Keynote speaker
Keynote speaker for the event will be Makenzie Nolt, a neuroscience graduate student at the Penn State College of Medicine working toward her doctorate while completing research on the importance of iron in traumatic brain injury recovery. 
Nolt began her Penn State journey at the York campus and completed her bachelor of science degree in neuroscience at University Park. While in York, she conducted lab research with Petko and would occasionally continue research in the summer months at the York campus.
Her keynote speech for the regional symposium, entitled "My Life as a Ph.D. Student: The Challenges and Successes of Becoming a Graduate Student," will describe her educational journey through graduate school, including the role that undergraduate research played in her success. She will also talk about her current research and life lessons she learned along the way. 
"Makenzie initiated a project in my lab that led me to a new research focus and a large National Science Foundation (NSF) grant on circadian rhythms in spiders," Petko explained. "I invited Makenzie because undergraduate research played an integral role in her career trajectory and her message supports the overall the goal of the symposium — to recognize and celebrate the awesome original work that Penn State undergrads are doing."
Register and more information
If you are a Penn State faculty member interested in judging the projects in this year's symposium, please register online and contact Petko at [email protected].