Fundraiser game recognizes the importance of organ donation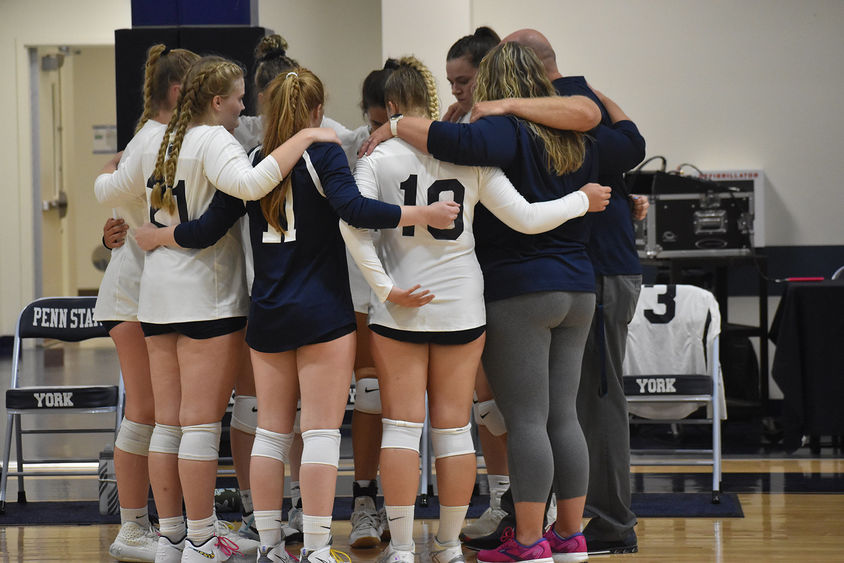 YORK, Pa. — Remembering Courtney Groft, a Penn State York student-athlete who died in a car crash last year, is something the women's volleyball team is dedicated to. Whether it is displaying Groft's jersey, No. 3, on the first seat of the players' bench chair where she sat, her photo hanging in the athletic offices, or the words "Play for Court" on the back of their warm-up jerseys, the team pays tribute to her.
Now, Sadie Schantz, a Penn State York student and member of the volleyball team, has found another way to remember her; the Gift of Life Fundraiser Game in honor of Groft set for 7 p.m. Monday, Sept. 26, in the gym of the Joe and Rosie Ruhl Student Community Center on campus. York takes on Penn State Scranton.
There are many reasons why Schantz came up with this event to honor Groft.
"She was a really great friend, and I wanted to be able to honor her and how she contributed to the women's volleyball team here at Penn State York," said Schantz. "Early on this season I was hoping to find a way to honor her in a game, and after some thought, I decided that it might be a good idea to fundraise for Gift of Life as a way to honor Courtney's own contribution to Gift of Life. Courtney was an organ donor, and because of this she was able to save other lives."
The goal of this fundraiser game, according to Schantz, is to raise awareness on organ donation and give funds to Gift of Life in honor of Groft. Schantz also shared that Groft cared for other people and was always there to help those in need. She thought it was a good idea to work with the organization that worked with Groft's family for the organ donations. On the organization's website it reads, Donors are Heroes, and for Schantz and her team, as well as the campus community, Groft was a hero.
"Courtney's passing greatly impacted everyone here at Penn State York, but the knowledge that her choice to be an organ donor helped her to give the ultimate gift of life to other people helped a little bit," said Schantz. "Courtney deserves to be remembered and honored as a friend, teammate, and student. I want people to remember Court's selflessness and her empathy for others. I feel honored to be a part of organizing this event to honor her," she said.
A memory table will be set up in the hallway of The Ruhl Center with pictures of Groft from her family and team. Attendees to the game are invited to stop at the table and learn more about Groft, make a monetary donation, and then go cheer on the team that loves her.
All donations will go to Gift of Life to help with costs related to organ donation. The Gift of Life donor program is an organ procurement organization that works with families in Pennsylvania, New Jersey, and Delaware.
"It is my hope that this game will create awareness to the importance of organ donors. My team and I are proud to have known Courtney," said Schantz. "We love and miss her dearly, but we know that she will always be a piece of the Penn State York women's volleyball team. She will always be with us. #love4court #playforcourt."