Nicholas Nase fulfilled a research goal and more at Penn State York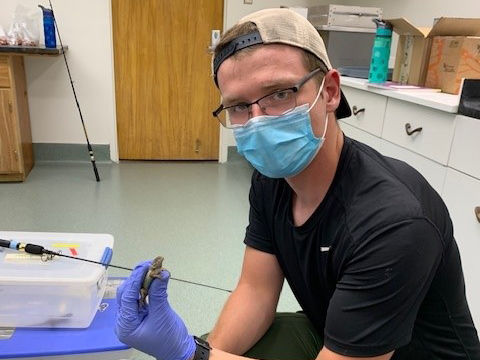 YORK, Pa. — Lizards are one of Nicholas Nase's favorite memories while a student at Penn State York. For most, that may seem like a strange thing, but for Nase, having the opportunity to do research involving wildlife with Anne Vardo-Zalik, associate professor of biology, fulfilled a dream. Nase will cross the stage of the Pullo Family Performing Arts Center at 6 p.m. Friday, May 6, and receive a bachelor of science in biology as part of the campus' spring commencement ceremonies.
Nase, 22, from Dillsburg, Pennsylvania, had the opportunity to travel to California and perform field research with Vardo-Zalik as part of her research on western fence lizards and malaria. He spent a week in California to assist Vardo-Zalik with the long-term study.
"I have always wanted to take part in research involving wildlife and work in a field environment, and I was extremely happy when I was able to achieve this goal," said Nase.
In addition to the field research, which is unique for an undergraduate student, Nase also had the opportunity to work in the lab and get real firsthand experience as part of earning his degree. He also participated in the Biology Club and Agricultural Club.
"Nick is an amazing student," said Vardo-Zalik. "He is intelligent, versatile and composed no matter the situation. Currently, our focus of the research is to examine for any changes in the malaria parasite or the lizard genetics due to the wildfire that occurred in 2018."
Vardo-Zalik noted that Nase also is an amazing lab researcher in addition to working in the field.
"He was quick to adapt to the unpredictable field environment, and was instrumental in helping us complete our sampling, even when it meant pulling late nights in the lab," Vardo-Zalik said.
Nase chose Penn State York because it allowed him to stay home and commute to earn a four-year degree in biology, with no need to transfer anywhere to complete it.
"I benefited as a student in many ways. Penn State York provided me with a welcoming, fun and quality educational environment that enabled me to succeed as a student," he said.
His success is evident. He was accepted into several veterinary schools and is planning to attend Virginia-Maryland College of Veterinary Medicine in the fall and ultimately become a veterinarian.
Nase is quick to share that in addition to doing undergraduate research, he made many friends and memories along his journey to earning a degree. He graduates cum laude and is the student marshal, which means he has the highest grade-point average of those graduating in biology.
Commencement speaker
Mark Wheeler, the chief operating officer of The York Water Co., is the commencement speaker. The York Water Co., founded in 1816, is the country's oldest investor-owned utility.
Wheeler has an extensive management background in various manufacturing and service industries, working for both publicly held global corporations and privately-owned businesses. He has served as chief financial officer of multiple organizations.
Wheeler has a special connection to Penn State York, as he joined the Penn State York Advisory Board in 2011, and for more than a decade has shared his expertise and played an active role in promoting the campus and serving on committees to help the campus grow. In addition, Wheeler served as chair of the advisory board in 2019 and 2020, and now serves as the immediate past chair.
A graduate of Red Lion High School, Wheeler earned a bachelor of science degree in accounting from Penn State and an MBA from York College of Pennsylvania.
Active in the community, Wheeler has served in a number of capacities, including as the allocations chair of the United Way, an advisory board member of the Red Lion Area Educational Foundation, and a mentor for Mentorship York. He also is the current president of the board at the Country Club of York.
Wheeler was awarded the Distinguished Service Award in 2014 by the United Way of York County and was honored as the CFO of the Year in 2013 by the Central Pennsylvania Business Journal.
Click here to see Wheeler's complete bio.
In addition to hearing from Wheeler, Penn State York will continue its open microphone tradition, which affords graduates an opportunity to address the audience for a moment. The top graduating senior, Catie Noble, an information sciences and technology major, will represent the class of 2022 and say a few words.
The campus will award associate and baccalaureate degrees during the program. The ceremony is free and open to the public.
For those who cannot attend the event, Penn State York's commencement can be viewed on Comcast Cable Channel 18 or streaming live on the campus website.