Question-and-answer session to follow presentation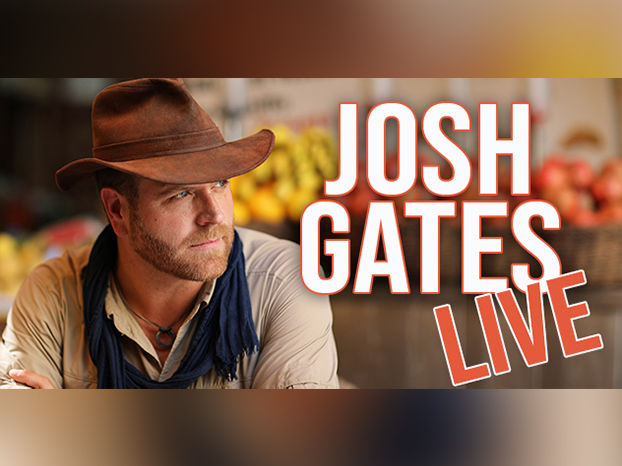 YORK, Pa. — See Josh Gates live on stage and hear about what they do not show on television when he takes to the stage at the Pullo Family Performing Arts Center at Penn State York on April 21 at 7:30 p.m.
An avid explorer, Gates' unique brand of humor and deep-rooted passion for adventure propels him to the farthest corners of the world on Discovery Channel's hit-series "Expedition Unknown." The series chronicles Gates as he sets out on a global quest to find the truth behind iconic legends and thrilling archaeological mysteries.
Following his presentation, Gates will have a question-and-answer session with the audience.
Tickets are on sale now, $36, by calling The Pullo Center box office at 717-505-8900, or online at ThePulloCenter.com.
This season is Gates' most ambitious yet, as he undertakes a search for a long-lost ghost ship in the Great Lakes, uncovers new revelations about the birth of Jesus, and searches for a sunken civilization rumored to be the Atlantis of the Andes. Pirate treasure in the jungles of Panama and the truth behind the controversial legend of the crystal skull, Gates is spinning the globe and heading off-the-map in search of answers.
In the four-part global event, "Expedition Unknown: Search for the Afterlife," Gates tackles mankind's ultimate mystery as he investigates ancient rituals, paranormal claims, and cutting-edge scientific breakthroughs on the nature of death and consciousness. Gates will also be leading a two-part special in Israel and Jordan collaborating with archaeologists attempting to decipher the Dead Sea Scrolls and to uncover new fragments in remote desert caves.
A scuba diver and photographer, Gates has participated in sub-sea archaeological excavations in the Mediterranean, and his wanderlust has taken him to more than 100 countries, from sweltering African deserts to the icy shores of Antarctica. In addition, he has scaled "the roof of Africa" on Mt. Kilimanjaro and climbed Aconcagua, the tallest mountain in the Americas. A mysterious Yeti footprint recovered by Gates in the Himalayas is now on display at the "Expedition Everest" attraction at Walt Disney's Animal Kingdom in Orlando, Florida.
Gates is also the host of "Legendary Locations" on Travel Channel where he shares the epic tales and secrets of the most storied places on Earth, highlighting the ancient legends and folklore that made them famous. Travel Channel also airs episodes of Gates' popular series, "Josh Gates' Destination Truth."
He has appeared on the "Today Show," CNN, and a variety of other national television and radio programs. Gates' adventures are chronicled in his bestselling book, "Destination Truth: Memoirs of a Monster Hunter" (Simon & Schuster, 2011).