Students urged to participate in the Seven Days of Luck Celebration Feb. 12-19 via social media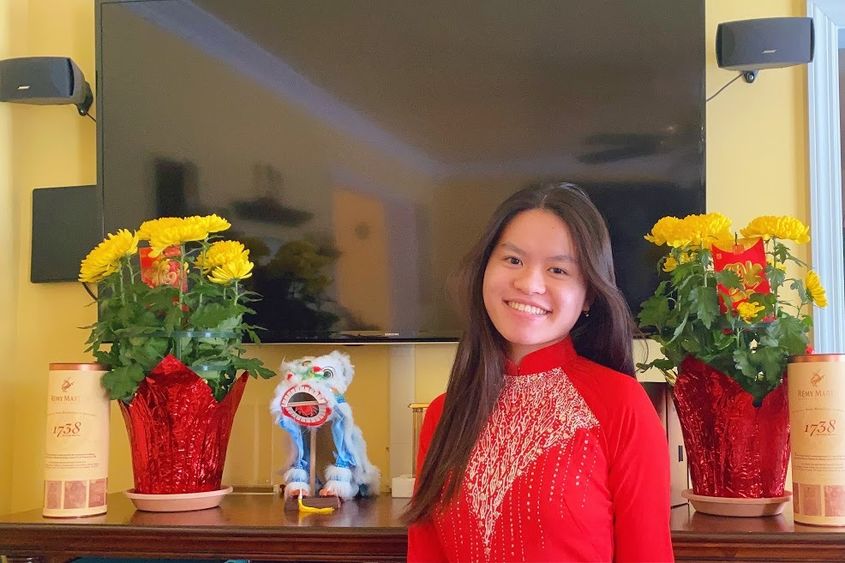 Lunar New Year is a popular celebration at Penn State York featuring ethnic food, cultural displays, and a variety of activities to engage the campus to become more familiar with the Asian cultures associated with the holiday.
This year, there will be no in-person events considering the pandemic but the virtual Seven Days of Luck and Celebration for Lunar New Year, set for Feb.12-19, promises to provide plenty of fun and information. The social media events for students are being sponsored by the campus' Multicultural Club and the University Programming Board (UPB).
For Victoria Huynh, My-Hoa Do and Sweeta Rasiyan, all Penn State York students, sharing this cultural celebration was a top priority. The three young women led the way in planning the seven days of events that will engage students and introduce them to an important holiday in Asian culture.  Although she does not celebrate the holiday, Rasiyan, president of the Multicultural Club, saw the importance of continuing this event even if it could not be in person. Part of her club's goal is to introduce students to new cultures. Rasiyan is a sophomore at Penn State York majoring in psychology.
The seven-day celebration via social media, begins with Lunar New Year wishes on Feb. 12.  Students are asked to make a story game and fill in the blanks using Instagram's features.  They can write out their wishes for Lunar New Year and tag their friends.  Celebrating the night away is day two, Feb. 13, and participants can binge watch a show with family or late-night chat with friends, followed by a time to de-stress on Feb. 14 and do something that brings joy - crying leads to bad luck for the new year.
Lucky cards are on Feb. 15 and students can watch a video of lucky cards and screenshot them randomly to see which cards they got from the video and post it on their story and tag a friend. Dress your best on Feb, 16 and post the image with your story.  The group hopes that by dressing up, students will feel positive during this quarantine. It is a tradition during Lunar New Year to buy new clothes and dress in traditional clothes to celebrate. Wear red is what Feb. 17 brings and students are encouraged to dress in this lucky color and decorate with items that are red and gold. The sweetest part of the celebration is on Feb,18 when participants are encouraged to make and eat sweets with family and friends to guarantee a sweet year. The final day of the celebration, Feb. 19, asks participants to have a lucky meal with their family and friends. Spending time with family is a major part of the Lunar New Year celebration.
Although there will not be any in-person events and activities, the sponsoring groups hope students will participate via Instagram. Read on to hear more about Lunar New Year celebrations and why they are so important.
Victoria Huynh
Huynh is Vietnamese and has been in York her whole life, but her parents were born in Vietnam and came to the United States. Her family celebrates Lunar New Year each year and she notes that the celebration in Asian is like Thanksgiving, Christmas day, and New Year's celebrations all rolled into one in the United States.
"Lunar New Year is important to me because it's when I feel the proudest about my culture. Being born in America, there's not really any other time where I can celebrate being Vietnamese," said Huynh.  "It's also an important time to remember the history of Tết (Vietnamese New Year) as well. When I was younger, I was quite insecure about my Asian identity and hardly mentioned Tết at school or to my friends," she said. "Now, I love sharing about it to everyone and anyone. Someday, I hope I can experience a true Tết celebration in Vietnam. Honestly, the holiday just makes me so excited. There's a saying in my house, 'everything is better during Tết.'"
Her two favorite things about the celebration are the annual new year markets and festivals she and her family attend in Virginia, where there is a huge Asian population, and watching the performances."Whether it's watching my friends dance in their áo dais, traditional Vietnamese dresses, with fans, or watching the lion dances while firecrackers go off, the performances instantly put a smile on my face," she said.  "Both of these things aren't really possible this year with the pandemic, but it just means I get to spend more time celebrating with my family at home and eating tons of homecooked food."
One of Huynh's fondest memories about Lunar New Year is when she got the first áo dài (traditional Vietnamese dress) that she truly loved. When she was younger, she felt the designs were "kind of "kiddie." As a teenager, she felt extra elegant and confident in a dress she had straight from Vietnam."It was a light yellow-white gradient dress and the thing that I was obsessed with were the hand-painted flowers that covered it," Huynh remembered.  "I think I almost cried when it didn't fit me anymore."
Huynh is a freshman at Penn State York majoring in marketing and will move on to the University Park campus to complete her degree through the 2+2 program.
My-Hoa Do
A sophomore majoring in biology, Do's favorite part about Lunar New Year is fully immersing herself in Vietnamese culture, from dressing up in a traditional áo dài dress, to eating lots of tasty foods, listening to Tết music, and speaking Vietnamese.


"Even though we are well past January 1, I can still wish everyone a happy new year because based on the lunar calendar, it does not start until Feb. 12 this year," said Do. "I get to have a second round of celebrations to start off every year."
Another important part of the holiday is family.
"Celebrating Lunar New Year has always meant that I got to see all my family (pre-pandemic times) and connect with the Vietnamese side of my identity, making the Lunar New Year so important to me," she said.
One of Do's other fond memories is, "Năm mới, con chúc mọi người vui vẻ, mạnh khỏe, và mọi sự như ý," which roughly translates to, "In the new year, I wish everyone happiness, good health, and for you to receive whatever you desire."
"After sharing words of prosperity to our elders, they do the same and then also gift a red envelope containing lucky money to us.  However, while the lucky money is exciting, the reason why I love this memory is because we always get lots of laughs out of it since the words can sometimes be hard to roll off the tongue for my cousins and me, as our primary language is English.  It is a great chance for me to connect back to my roots."
Finally, Do clarified, the animal for the Lunar New Year can vary between countries, as there are slightly different variations of the zodiac.  Many consider 2021 to be the year of the ox while others would say 2021 is the year of the water buffalo.
For more information on how to participate, watch your Penn State email or contact Rasiyan at [email protected], Huynh at [email protected], or Do at [email protected].  There is also an opportunity for a Lunar New Year keychain and a chance to win gift cards. The Multicultural Club will post events each day on Instagram @psy_multiculturalclub and students are asked to tag the club and UPB @psy_ubp.
Rasiyan, Huynh, and Do hope many students will participate in the Lunar New Year events and wish everyone, Chúc mừng năm mới - or happy new year!