Penn State York students attend the annual Pennsylvania Conference for Women in Philadelphia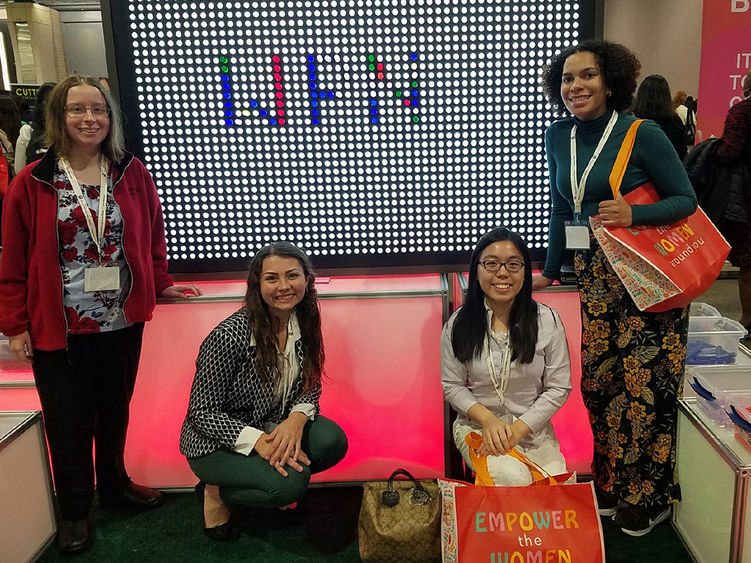 YORK, Pa. — Five Penn State York students were nominated for and attended the 2023 Pennsylvania Conference for Women in Philadelphia. Their attendance was sponsored by the Women's Philanthropic Network (WPN) at Penn State York, which provided a review committee to read the essays of nominated students and select the group to take the trip.
"One of the goals of the WPN is to develop women as philanthropic leaders," said Di Hershey, director of development at Penn State York. Hershey also serves as director of development for the WPN and established the organization as a giving circle to support the needs of the campus.
"Each year, we fund student leadership grants, including sponsorships for students to explore leadership on a larger scale at the Pennsylvania Women's Conference in Philadelphia, where students can participate in keynote presentations and workshops led by speakers with national and sometimes international leadership credentials," she said.
The students chosen for the opportunity were:
Katelyn Ottaviano
Liz Herrara Reynosa
Rebecca Mauck
Sarah Hughes
Thy Nguyen
The group traveled to the Pennsylvania Convention Center on Oct. 19, where they could select a session track focusing on leadership, career or personal development.
Student takeaways
Rebecca Mauck, who is double majoring in business and project and supply chain management, plus earning an enterprise resource planning certificate, learned the importance of establishing a support network.
"I learned a lot throughout my time at the conference, but one of the biggest takeaways was that having a support team is vital to living a successful and empowering life. Almost every speaker mentioned either a group of family members, friends or professional connections that supported them throughout their careers and helped them find a balance between their work and personal lives," Mauck said. "I also learned that you should never be afraid to take a step toward your dreams. Even when it feels like your family or personal life is overwhelming, it is important to follow your dreams and take advantage of every opportunity that comes your way. I hope to apply this concept to both my professional career and personal development."
Liz Herrera Reynosa, who is studying human development and family studies with a minor in psychology, said, "I learned the importance of getting out of your comfort zone and realized that we are allowed to feel and process our feelings. I hope to prioritize my happiness. Whether it be in my life or career, learning how to say no or yes to things that make me happy is a lesson I hope to apply to my future."
About the Pennsylvania Conference for Women
The conference, which has been held since 2004, has grown to draw more than 10,000 attendees annually. According to the Conference for Women's website, part of its mission is to "promote, communicate, and amplify the influence of women in the workplace and beyond." 
This year's keynote speakers included:
Jacinda Ardern — prime minister of New Zealand (2017-23), who was the first woman to have a baby while serving in her role as prime minister.
Gail Devers — Olympic gold medalist and thyroid eye disease patient advocate, who overcame health challenges to win her medals.
Tina Fey — writer, comedian, actress, producer and author, who became a comedy writer at a time when women were not prominent in writers' rooms.
Introducing students to such influential figures across disciplines can help them gain perspective on their goals and learn practical, actionable advice to help navigate their career, according to the conference website. Plus, attendees can connect with peers and leaders to broaden their network and leave feeling energized by the experience.
A team effort
Investing in the future of student leaders is a team effort at Penn State York, and the trip to Philadelphia also was supported by the office of student affairs.
"Thanks to Scott Simonds, director of student affairs, for partnering with the WPN to receive nominations, forward essays to the selection committee, coordinate travel arrangements, and be the wonderful chauffer for five amazing students — and me — to travel to Philadelphia," said Hershey. "We ended the day with a visit to the conference bookstore, for each student to choose a presenter's book to keep. Scott drove home a van full of women who were happy, exhausted and inspired."