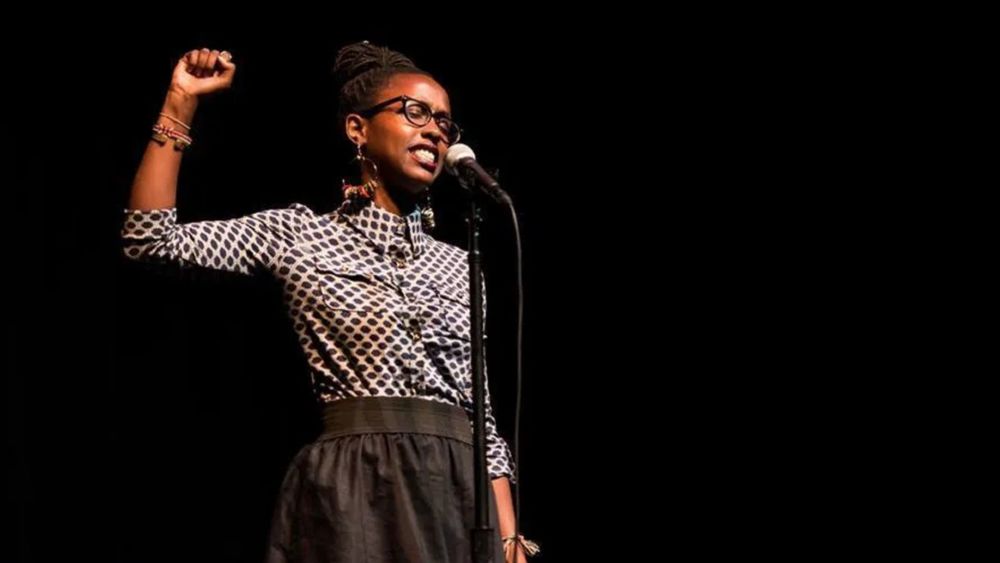 Penn State York's celebration of Black History Month continues with Mwende "FreeQuency" Katwiwa and her spoken word poetry, at 12:15 p.m. on Thursday, Feb. 27, in the Precision Custom Components (PCC) Community Room. Her presentation at the York campus will focus on her spoken word poetry related to race. The program, sponsored by the Penn State York Black Student Union (BSU), is free and open to the public.
Also, to draw attention to the celebration of Black History Month, posters representing important figures in Black History are being displayed throughout the campus.
Katwiwa is a Kenyan, immigrant, and a queer womxn storyteller. She is a spoken word artist hailing most recently from New Orleans, Louisiana. A 2014 member of the two-time National Poetry Slam Championship Team Slam New Orleans (Team SNO), Katwiwa has ranked fifth at the Texas Grand Slam, third at the SouthWest ShootOut, and is the 16th-ranked female poet in the country in her first year competing on the national slam circuit. She was voted RAW New Orleans Performing Artist of the Year as well as Rookie of the Year at the Golden Mic Awards hosted by the WhoDatPoets. Her work can be found in numerous publications ranging from MultiCultural Education Magazine to SweetLemon Magazine, and the book, "Trayvon Martin, Race, and American Justice: Writing Wrong."
The daughter of two lifelong educators, Katwiwa has always believed in the power of art to educate and transform communities. Known for unapologetically inserting social justice commentary into her poetry, she often challenges audiences to think about American society and the role they themselves play in the continuation of structural inequality. Her work has been described as versatile and dynamic, and audiences have commented that the room isn't the same after hearing her poetry.
Off stage, Katwiwa is a teaching artist in New Orleans. She has been invited to speak at various events about arts and education, including at a local TEDx conference on "Unlearning." During college, she was a producer for the "Vagina Monologues," which raised more than $10,000 for BreakOUT! and Women with A Vision, two groups that focus on harm reduction for women and gay people of color. She was chair of the 2014 Black Arts Festival (BAF), the largest BAF in Tulane's history, that featured Laverne Cox, Big Freedia, Sunni Patterson and others.
Katwiwa is taking part in a yearlong public service fellowship where she is working full-time with Women With A Vision, a community-based nonprofit in Louisiana, founded in 1991 by a grassroots collective of African-American women in response to the spread of HIV/AIDS in communities of color. Since then, major areas of focus have expanded to include sex worker rights, drug policy reform, HIV positive women's advocacy, and reproductive justice outreach.