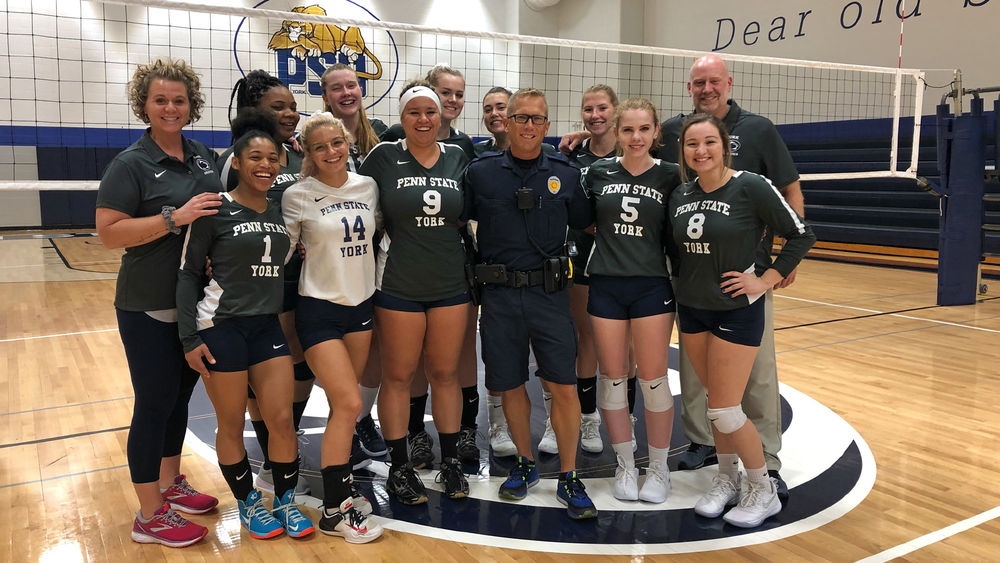 YORK, Pa. — Anything is possible — that's the mantra of Penn State York police officer Dwayne Smith. Smith will travel to Kona, Hawaii, to compete in the Ironman World Championship on Oct. 12.
This is a dream come true for him, for the second time, as he also participated at the world competition in 2017.
These are incredible accomplishments, but what's more important at Penn State York is the way Smith has connected with the campus community and shared his positive attitude. He has inspired students, faculty, staff and especially student-athletes to work hard and always focus on the positive.
A chance meeting one night on campus, when the building doors were not locking appropriately on the Joe and Rosie Ruhl Student Community Center, where the gym is located, led Keith Hartman, women's volleyball coach, to connect with Smith. Hartman has always followed the Ironman competitions, and when he saw the Ironman logo on Smith's phone, they made a connection. It was Smith's positive attitude that prompted Hartman to ask Smith to talk with his volleyball team and provide some motivational words.  
"I can't say thank you enough to Dwayne Smith for what he did for my team," said Hartman. "He spoke to the young women with nothing written down, he spoke from the heart, and I truly appreciated that. His message inspired the team to focus on the positive and to go out and compete."
Hartman noted that as a coach he wants to motivate his team, and when he heard Smith's story, he knew the team had to hear it, too.
"Dwayne Smith inspired me by helping me see that in order to be a captain for the team, and an asset, I must realize my weaknesses and work on them so that there is no negative impact on the team," said Lilian Levan, a member of the women's volleyball team at Penn State York. "It's important to keep going as a team and not dwell on the negatives. We must focus on the positives, even the ones that seem minute."
Smith joined the campus community when he was hired by Penn State University Police and Public Safety in April 2018, shortly after retiring from the Hanover Borough Police Department, where he served for 27 years. From the beginning of his employment, Smith started talking with students and other members of the campus community about the importance of exercise, nutrition and other aspects of staying healthy.
Competing in sports all his life, Smith has learned many lessons and doesn't hesitate to share his successes and failures. He is quick to note that he learns from both the positive and the negative experiences in sports.
"I have been competing in sports all my life, but specifically the sport of triathlon now for over 21 years. The first Ironman Triathlon I competed in was in 1999," he said. "I enjoy the endurance aspect of the Ironman competitions."
In a triathlon, athletes complete a 2.4-mile swim, a 112-mile bicycle ride, and a marathon (26.22-mile run), raced in that order.
Smith's motivation comes from a goal he set for himself after his first Ironman competition in 1998, and after watching the Ironman World Championship on national television. He dreamed for many years of crossing the finish line in Kona, Hawaii, which he achieved for the first time in 2017.
"I am very thankful and blessed to have the privilege to exercise, train and compete," said Smith.
As a child, Smith played baseball and football and continued to compete through high school. He eventually began running long distance and has competed in many marathons, including the Boston Marathon twice. Eventually, running injuries led him to the diversity offered by the sport of triathlon. Competing in triathlons became his passion, and he never turned back.
Smith, 49, is a five-time United States Triathlon All-American and an Ironman Gold All World Athlete, which means he is in the top 1% in his age group. He attributes his success in life to the things he has learned as an athlete, and when he has a chance, he shares this mindset with many of the students and student-athletes he interacts with on campus at Penn State York.
The Ironman World Championship features competitors from across the globe, and Smith said he is proud to compete with a diverse pool of elite athletes.
Many members of the campus community plan to follow Smith's progress during the world competition. Those interested can download an app to follow his progress.
In addition to sharing his mantra of anything is possible, Smith hopes his story and efforts can shed a positive image on the police and public safety department every day. As a police officer for nearly 30 years, Smith notes that the best part of his job has been serving diverse communities and providing leadership and mentorship to the younger generation.