Event celebrates 20th anniversary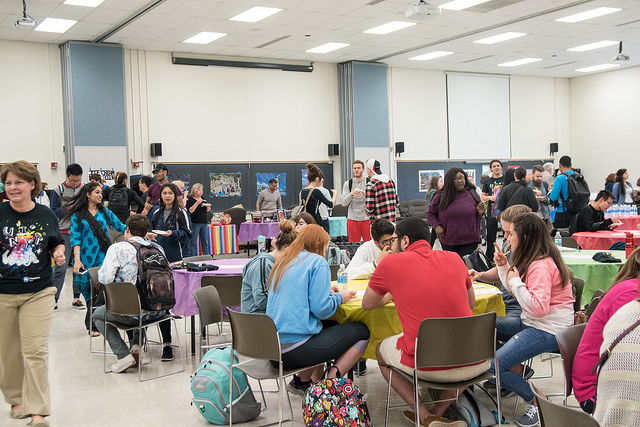 YORK, Pa. — A fashion show highlighting the traditional dress from many cultures, food samples, exhibits, and presentations will all be a part of Penn State York's 20th annual Unity Day celebration, set for noon to 1:30 p.m. Thursday, April 19, in the Conference Center of the Main Classroom Building. The event, sponsored by the campus Cultural Diversity and Enrichment Committee, is free and open to the public. Unity Day is a part of Unity Week festivities.
A celebration of Holi, an Indian spring festival of colors, is set for 4 p.m. Wednesday, April 18. Participants will get drenched in colors, throw water balloons, dance to Indian music, and celebrate spring. The celebration, which runs until 6 p.m., will start in the Conference Center of the Main Classroom Building and then move outdoors to the grassy area between the Conference Center and The Pullo Center. This popular event is the precursor to Unity Day.
As in the past, on Unity Day, a variety of food samples will be available for attendees to taste, and a fashion show, featuring Penn State York students, faculty and staff, will offer a glimpse of traditional dress from many cultures. In addition, Ken Swalgin, associate professor emeritus of kinesiology, who retired last year, will share his display of ball games of the world.
Students, who traveled to Houston, Texas, on an alternative spring break last month dedicated to disaster relief work, will share photos and other information about their experiences at the Unity Day celebration. Ten Penn State York students and two staff members were a part of a 100-person contingent from Penn State dedicated to helping victims of Hurricane Harvey.
Those participating in Unity Day on April 19 will wear T-shirts specially designed by a Penn State York student. Students in Fred Haag's Introduction to Visual Studies (Art 10) class created a variety of designs, and the campus community voted to select one to appear on the shirt. Haag, an associate professor of visual arts at Penn State York, annually involves his class in creating the Unity Day T-shirt design.
A design by Garrett Scott Mellinger, a student majoring in mechanical engineering from Stewartstown, Pennsylvania, was named the winner. Sixteen T-shirt designs were submitted for consideration. Mellinger's design features the numeral "1" in place of the letter "I" in the word "unity."
"The inspiration for my design was the common use of a number to replace letters. This is generally used by my generation among usernames to add a personal touch. I had tried more complicated designs by replacing more letters with numbers but with no success," he said. "While keeping it simple, I realized I could also send a message by just replacing the letter 'I' with '1.' Similar to the saying there is no 'I' in team, there is no 'I' in unity — it is a team effort."
Other students who participated in the design contest are: Jesse Bao, Lingfeng Chen, Yixi Chen, Jiana Cheng, Michael Glasgow, Jiahua He, Binjiang Jin, Funing Li, Yibing Pan, Yu Qian, Ziqi Tang, Fangda Wei, Ashley Wells, Songren Xiao, and Tianji Zhang.
Visitors to the Unity Day event can receive one of these T-shirts for free, while supplies last, if they complete the Unity Day passport.
Goals for Unity Day include creating teachable moments to learn about diversity and to provide opportunities for the campus and community to suggest ways Penn State can create a multicultural environment. Unity Day is the culmination of the work of Penn State York's Cultural Diversity and Enrichment Committee, which includes students, faculty and staff, and is sponsored by the group. A variety of multicultural events are planned throughout the year to provide a forum for the campus and community to learn about diversity.
Unity Week is an opportunity to educate, understand and appreciate the differences among us and embrace the many similarities.
For more information about Penn State York, visit the campus online at york.psu.edu or call the admissions office at 717-771-4040. Find York on Facebook at www.Facebook.com/pennstateyork or follow the campus on Twitter at www.twitter.com/pennstateyork.