Seventh-grade girls explore workshops in STEAM at Penn State York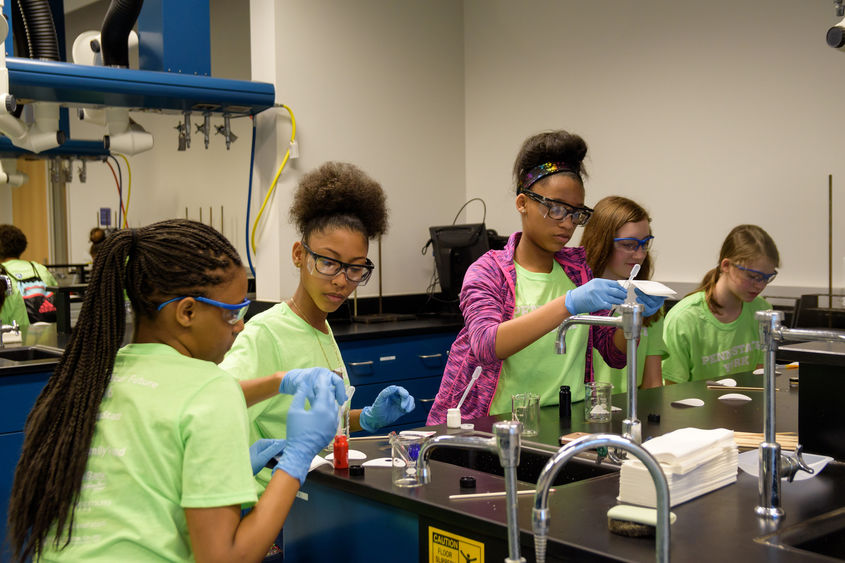 YORK, Pa. -- Trisha Prabhu, the 16-year-old inventor of ReThink, an app that helps prevent cyberbullying, is the featured speaker at "Pathways to Your Future -- Exploring STEAM Careers" set from 8 a.m. to 2 p.m. on Friday, May 12, at Penn State York. "Pathways to Your Future" offers seventh-grade girls the opportunity to explore a variety of job-related fields in science, technology, engineering, art and mathematics (STEAM).
The program brings together young women and professional women and men from academia, medicine, local business, and industry for a day of workshops and discussion. The program is in its 21st year.
"It's an honor to be a part of the Pathways event. The workshop presenters offer incredibly rich and inspiring STEAM opportunities for the girls and their teachers," said Jan Martin, STEAM and Pathways coordinator at Penn State York. "The day is so joyous, and full of promise! I hope the energy and vibrancy of this day propels the girls and their teachers to more and more STEAM experiences."
Seventh-grade girls, their teachers and some parents representing 27 schools (public, private, charter, and cyber) will take part in this free career-awareness program. More than 300 students, parents, teachers, volunteers and presenters will be participating in the program. Pathways also provides teachers with information to guide young women toward career opportunities in STEAM fields.
At 9 a.m., following the welcome in The Pullo Center theatre, Trisha Prabhu will share her story. At just age 16, Prabhu is leading a global movement 1.3-million-teens strong and supporting 1,400 schools, with her free cyberbullying prevention app, ReThink. She was named the WebMD Hero of the Year in 2016; her app was named one of the most innovative apps worldwide by Google Play, and she appeared on "Shark Tank" and received a joint offer from Mark Cuban and Lori Greiner.
Prabhu's inspiration to create an app to help prevent cyberbullying came to her when at age 13 she read a newspaper story about the suicide of an 11-year-old girl from Florida who had been repeatedly cyberbullied by her classmates. She was shocked, outraged and heart-broken that someone so young would take their own life because of being cyberbullied. She decided something had to change, and she created ReThink.
Here's how ReThink works: When an adolescent tries to post an offensive message on social media, the software uses its context-sensitive filtering technology to determine whether or not it's offensive and gives the adolescent a second chance to reconsider their decision. Prabhu's research shows that when adolescents are alerted to ReThink their decision, they change their minds 93 percent of the time. In this internationally acclaimed study, using ReThink, the overall willingness of the average adolescent to post an offensive message reduced from 71 percent to 4 percent. The app helps stop cyberbullying before it occurs and before damage is done. The app is available for free to download on both Google and iOS devices, and has seen hundreds of thousands of downloads.
Prabhu's passion to stop cyberbullying, and the creation of ReThink, has won her numerous awards and accolades including the 2016 Massachusetts Institute of Technology INSPIRE 2016 – Aristotle Award and the 2016 Illinois High School Innovator Award by University of Illinois at Urbana-Champaign. She was also invited as a featured exhibitor to the White House Science Fair to showcase her work with ReThink, and was selected as Global Teen Leader 2015 by the We are Family Foundation.
She currently attends Neuqua Valley High School in Naperville, Illinois, and continues her work to put an end to cyberbullying through speaking engagements, TedTalks, and a variety of other activities. To learn more about ReThink, visit http://www.rethinkwords.com/
Following Prabhu's presentation, the 224 students participating in Pathways will attend three workshops that range in topics from Bridging the Gap and Licks for Bricks to The Science of Color in Cosmetics to Tech Savvy Girls. Three new workshops have been added, Braaains!!!, Gravity Matters But Nobody Knows Why, and Your Name in Space, bringing the workshop total to 25. Workshops get started at 10:15 a.m.
In addition to the workshops, exhibits and demonstrations by local STEAM competitors will take place in the lobby of the John J. Romano Administration Building. The winner of the Middle School Science and Engineering Fair, winners from the STEM K'Nex competition, and winners from the Robotics Competition will share their work.
Pathways to Your Future: Exploring STEAM Careers is sponsored by Penn State York, Exelon Generation, People's Bank, a Pullo Family Grant, York Traditions Bank, and HAAS Printing Co., Inc.
Schools participating in the program are: Central York Middle School, Christian School of York, Dallastown Area Middle School, Dover Area Intermediate School, E.H. Markle Intermediate School, Eastern York Middle School, Hannah Penn K-8 School, Hanover Middle School, Harrisburg Academy, LAF Homeschool Group, Lancaster Mennonite Middle School, Northeastern Middle School, Northern Middle School, Red Lion Area Jr. High School, Red Lion Bible Christian School., Saint Theresa School, Shrewsbury Christian Academy, South Eastern Middle School East, Southern Middle School, Spring Grove Middle School, STEAM Academy from Ferguson School, The Catholic Homeschoolers Group of York, West York Area Middle School, York Catholic High School, York Country Day School, York Home School Association Inc. and York Suburban Middle School.
To learn more about Pathways, visit the website at http://sites.psu.edu/pathways/ or contact Martin at [email protected] or (717) 771-4173. For more information on the May 12 program, please contact Barbara Dennis at (717) 771-4128 or [email protected].