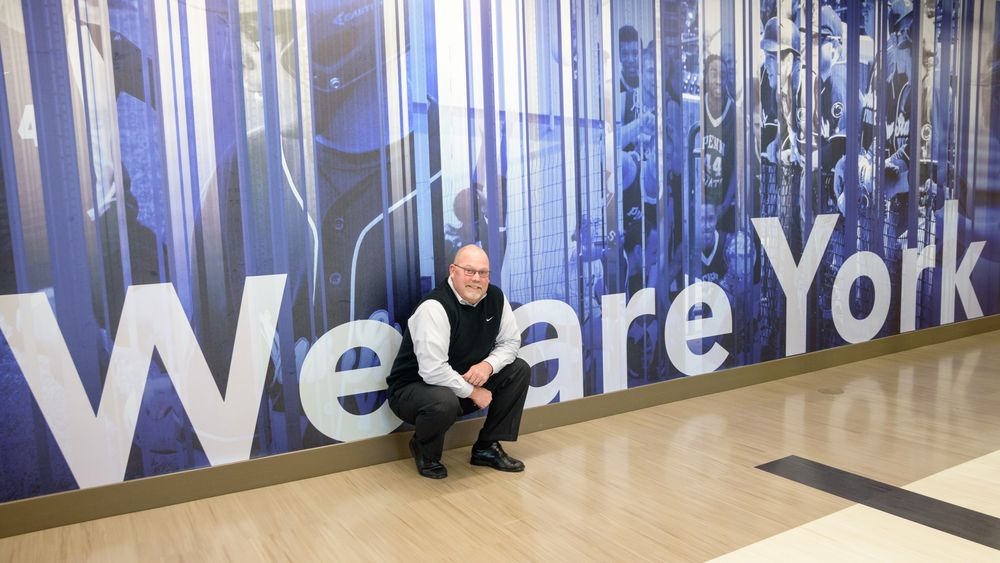 YORK, Pa. — Jeff Barkdoll, interim athletic director and head baseball coach, has been named the first full-time athletic director at Penn State York. Barkdoll began the position Feb. 1.
"Having the first full-time athletic director in Penn State York history will be very beneficial to the campus," said David W. Chown, chancellor. "This hire comes at a vital time, as the future for Penn State York athletics is very bright, and we will now be able to put strategies in place to assure ongoing success," he said.
In June 2016, Barkdoll took over as the interim athletic director when the part-time position was vacated. He is quick to let you know that the position needed to be full-time and is thankful to have been selected. He has served as head baseball coach at the campus since 2013 and will continue those duties along with serving as athletic director.
For Barkdoll, applying for the position was all about the student-athletes, and his interest in being an advocate for them.
"Now we can focus on investing more time in the responsibilities of the athletics office and serving our student-athletes," said Barkdoll. "The athletes are why I'm here, and I am excited for the opportunity to work with them and grow our programs," he said. "Through athletics, both as a player and coach, I had a lot of positive influences in my life growing up, and now it is time to give some of that back," he said.
Barkdoll brings a wealth of experience to the position, and is well-known in the York area. In addition to serving as the head baseball coach and interim athletic director at the York campus, Barkdoll served as an assistant basketball coach at various levels in the Dallastown School District, 1990-2016. He was base and defensive coach for the York Revolution Professional Baseball Club, Atlantic League, in York from 2009-11, and also helped manage the clubhouse. In addition to working with players and other coaches, his duties also included working with vendors and making sure they stayed within budget. Prior to the position with the York Revolution, he was manager of the York Township Susquehanna League of Semi-Pro Baseball from 2011-14.
A York native, Barkdoll credits Tory Harvey, Dallastown Area High School athletic director, with providing him with lots of good advice, and considers him a mentor.
"Tory is one of the best athletic directors in the county," said Barkdoll. "Athletics at Dallastown are well-run and well-organized. His example is a huge influence on me," said Barkdoll. "The way he cares about the students is phenomenal."
Since this is the first time the campus has had this full-time position, Barkdoll has the opportunity to develop the position and establish future goals for the athletic program. For the fall 2017 semester, Barkdoll plans to reestablish Penn State York's women's volleyball program, as well as begin a women's softball program at the campus.
Barkdoll is a graduate of York County Vocational Technical High School and attended the Dallastown Area School District.
He resides in York with his wife, Beth, and they have two daughters and four grandchildren.
Penn State York has six collegiate sports, baseball, men's and women's basketball, soccer, women's volleyball, and women's softball. Learn more about Penn State York athletics at sports.york.psu.edu or contact Barkdoll at 717-718-6776 or j[email protected].