Alternative spring break offers opportunities to learn about a different culture and do good work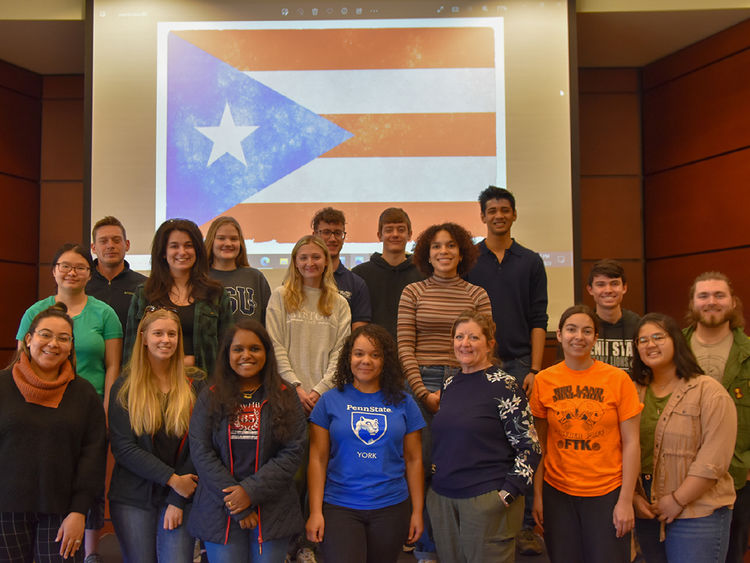 YORK, Pa. — Spring break is normally thought of as a time when college students head to the beach or other places for fun and relaxation. Eighteen Penn State York students and two staff members from the campus are headed to Puerto Rico to make a difference and help with a variety of disaster relief projects and immerse themselves in the culture. The group heads to Puerto Rico on March 4 for an alternative spring break and will return on March 11.
Led by Nathalie Cabrera, an admissions counselor at Penn State York and Nikki Rosario-Flores, global engagement coordinator, the group will be staying in Luquillo located on the northeast coast of Puerto Rico. The team is working with the organization Community Collaborations International which provides all the food, lodging and projects for the week.
Cabrera, who attended a disaster relief trip to Puerto Rico as a student at Penn State York in 2020, was excited to take on a leadership role.
"Attending the alternative spring break trip was one of the best experiences in my life and to be working at Penn State York now and be able to continue to give back is important to me," she said.  "I would never have imagined going back as a leader. I am glad I have been able to offer the student perspective at all our meetings and am looking forward to experiencing it all over again through a different lens."
Rosario-Flores is looking forward to being in a different country and taking part in work that will help others. "I know this will be a very meaningful experience for me as a team leader, and for the students attending. Traveling to a new place, especially for a service trip can help broaden your horizons and give you a better understanding of a new culture," she said.
The community service projects will vary from day-to-day for the group. They will provide disaster relief by working on homes which were impacted by recent hurricanes, do environmental restoration by working on trail maintenance at El Yunque National Forest, and they will go to the Boys and Girls Clubs to assist youth with homework and practicing their English. The York group will also have a chance to collaborate on a community center project with students from Penn State Altoona and Penn State Scranton.
Both team leaders are looking forward to working with students they may never have had the opportunity to work with and seeing the smiling faces of the people they help. 
As part of the preparation for the trip, there were four pre-trip planning meetings including a hands-on session with members of the campus maintenance team who gave members a crash course on how to use various tools, the process of drywalling, and how to paint. Students and leaders alike were given the opportunity to use various tools to become more familiar with how to use them prior to the trip. 
Braden Reese De Leon, 19, a sophomore majoring in biochemistry and molecular biology, is one of the students heading to Puerto Rico. She shared that she has always had a heart to serve and use her time effectively, so she believes this trip will be a great way to exercise both of those.
"It will give me an opportunity to be a blessing by lending a hand to those in need, and it will allow me to learn new skills in the projects we'll participate in," she said.  She is also excited to be immersed in another culture and be able to experience it with some of her friends.
"I enjoy learning about other cultures and celebrating the diversity of the people all around us, so I'm looking forward to being in a new environment and being able to have a positive impact on those in the area,' she said.
Rafeu Syed, 24, a senior majoring in English, is also heading to Puerto Rico for the alternative spring break. He hopes to gain a better understanding of the world from being in an environment that is very unlike his home in York. He also enjoys getting to know people from different backgrounds and looks forward to immersing himself in Puerto Rican culture.
"I am looking forward to being in nature.  I have seen photos of where we are going and the views are amazing," he said." He also shared some words from a friend of his who is studying in Taiwan, 'College is a great opportunity to identify the world's problems and think of ways to solve them,'  Syed adds, "the best way to do this is to see the world for yourself."
On the last day of the trip, the group will have an opportunity to explore Old San Juan.
In addition to DeLeon and Syed, other students taking part in the trip are Atharva Chopde, Griffin Garmon, Christian Harry, Hannah Knight, Allison Lonkart, Tanner Marchant, Olivia Miles, Tyler Muessig, Nhi Nguyen, Sweeta Rasiyan, Liz Herrera Reynoso, Lyndsey Ridenour, Bryan Sanchez, Abigail Snyder, Terri Smith, and Joseph Wolf.
Alternative spring break trips and doing service to make a difference isn't new at Penn State York; over the years, groups have traveled to a variety of places including New Orleans, Texas, the Bahamas and, of course, Puerto Rico.