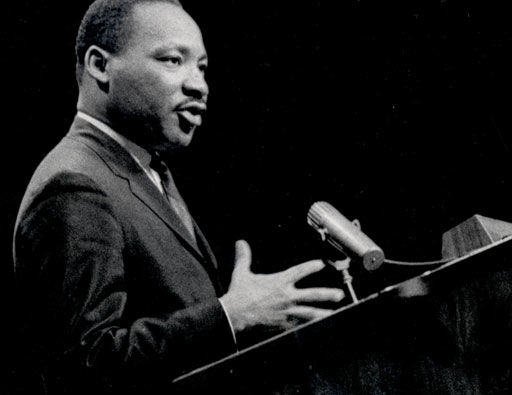 Penn State York will celebrate the life and work of the late Martin Luther King Jr. with events and displays, during the week of Jan. 20 to 24. Beginning Monday, Jan. 20, posters featuring and illustrating some of King's most memorable quotes will hang on the walls of buildings throughout the campus. The posters, designed by members of the Penn State York Diversity Committee, will help remind readers of King's work. Also throughout the week, a selection of books, videos and electronic items about King and his efforts will be on display in the Lee R. Glatfelter Library on campus. All programs are free and open to the public.
A reenactment and discussion of King's, "I Have a Dream" speech, is set 12:05 p.m. Tuesday, Jan. 21, when Penn State York students will share King's famous words and their thoughts about their powerful impact. At 6 p.m., a screening of the movie "Gandhi," a biographical film which dramatizes the life of Mohandas Karamchand Gandhi, the leader of India's nonviolent, noncooperative independence movement against the United Kingdom's rule of the country during the 20th century.
Following the movie, a discussion will take place highlighting the ways in which King embraced Gandhi's philosophy of peaceful resistance during the civil rights movement. Both programs take place in the Community Room of the Joe and Rosie Ruhl Student Community Center.
The final program in commemoration of King, on Thursday, Jan 23, is a panel discussion and analysis of King's approach to instigating social change and Gandhi's philosophical and practical influence on him. Speakers will include Ewuare Osayande, poet, educator and social justice activist; Dianne Creagh, assistant professor of history at Penn State York; and Siddharth Kedia, a student at Penn State York. The program will begin at 12:05 p.m. in the Community Room of the Joe and Rosie Ruhl Student Community Center.
These programs are sponsored by the Penn State York Diversity Committee and Teaching International. The campus diversity committee provides programming throughout the year that focuses on a variety of topics. Teaching International is a curriculum and campus globalization initiative at the campus. Each year, the campus selects a country or region and a theme as a focus for instructional and co-curricular events. For the inaugural year of the program, Penn State York is focusing on the Indian subcontinent and global health. The 2014-15 region and theme will be announced in April.