Five female students from Penn State York ventured to the Philadelphia conference thanks to the support of the campus' Women's Philanthropic Network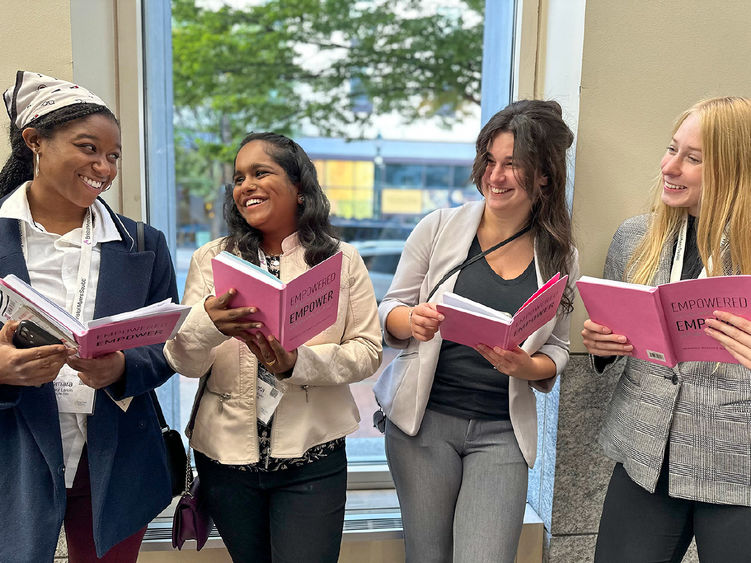 YORK, Pa. — "Women get braver as they get older," declared Jane Fonda with a laugh and a smirk, as the crowd of women cheered in response at the Pennsylvania Convention Center in Philadelphia on Oct. 6 as part of the Pennsylvania Conference for Women.
Five Penn State York students traveled to the Pennsylvania Conference for Women to participate in this networking event. Caitlan Hevener; a senior with a double major in business (accounting option) and project and supply chain management; Xiomara Larkin, a sophomore majoring in public policy; Brynn MacDonald, a senior majoring in English; Sweeta Rasiyan, a senior majoring in psychology with a human development and family studies minor; and Abigail Snyder, a junior majoring in psychology, participated in the conference. The students were accompanied by Scott Simonds, director of student affairs at Penn State York.
There were various stands set up by women-owned businesses advertising, selling, and networking their products, as well as a wall providing markers to write a response to the emboldened prompt, "I'm fearless because…" and a large wall with shapes for participants to color.
"Being in a room filled with women who are there to empower each other and support each other felt so motivational," said Sweeta Rasiyan. "The minute I walked into the room, I felt like I was in a different world."
The guest-speaker portion of the day started at 10:30 a.m. The conference hosted speakers including Arianna Huffington, the founder of Huffington Post and the founder/CEO of Thrive Global; Tabitha Brown, a social media influencer who creates content involving humor, veganism, and motivational speech; Jane Fonda, a well-known actor and women's activist; and Lily Tomlin, an actor, producer, comedian, and long-time friend of Fonda.
"The thing they told us that surprised me the most was to rest and take breaks," said Xiomara Larkin. "Many of them achieved success by prioritizing themselves and their mental health. I feel like that was my biggest takeaway from the conference."
The students' trip to the Pennsylvania Conference for Women was sponsored by the Women's Philanthropic Network, which is Penn State York's women's giving circle, and the only one in the Penn State system. The WPN awards grants for software, scholarships, equipment, speaker fees, and more. This the fifth consecutive year that the WPN has funded the trip to the conference. During the COVID-19 pandemic, the conference was held virtually.
"I was so excited to attend the Pennsylvania Conference for Women, and I was even more excited once we got there," said Caitlan Hevener. "The energy was amazing! It was an incredible opportunity to network with so many women in so many industries."